News | Institutions
'Radio Ballads' Artists Embed With Social Services for Serpentine Show
Videos by Sonia Boyce, Helen Cammock, Rory Pilgrim, and Ilona Sagar touch on issues ranging from workplace carcinogens to domestic abuse in a new exhibition that asks how art can effect change.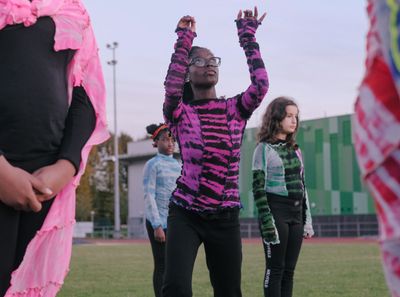 Rory Pilgrim, RAFTS (2021). Barking and Dagenham Youth Dance, Production Still. Photo: Matthew Ritson.
From 1957 to 1964, the BBC developed a legendary series of eight 'Radio Ballads' focused on workers' struggles. Over the past three years, four artists were commissioned by Serpentine and East London borough Barking and Dagenham to create new works responding to life in Britain's struggling care sector.
The artists embedded themselves in social care services and the local community to create videos that will be exhibited in the Radio Ballads exhibition at Serpentine North from 31 March to 29 May. The exhibition will then travel to the Barking Town Hall and Learning Centre from 2 to 17 April.
In her video ballad, Sonia Boyce OBE, responded to Barking and Dagenham having the highest reported rate of domestic abuse in the UK. She partnered with the borough's Domestic Abuse Commission for her ballad, inviting individuals, community organisations and social care services to make art about their experiences. Boyce is represented by Simon Lee Gallery and will represent Britain at the Venice Biennale this year.
'An essential part of my process relies on a variety of people getting involved to help me to conjure something concrete and visible out of this immaterial thing that we call talking,' Boyce said. 'As such, I have a social practice, but beyond that I make no grand claims.'
Ilona Sagar, The Body Blow (2022). Film Still. Courtesy the artist.
For her contribution, artist and poet Helen Cammock invited adult social care and youth offending workers, as well as people who use their services, to discuss ways to survive and overcome adversity. Cammock, who is represented by Kate MacGarry in London, was joint winner of the Turner Prize 2019.
Artist and filmmaker Ilona Sagar worked with the London Asbestos Support Awareness Group on her video ballad exploring Barking and Dagenham's distinction as the London borough with the highest rate of asbestos cancers. People working on the docks, factory workers, and tradies such as plumbers, carpenters and electricians continue to suffer from their exposure to hazardous materials, which they often unwittingly brought home to their families.
For his video ballad, artist and composer Rory Pilgrim adds a second chapter to his project RAFTS, which explores the unfolding climate crisis in performance, film and sound. With both the environment and the economy changing fast, he collaborated with people who have experienced migration, homelessness, and unemployment.
Radio Ballads is curated and produced by Serpentine's Civic Curator Amal Khalaf with Elizabeth Graham, Layla Gatens, and Natalia Grabowska.
'Testing the potential for art to build political power, create life-sustaining relationships, and enact community and systems change, Radio Ballads build on legacies of listening, voicing and collaboration,' said Khalaf.
She said the new ballads 'feature the voice of the people holding up the structures and systems of care that are keeping many of us afloat.' —[O]