News | Artists
Serpentine Offers £100,000 Step Up to POC Artists
Ten London-based artists and collectives will each receive £10,000 to develop their creative ideas.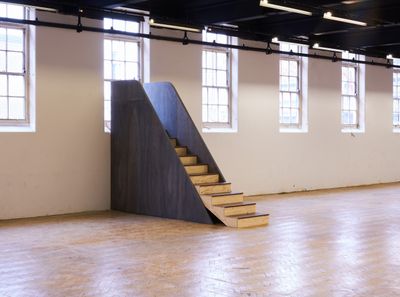 Abbas Zahedi, Chelsea Minbar (2020). Reclaimed wood, vinyl, timber, steel bolts & iron sulphate, includes '11:11' 3 channel audio sound piece. Photo: Abbas Zahedi.
London's Serpentine Gallery has announced a new fellowship to support artists.
Support Structures for Support Structures was conceived in collaboration with Sumayya Vally, director of Johannesburg practice Counterspace, which designed Serpentine's 2021 Pavilion.
'I am excited to work with Serpentine's Civic Projects team to make this fellowship a lasting legacy for the 20th Serpentine Pavilion – to seed, support and grow different networks and bodies of knowledge in the arts,' Vally said.
Ten fellows will each receive an unrestricted grant of £10,000 (US $14,000) to develop creative ideas along with mentoring and development workshops.
The fellows are People of Colour (POC), including both individuals and collectives.
They are: artist Abbas Zahedi; artist, curator, educator, and healer Barby Asante; filmmaker Beverley Bennett; creative collective Blak Outside, under-30s collective FerArts, non-binary artist Jacob V Joyce, Black women and femmes' vocal group the NAWI Collective, Black and non-white film project Other Cinemas, designers the RESOLVE Collective, and the Black and POC-led collective Skin Deep.
The fellows were selected through a closed nomination and selection panel process. Twelve visual arts professionals and community leaders were invited to each nominate two individuals or collectives whose work makes a significant contribution to their communities.
Amal Khalaf, Civic Curator at Serpentine, said, collaborative work is often 'not so visible, and the labour and care that comes with this way of working is not always accounted for or made possible by existing structures in the art world. We hope the fellowship can create a space to think together about how an art system can support these practices better.'
Earlier this year, Turner Prize winners the B.O.S.S. Collective said art institutions weren't properly equipped to work with collectives. They also questioned Tate's support for Black artists.
In June 2020 Serpentine engaged consultants Ishreen Bradley and Mel Larsen to retrain staff as part of its anti-racism programme. In October, they established nine Race Resolutions Teams made up of members of staff at all levels.
The 20th Serpentine Pavilion opened on 11 June and will remain until 17 October.
Previous Serpentine Pavilions were designed by artists including Olafur Eliasson (2007), Jean Nouvel (2010), and Ai Weiwei (2012). —[O]