News | Artists
Rick Lowe, an Artist Celebrated for His Social Practice, Joins Gagosian
The announcement follows news last week that the gallery now represents Donald Judd and the Judd Foundation.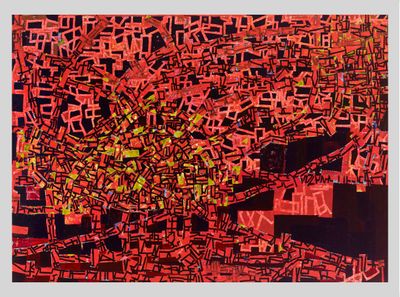 Rick Lowe, Untitled #071421 (2021). Acrylic paint and paper collage on canvas. 152.4 x 213.4 cm. © Rick Lowe. Photo: Thomas Dubrock. Courtesy Rick Lowe Studio and Gagosian.
Gagosian has signed Houston-based artist and community organiser Rick Lowe.
Born in Alabama in 1961, Lowe is a professor of interdisciplinary practice at the University of Houston. He received a MacArthur 'genius' fellowship in 2014 for a practice that transcends paintings and installations to embrace 'social sculpture'.
In 1993, Lowe co-founded Project Row Houses with six other artists. Collaborating with neighbours, they transformed a row of run-down shotgun houses in Houston's Third Ward into a cultural development.
Rick Lowe. Photo: Brent Reaney.
He has gone on to contribute to other artist-led community projects including the Watts House Project in Los Angeles and the Victoria Square Project in Athens, which aims to create dialogue between immigrants, refugees and locals.
Lowe took part in Gagosian New York's group show Social Works, curated by Antwaun Sargent, from 24 June to 11 September. The exhibition showcased work by 12 artists—including Theaster Gates, Lauren Halsey, Titus Kaphar, Alexandria Smith, and Carrie Mae Weems—that explored the relationship between space and Black social practice.
Lowe will also feature in Social Works II, a sequel to the New York show that will take place at Gagosian Grosvenor Hill location in London from 7 October to 18 December.
His first solo show with Gagosian will take place in New York next year.
Rick Lowe, Untitled (2020). Acrylic and paper collage on canvas. 182.9 x 152.4 cm. The Menil Collection, Houston. Purchased with funds provided by the John R. Eckel, Jr. Foundation. © Rick Lowe Studio. Photo: Thomas Dubrock. Courtesy Rick Lowe Studio and Gagosian.
Just last week, Gagosian announced it now represents Donald Judd and the Judd Foundation. Thaddaeus Ropac continues to represent the Judd Foundation in Europe.
'It is impossible to consider the history of American art without Donald Judd,' said Larry Gagosian in a statement.
'We got to know each other in New York in the early 1980s and he was one of the first artists whose work I really admired,' he said.
The Judd Foundation was represented by David Zwirner for the past 11 years, culminating in a major retrospective at the Museum of Modern Art in New York in 2020.
'Now that the major MoMA retrospective has come and gone, the moment seems right for someone else to support the Foundation,' David Zwirner told ARTnews.
'This gives us the opportunity to continue to use our expertise in Donald Judd's secondary market,' he said.
'We have been getting busier and bigger and it was time to make a change,' Flavin Judd, the artist's son and artistic director of the foundation, told The Financial Times. —[O]