News | Market
Ten Decades, Nine Works From Art Basel's OVR:20c
The digital showcase of 20th century art takes place from 28–31 October.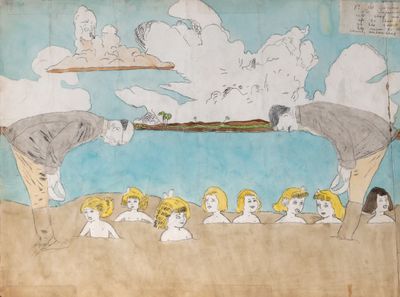 Henry Darger, At Jennie Richee For refusing to tell they are buried up to their waists, At Cedernine They are treacherously attacked by Glandellinian soldiers (1930-50). Courtesy Andrew Edlin Gallery.
Following its online presentation of art works made during 2020, Art Basel's upcoming Online Viewing Room skips over the previous 19 years to look back at art made in key moments and movements of the 20th Century. Art Basel OVR:20c will open to VIPs at noon Central European Time (CET) on Wednesday 28 October, and to the public from noon CET on Friday 30 October.
Of the 600 works presented by 100 galleries, most were created after World War II. Some, however, date back to almost the turn of the century. A selection of works showing at the fair made during each decade, starting in the 1910s, is included below.
---
1910s
---
Marcel Duchamp, Combat de Boxe—1913—jamais utilisé pour le grand verre (1916). Work on paper. Courtesy Galerie 1900-2000.
Marcel Duchamp's Combat de Boxe—1913—jamais utilisé pour le grand verre (1916) is an unused study for The Large Glass (1915–1923). Also known as The Bride Stripped Bare by Her Bachelors, Even, the assemblage is both literally and figuratively dirty, made using dust, among other materials, to depict the frustrated lust of nine male suitors. Duchamp described the work as 'hilarious' but felt no-one would get the joke without notes and diagrams. Combat de Boxe was ultimately published in Man Ray's TNT, a one-off publication released in 1919. It's being shown by a gallery whose name is in perfect sync with the fair's theme: Galerie 1900–2000.
1920s
---
Le Corbusier, La Femme à l'accordéon et le coureur (1929). Watercolour and graphite on paper. Courtesy Galerie Zlotowski.
Led by Amédée Ozenfant and Charles-Édouard Jeanneret, better known as Le Corbusier, the Purism movement influenced French painting and architecture in the early 1920s. They sought to simplify form in reaction to Cubism, which they saw as overly complicated. Galerie Zlotowski is exhibiting six Purist works on paper by Le Corbusier at the fair.
1930s
Henry Darger, At Jennie Richee For refusing to tell they are buried up to their waists, At Cedernine They are treacherously attacked by Glandellinian soldiers (1930-50). Courtesy Andrew Edlin Gallery.
Outsider artists don't get much more out there than Henry Darger. Born in 1892, he worked as a janitor and spent his spare time collecting medicine bottles, making string balls and, The Guardian reports, compulsively drawing naked girls being strangled, blown up, beheaded and disembowelled. The illustrations, including this one being shown by Andrew Edlin Gallery, were part of a 15,000 page fantasy novel entitled The Story of the Vivian Girls, in What Is Known as the Realms of the Unreal, of the Glandeco-Angelinian War Storm, Caused by the Child Slave Rebellion that was not discovered until Darger's death in 1973.
1940s
---
Gertrude Abercrombie, The Night Visitor (1944). Oil on canvas. Courtesy Karma Gallery.
Born in Austin, Texas in 1909, Gertrude Abercrombie studied at the School of the Art Institute of Chicago and mixed with jazz greats Dizzy Gillespie, Charlie Parker, and Sarah Vaughan. Citing René Magritte as an influence, her surrealist works often depict owls, cats and people in dark dreamscapes.
1950s
Geraldo de Barros, Arranjo de Três Formas Semelhantes Dentro de Um Círculo (1953). Enamel on Kelmite. Courtesy Luciana Brito Galeria.
Among the art movements featured in OVR:20c is Grupo Ruptura, which was formed by Brazilian artists in the 1950s. They sought to supplant naturalist painting with the abstract geometric art they thought truer and more rational. Luciana Brito Galeria will showcase works by artists Waldemar Cordeiro, Kazmer Féjer, Hermelindo Fiaminghi, Maurício Nogueira Lima, and Geraldo de Barros, whose Arrangement of Three Similar Shapes Within a Circle (1953) is pictured.
1960s
Lee Friedlander, Italy (1964). Silver gelatin print. Courtesy Fraenkel Gallery.
Born in Aberdeen Washington in 1934, Lee Friedlander studied photography at the Art Center School in Los Angeles in the early 1950s. He freelanced for magazines before building up to his first art exhibition in 1963. Known for his snapshots taken in cities, sometimes described as social landscape photography, he has won three Guggenheim Fellowships, five National Endowment for the Arts Fellowships, and a MacArthur Foundation Award. Friedlander is showing at Fraenkel Gallery.
1970s
Sol LeWitt, Incomplete Open Cube 8,9 (1974). Baked enamel on aluminium. Courtesy Paula Cooper Gallery.
Several galleries looked at how artists explored a given theme over the century. Paula Cooper Gallery looks at radical materiality in the work of Luciano Fabro, Jackie Winsor, and Sol LeWitt, whose Incomplete Open Cube 8,9 (1974) is pictured above. Similarly, MassimoDe Carlo's 'Homage to the Square' explores diverse interpretations of the form from the 1950s to the 1990s by artists including Josef Albers and Carl Andre.
1980s
Robert Mapplethorpe, Self Portrait (1985). Gelatin silver print. Courtesy Mai36 Galerie.
This handsome Robert Mapplethorpe self portrait, being shown by Mai36 Galerie, was taken just four years before he died due to complications of HIV/AIDS. Born in Queens in 1946, Mapplethorpe's life charts profound social changes in the second half of the 20th century. Raised Catholic, the iconic photographer documented New York's LGBT and BDSM communities before they were accepted by wider society.
1990s
Tatsuo Miyajima, Life Face Vol. 3 (1991). Courtesy SCAI The Bathhouse.
SCAI The Bathhouse, Tokyo, is presenting Mono-ha sculptures and paintings created in the 1990s by Kishio Suga, Lee Ufan, Toshikatsu Endo, and Tatsuo Miyajima, whose Life Face Vol. 3 (1991) is pictured above. Miyajima's numerical works represent the journey from life to death, symbolised by the number zero. Also presenting works predominantly from the 1990s, Regen Projects is showing artists who employ language in their work, including Catherine Opie, Jack Pierson, and Lawrence Weiner.
Art Basel's next Online Viewing Room, OVR: Miami Beach, will take place from 4–6 December. —[O]