News | Art Fairs
Who Are Galleries Showing at Art Cologne 2023?
Anne Imhof, Itamar Gov, and Babajide Olatunji are among the artists presenting exciting new work.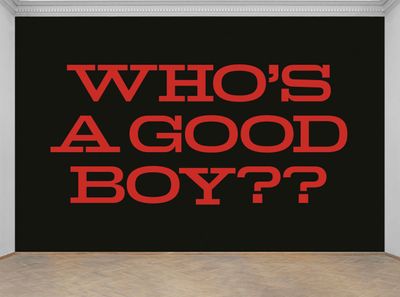 Nora Turato, who's a good boy?? (2023). Emulsion paint on wall. Courtesy the artist, LambdaLambdaLambda, Galerie Gregory Staiger, and Sprüth Magers.
Europe's oldest art fair has returned to the Koelnmesse trade fair and exhibition centre, where it continues through 19 November.
This year's Art Cologne features 173 exhibitors, down slightly from over 190 in 2022.
Anne Imhof,
Untitled
(2023). Acrylic on aluminium, 250 x 160 cm. Courtesy the artist, Sprüth Magers and Galerie Buchholz. Photo: Timo Ohler.
Among the leading German galleries taking part is Sprüth Magers.
They will present works by artists including Jenny Holzer, a site-specific mural by Nora Turato (pictured top), and a new painting by Anne Imhof.
Itamar Gov, Amalthea 717 (2023). Aluminium, rubber, PVC, merino sheepskin. 150 x 55 x 105 cm. Courtesy the artist and Zilberman. Photo: Chroma.
Istanbul-based gallery Zilberman, which also has spaces in Miami and Berlin, is presenting prints by Isaac Chong Wai, coloured pencil on paper 'Iguana' drawings by Judith Raum, and a robot sheep by Itamar Gov, among works by other artists.
Rosalind Fox Solomon, William Eggleston, Memphis Tennessee, 1977. Gelatin silver print. 50.8 x 40.6 cm. Courtesy the artist and Galerie Julian Sander.
Galerie Julian Sander's booth is devoted to black and white photographs including portraits from August Sander's 'People of the 20th Century' series.
Among the highlights is a portrait of American photographer William Eggleston by Rosalind Fox Solomon.
Gelatin, OvidivO (2021). Bust: painted aluminium. Base: resin, pigment, polystyrol. 209 x 82 x 46 cm. Courtesy Galerie Meyer Kainer.
Seventeen galleries from Austria are taking part this year.
Among them are Emanuel Layr, who are presenting works by sculptor Benjamin Hirte, and Galerie Meyer Kainer, presenting Rosemarie Trockel's wall piece Father (1995) and Gelatin's aluminium busts of the back of people's heads.
Babajide Olatunji, Tribal Marks Series III #85 (2022). Pastel and acrylic on canvas. 165 x 143 cm. Courtesy Pearl Lam Galleries.
Art Cologne has also drawn a handful of galleries from further abroad. They include Sydney's Roslyn Oxley9 Gallery, Istanbul's Sevil Dolmaci, and Hong Kong's Pearl Lam Galleries.
Pearl Lam will present works from West Africa and African diaspora artists including Rufus Ogundele, portraits by Babajide Olatunji, and Deborah Segun's colourful abstractions. —[O]