News | Institutions
Who Will Show at China's UCCA in 2024?
China's leading contemporary art museum has announced its upcoming programme. Featured artists include Hiroshi Sugimoto, Luc Tuymans, and Max Hooper Schneider.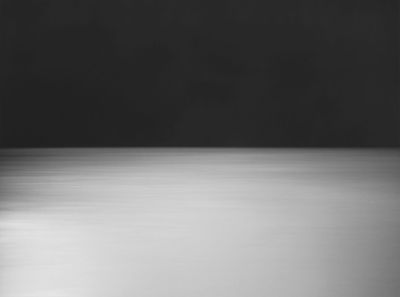 Hiroshi Sugimoto, Bay of Sagami, Atami (1997). Gelatin silver print. 119.4 x 149.2 cm. Courtesy the artist.
UCCA Center for Contemporary Art has announced their exhibition programme for 2024 in Beijing and Beidaihe.
First up at UCCA Beijing is a group exhibition titled Dream Time from 27 January to 28 April. Fifteen artists, including Christine Sun Kim, Sin Wai Kin and Ma Qiusha will explore dream-related themes of hope, memory, and imagination.
The art centre will then open a string of major solo shows starting with a survey of Japanese photographer Hiroshi Sugimoto from 23 March to 23 June.
Mo Yi, Self-Portrait, from the series '1m, The Scenery Behind Me' (1988). Silver gelatin print. Courtesy the artist.
Organised by the Hayward Gallery, and curated in Beijing by UCCA's Neil Zhang, this will be Sugimoto's first major survey in Mainland China. Works from some of Sugimoto's major photographic series—including the 'Seascapes' (1980-2003), 'Theaters' (1978-2016), and 'Portraits' (2009)—will be shown alongside new calligraphic works.
Sugimoto's solo show will be followed by a survey of pioneering American conceptual artist, Lawrence Weiner—made in collaboration with his estate—from 20 July to 20 October, and Luc Tuymans: The Past, a survey of the Belgian champion of contemporary representational painting, showing from 16 November 2024 to 16 February 2025.
Other solo shows on the Beijing space's programme include emerging New York painter Miguel Ángel Payano Jr., and China-based artists Liang Hao and Mo Yi.
Max Hooper Schneider, Resort Re-Sorted (2017). Live freshwater biocoenosis, glass aquarium, modelled habitat, site-specific materials and vintage and/or mutilated chandeliers and crystal ornaments scavenged from failing resorts across many different atolls in the Maldives, steel base. 61.0 x 137.2 x 50.8 cm. Courtesy the artist.
By the Bohai Sea at Beidaihe, UCCA Dune will present works by Birdhead (Shanghai duo Ji Weiyu and Song Tao) exploring online and offline identities through engagements with niche influencers, from 17 March to 30 June.
UCCA Dune will also host shows by Los Angeles artist Max Hooper Schneider—exploring the concept of the Traumatic Sublime in the aftermath of human-made ecological collapse—and Heman Chong, whose tropic island-themed Endless Summer show will run during Beidaihe's winter months. —[O]