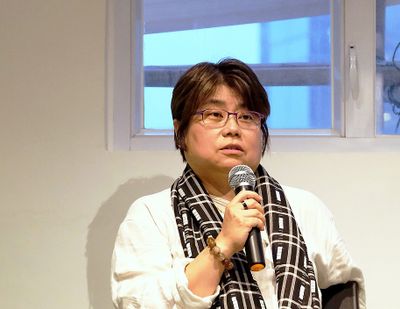 Ellen Pau. Courtesy Para Site.
A radiographer by training, Ellen Pau is a self-taught artist who emerged from Hong Kong's fledgling contemporary art scene of the late 1980s, when video was a comparatively nascent medium. In 1986, Pau co-founded Videotage—a non-profit organisation that specialises in the promotion and preservation of video and new media art. Pau has an intuitively intimate take on the medium, as expressed in her own words: 'Video records your growth and dreams. The maker/author of a movie exists as a transparent being, external to the images. However, the maker/author of a video becomes part of, or even the actual content, within the space of video—who engages investigation, development or scepticism within the dialogue.'
What About Home Affairs? at Para Site is Pau's first retrospective in Hong Kong (8 December 2018–17 February 2019). Curated by Freya Chou, What About Home Affairs? features 18 works spanning the late-1980s to the present day, including single-channel videos, video installations, and an augmented reality (AR) installation. The exhibition begins with a compendious timeline of Pau's 30-year career displayed on an entire wall, with two works that bookend on view as part of the install: her earliest surviving video, Disenchantment of the Statue (1987), which explores media transmission by playing with white noise in video recordings, and her latest piece, I Don't Have Time to Deal with Fear (2018), an augmented reality (AR) installation that revisits various Hong Kong urban myths, including those regarding the Japanese invasion of Hong Kong in World War II. Beyond this, five video installations take up a handsome portion of the 2,500-square-foot exhibition space, making them the foci of the retrospective. Occupying the largest space is Pau's acclaimed video installation Recycling Cinema (2000), projected on a curved 150-degree screen, which was shown in Hong Kong's debut Venice Biennale pavilion in 2001, and later at the 2017 exhibition at the Guggenheim Museum in New York, Art and China after 1989: Theater of the World. The video forms a study of surveillance-type panning as a film language, showing vehicles racing across a Hong Kong expressway.
Exhibition view: What About Home Affairs?, Para Site, Hong Kong (8 December 2018–17 February 2019). Courtesy Para Site.
A number of works address the anxiety experienced in Hong Kong before the handover to China in 1997, including Blue (1989–1990) and TV Game of the Year (1989), which reflect on the emotional trauma after the brutal crackdown of the 1989 Tiananmen Square protests. Two video installations, Bik Lai Chu and I Can Only Tell It to Strangers, (1993 and 1996, both remade in 2018) similarly explore the uncertainty of the pre-1997 years, and have been recreated for the exhibition. She Moves (1989), originally a single-channel vignette, was also developed into an installation for the show: the video-image of a wall with drops of water running down it is projected on a real wall, staged in a living room set where the 1939 wartime song We'll Meet Again by British singer Vera Lynn plays from a radio. The large-scale projection, Song of the Goddess (1992), pays tribute to the romantic story, on and off the stage and screen, between two lead female Cantonese Opera performers in Hong Kong.
Ellen Pau, Recycling Cinema (2000). Exhibition view: What About Home Affairs?, Para Site, Hong Kong (8 December 2018–17 February 2019). Courtesy Para Site.
The majority of the works on view were created before 1997, during Pau's most prolific years. (This imbalance might also speak to the curator's interest in the early history of Hong Kong's videography—the 1980s and 1990s—and more importantly, the art that was produced in a time of sociopolitical instability, when Hong Kong was haunted by its uncertain future.) Since the turn of the millennium, Pau has spent more time and energy on curation and event organisation, with recent projects including Reload_Hong Kong (2017), which reviewed the imagery and the spirit of Hong Kong over the past three decades alongside the examination of the transmutation of moving images and new media. Pau has also been experimenting with new technologies, such as QR code, 3D printing, virtual reality, and augmented reality. Apart from the aforementioned AR installation, only two other new media works are presented in the Para Site show. Emergence (A Work in Progress) (2016–ongoing) is a conceptual piece that aims to subsequently deconstruct the DNA profiles of plants and animals, recomposing and converting genetic information into something entirely different—translated data sets can even appear as a soundtrack. As part of the project's conceputalisation, digitally manipulated photographs on display show the simulation process of computerised deep learning, which traces the imprint of an image. Distributed Firework: DIY Hologram (2017) offers viewers the chance to stage their own firework show through their mobile phones.
In a 2002 interview, Pau summarised the 'ever-present themes' in her art, which include the 'perception or interpretation of an image, woman, technology.' Be it through analogue or digital technologies, these ideas are consistent throughout Pau's practice, which she elaborates on in this conversation.
Exhibition view: What About Home Affairs?, Para Site, Hong Kong (8 December 2018–17 February 2019). Courtesy Para Site.
PW

As an artist who focuses on videography and new media, you have mentioned that you don't feel like you belong to the contemporary art scene in Hong Kong. How did you feel when Para Site approached you to stage your retrospective? You also have a solo show happening at the art space 1961 in Singapore, Ellen Pau: Time After Time Will Tell (2 November 2018–27 January 2019). How do you feel about the recent interest in your practice?

EPIt was an honour to be invited to work with Para Site, and it was very encouraging to have Freya Chou, the exhibition's curator, expressing a keen interest into digging deeper into videography and new media after this collaboration. I initially proposed another exhibition format in two sections: one that brought works by younger artists into dialogue with those by artists of my generation; and another showing new works created in collaboration with the younger artists. However, I failed to get the green light on this, so we kept the format of a retrospective.

The show in Singapore presents four of my works, and archival material. I was immediately attracted to the name of the space, 1961, which is a visually intriguing figure that reads the same if one turns it upside down. Kyle Chung, a young curator from Hong Kong, pitched the project and dug into the archives and collections of Videotage. Kyle has pulled out some great materials, like photographs, correspondences, programmes, and mind maps—some of which I had long forgotten about. There are no overlaps between the works chosen by the two curators, and in this sense the shows somewhat complement each other.

Exhibition view: Ellen Pau: Time After Time Will Tell, 1961, Singapore (2 November 2018–27 January 2019). Courtesy 1961.

When I say that I have an ambivalent relationship with the contemporary art scene, I mean that the influences on my practice do not come from modern or contemporary art's figures and thoughts, but rather from fields like physics, mathematics, engineering, or computer science. I think a lot about interdisciplinary ties between art, technology, and media. In some ways I aspire to embody platforms of circulation, like the media festivals Ars Electronica and Transmediale.

That being said, I have recently reconsidered my relationship with the contemporary art scene in Hong Kong. I was, after all, part of Hong Kong's debut participation at the Venice Biennale, and with that inclusion and recognition, I've no reason to object to my place in it.

Exhibition view: What About Home Affairs?, Para Site, Hong Kong (8 December 2018–17 February 2019). Courtesy Para Site.
PW

I understand that your visit as a child to the Expo '70 in Osaka made a significant impact on you. Could you tell me more about this experience?

EPWhen I was a child, my father would take the family on annual trips, and going to Expo '70 was one of those trips. I later learned that Expo '70 was massively promoted across Asia, including Hong Kong. We spent three or four days at the Expo and went through most of the pavilions, all of which I found intriguing. A few things stayed with me: The Tower of the Sun, known as the symbol of Expo '70, for one—and I fancied to be like the sun—and the omnipresence of the screens. One of the pavilions was a vast, overwhelming, and strange space filled with projections and a bunch of people doing weird things that I certainly didn't understand one bit. Only years later, after encountering a couple of retrospective exhibitions on the work of E.A.T. that matched the impressions of what I saw in Osaka, I learned that the pavilion was E.A.T.'s Pepsi-Cola Pavilion Project (1968–1972).

Ellen Pai, Pledge: Bik Lai Chu (1993). Courtesy the artist and Para Site.
PW

How did you decide which works to remake for your Para Site retrospective? Two videos from the early-1990s, Bik Lai Chu and I Can Only Tell It to Strangers, were re-shot for the show. While you appeared in the original videos, which art historian David Clarke noted was a rare instance of your own body featuring in your work, another person enacts your role in the new versions of each video.

EPFreya Chou selected most of the exhibits from the Videotage Media Art Collection (VMAC). I offered comments concerning the exhibition display during the preparation period. For her selections, I only had a problem with one work: Video is a Hole (1990), which is a video diary that I now find too amateur in every aspect, from the concept to its execution. Pledge: Bik Lai Chu, which contains the two videos from the 'Pledge' series, was initially conceived as a site-specific installation, with a pair of videos that show a crouched woman—played by me—banging her head against a dressing room table. The working title in English references the political promise made by China in the 1980s: that Hong Kong would maintain a high degree of autonomy under the 'One Country, Two Systems' principle. The Chinese title took on another dimension of the work, acknowledging the woman's entrapment. On another occasion, when I needed to rework this installation inside a container, considerable alterations were made to fit the site. I gave the work another title: I Can Only Tell It to Strangers.

Freya was keen to show these works. However, one of the videos was lost ages ago, so we decided to re-shoot them; I asked my partner Mandy Wong to be the sitter. I'm glad another layer of meaning has been added to the work. I have devoted the work to her, which is another type of pledge. I only have one photograph from each installment of the piece, so the installations at the show were constructed mostly from memory.

Ellen Pau, Blue (1989–1990); TV Game of the Year (1989) (left to right). Exhibition view: What About Home Affairs?, Para Site, Hong Kong (8 December 2018–17 February 2019). Courtesy Para Site.
PW

It is no exaggeration to say that it takes only a few hours to view a lifetime of your work. One aspect that your works hold in common is their length, ranging from a couple of minutes to almost 20. I wonder if the brevity is a result of your belief in counter-narratives?

EPFirst of all, it is not my intention to discuss grand topics concerning humanity, such as crime and punishment. I enjoy exploring the little moments in life, or capturing the emotional twists and turns of the everyday, of our society. In my videos, I aim to get an idea through by crafting the atmosphere, and tend to make things look moody or even abstract. I don't use images to serve a narration. I'm anti-narrative in this sense.

I'm a huge fan of the avantgarde musician-artist Brian Eno, who is a founder of the Long Now Foundation (f. 1996), a progressive institution that fosters discussions about long-term thinking. l love his ambient music and videos. Listening to songs and music is a huge part of my life, and thus they play a huge role in my art practice. I get a lot of inspiration from songs lyrics, and my videos examine the relationship between, and dialectics of, words and images. Songs become the defining elements in many of my works, such as Meredith Monk's 'Biography' in Blue, Vera Lynn's 'We'll Meet Again' in She Moves, and The Cure's 'Pictures of You' in Video Is a Hole, just to name a few examples.

Another reason that my works are short is that I lack the patience to formulate a work in long duration. I'm also particular when it comes to choosing when to end a video before I and other people get bored.

Ellen Pau, She Moves (1989). Exhibition view: What About Home Affairs?, Para Site, Hong Kong (8 December 2018–17 February 2019). Courtesy Para Site.
PW

The 1990s saw the emergence of video installations in Hong Kong, but we lack documentation of that period, making this part of our art history somewhat blank. What do you recall of the scene at the time, as far as video installation is concerned?

EPThe lack of documentation was a challenge when it came to mounting this retrospective. I haven't kept an archive of my own works. Although I have included some 40 works in the timeline for the exhibition, more than half a dozen were left out, and most of these have already been lost. I gradually recalled them only after the show opened and when I talked with various individuals. For instance, I recalled a couple of video-mapping pieces that were made manually in the 1990s, at a time when video mapping software did not exist. By playing with video mapping, I visually transformed the floral pattern on a chair into a pool of blood; this bleeding chair was a prop, or indeed a 'character,' in the performance Chronicle Of Women – Liu Sola In Concert (1991), produced by Zuni Icosahedron. I consider it a bold and robust work, yet I have no documentation of it at all.

Back to the question about video installation in the 1990s, I am not sure if I have a holistic picture of its development in that period. More importantly, when we talk about a video installation, it is generally considered according to these three aspects: the video space, the screen, and the narrative, which is different to that of a film. I'm not sure a lot of works from that period in Hong Kong were in line with this thinking. Honestly, when our media history is an area of scarce research, I'm more interested in the development of deejaying and video-jockeying in Hong Kong. —[O]