Feature
Singapore Art Week: Exhibitions to See in 2019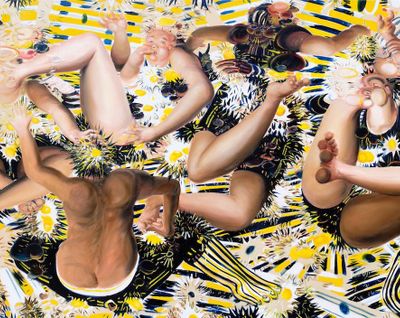 Alvin Ong, Supper Club (2018). Oil on canvas. 165 x 240 cm. Courtesy the artist and Yavuz Gallery.
S.E.A. Focus, the new boutique art fair by STPI - Creative Workshop & Gallery (24-27 January 2019), will take centre stage during Singapore Art Week (19-27 January 2019). With plenty of exhibitions happening throughout the city, this list offers a selection of shows to see.
S.E.A. Focus, the new boutique art fair by STPI – Creative Workshop & Gallery, will take centre stage during this year's Singapore Art Week (19–27 January 2019). Running between 24 and 27 January 2019, 26 galleries will participate in the inaugural edition, showcasing modern and contemporary Southeast Asian art within a pop-up structure in Gillman Barracks, where a hive of activity will take place throughout the week. Plenty of top-notch exhibitions and events will take place in other parts of the city, too, with a more decentralised Art Week on the horizon as a result of Art Stage Singapore's cancelling just days before the opening of its 2019 edition. This list offers a selection of shows to see during the week.
NPAAW, Beyond Dimensions (2018). Acrylic on canvas. 100 x 80 cm.
More Than Human World: A Wake-up Call from Posthuman
Hatch Art Project, #01-02 Asia Square Tower 1, 8 Marina View, 018960
18 January–14 March 2019
Launched in 2018, Hatch Art Project is a gallery at the heart of the CBD that is dedicated to the practices of young artists from Singapore and the region. For More Than Human World: A Wake-up Call from Posthuman, nine artists—including Naufal Abshar, Seungpyo Hong, and Abshar Platisza—contemplate artificial intelligence and new technologies through a vibrant mix of media. These include The Organic Machine (Disaster Series) (2018) by Aditya Chandra H., a pencil acrylic on canvas depiction of drawn vascular forms that emit plumes of smoke across a background in varying shades of pink and red. Urich Lau's digital photos on aluminium, Dreamscape: City Hall Singapore and Dreamscape: Victoria Harbour Hong Kong (both 2018), depict two otherwise mundane photographs of cityscapes in acrid colours and containing hallucinogenic forms. Lau's images are a result of their processing through DeepDream, a programme that allows for patterns in images to be found and enhanced through algorithmic pareidolia, in which machines seek out patterns where they might not be immediately discernible.
Exhibition view: Dissolving Margins, Institute of Contemporary Arts Singapore, LASALLE College of the Arts (20 October–22 January 2019). Courtesy Institute of Contemporary Art Singapore, LASALLE College of the Arts.
Dissolving Margins
Institute of Contemporary Arts Singapore, LASALLE College of the Arts, Gallery 1, 1 McNally Street, 187940
20 October 2018–22 January 2019
This exhibition is composed of a series of all-encompassing, space-defying installations curated by assistant curator at ICA Singapore, Melanie Pocock, using Elena Ferrante's novel My Brilliant Friend (2012) as her departure point. In Ferrante's novel, protagonist Raffaella 'Lila' Cerullo experiences psychosomatic episodes during which her mind and body become fused to her environment. Inspired by the accounts of these episodes, Pocock has chosen works by Eng Kai Er, Camille Henrot, James T. Hong, Tara Kelton, and Darius Ou, which consume Gallery 1 of ICA Singapore, refusing to behave within any of their imposed boundaries. Works include Camille Henrot's humorous Office of unreplied emails (2016–2017): oversized prints of spam solicitations and her proposed responses written in an exaggerated, calligraphic font are hung along the wall and spill onto the floor. Graphic designer Darius Ou's year-long project Autotypography (2012–2013), which covers the walls surrounding Henrot's installation, consists of 365 typographic posters. While each individual poster was created with careful consideration, a cacophony of colour is composed through their unison. A curator-led tour of the exhibition will take place on Sunday 20 January, between 3 and 4 pm.
Exhibition view: Moving Pledges: Art and action in Southeast Asia, Institute of Contemporary Arts Singapore, LASALLE College of the Arts (20 October–23 January 2019). Courtesy Institute of Contemporary Art Singapore, LASALLE College of the Arts.
Moving Pledges: Art and action in Southeast Asia
Institute of Contemporary Arts Singapore, LASALLE College of the Arts, Earl Lu Gallery, 1 McNally Street, 187940
20 October 2018–23 January 2019
In December 2018, LASALLE College of the Arts held a three-day international conference, Art and Action, which explored modes of expression in Southeast Asian art that went beyond institutional settings and discourse in response to fractious social contexts. The conference's keynote speakers were Australian art historian Terry Smith, who presented 'Exit Points: Post-Categorial Art, and Art History without Categories' and Filipino curator and critic Marian Pastor Roces, discussing 'Conceptual Art and Authoritarianism in 1970s Southeast Asia'. A rich and varied exhibition curated by guest curator Iola Lenzi was organised alongside the gathering, with works tackling political and social structures through participatory and performance art, photography, video, and installation. Josephine Turalba's Scandals (2013), for instance, comprises brightly coloured sandals composed of empty bullet cartridges that undulate under the participant's feet; the work was first shown at the Lopez Museum for the exhibition Grounded in 2013, where viewers were encouraged to wear the shoes while looking at negatives of photographs taken during American settlement of the Philippines. Elsewhere, Jakkai Siributr's costume-based piece Changing room (2017) involves try-on jackets whose suggested premise of dress-up is underlined by a more serious take on the violence inflicted upon Muslims in southern Thailand, as images of violent acts have been added to the jackets.
Koh Nguang How, Rain Tree (2018). Courtesy the artist.
Koh Nguang How: The Past and Coming Melt
Grey Projects, 6B Kim Tian Rd, Kai Fook Mansion, 169246
12 January–23 February 2019
Located in the trendy area of Tiong Bahru, Grey Projects is a non-profit art space that holds exhibitions, talks, reading groups, and workshops. Residency partnerships with international organisations include Casa Tres Patios in Colombia, Platform3 in Indonesia, and Australia's Artsource, which saw Thai-Australian artist Nathan Beard deepen his research into Chulalongkorn, a king of Siam who made official visits to Singapore between 1871 and 1891, marking the first international tours made by a reigning Thai monarch. Beard visited sites of importance from these visits and gathered information regarding Chulalongkorn's reign—significant for its military and government reforms that allowed Siam to avoid Western colonialism. Through projects such as Beard's, artists at Grey Projects frequently share lesser-known stories from Singapore and the region. The current exhibition, The Past and Coming Melt, is one example. Koh Nguang How is known as a 'one-man museum' renowned for impulsive collecting of news clippings, print ephemera, catalogues, and documentation that capture the development of Singapore's art scene in the past four decades. Koh's show with Grey Projects draws attention to his lesser-known performative installations and photographs centred around current environmental crises, such as ozone depletion, global warming, and climate change.
Exhibition view: Ellen Pau: Time After Time Will Tell, 1961, Singapore (2 November 2018–27 January 2019). Courtesy 1961.
Ellen Pau: Time After Time Will Tell
1961, #06-17, Oxley Bizhub 2, 62 Ubi Road 1408734
23 November 2018–27 January 2019
With her current 30-year retrospective at Para Site in Hong Kong (Ellen Pau: What About Home Affairs?, 9 December–3 March 2019), Ellen Pau's solo show at the Singapore project space 1961, curated by Kyle Chung, offers an intimate take on the artist's trajectory. Four video works from the late 1980s include Trap (1991, remake 2018), Love in the Time of Cholera (1988), Soundtracking (2012, remake 2018), and Great Movement (1993–1995, remake 2018). Presented alongside these pieces is a selection of archival material from Videotage Media Art Collection (VMAC), part of the non-profit organisation that Pau co-founded in 1986, when the medium was developing as a cardinal means of expression and documentation for the city's artists. A pioneer of the art form, Pau's approach is intimate, capturing the 'little moments in life and the emotional twists and turns of the everyday' whilst drawing in political currents, such as Hong Kong's fate post-handover. In The Great Movement, a lighthouse blinks faintly to the far right corner of the screen, perched atop an island amidst a grainy expanse of sea and sky, accompanied by the mournful call of a foghorn.
Soo Pieng: Master of Composition, STPI – Creative Workshop & Gallery, Singapore (19 January–9 March 2019). Courtesy STPI.
Soo Pieng: Master of Composition
STPI – Creative Workshop & Gallery, 41 Robertson Quay, 238236
19 January–9 March 2019
Born in Xiamen in China in 1917, Cheong Soo Pieng is one of Singapore's most important Chinese diaspora artists. After attending the Xiamen Fine Art Academy, Soo Pieng relocated to Shanghai to study at the Xinhua Academy of Fine Arts, only to be disrupted by the Sino-Japanese War, which rapidly progressed into World War II. Soo Pieng relocated to Singapore after the war, where he taught at the Nanyang Academy of Fine Arts amongst many other diaspora artists, including his ex-teacher from the Xiamen Fine Art Academy, Lim Hak Tai a pioneering modern artist who initiated the Nanyang style, in which Chinese pictorial traditions were blended with techniques from the School of Paris. Moving between Western, East Asian, and Southeast Asian traditions, Soo Pieng formulated a distinct blend of styles in oil and watercolour painting, and occasionally other media such as metal, capturing the island's landscapes and everyday scenes. Drawn from important private collections, the works in this exhibition are some of Soo Pieng's most significant, and demonstrate the artist's role in reconstructing the Chinese-styled landscape through modern abstraction. Between 3:30 and 4:30 pm on Saturday 19 January, Singaporean art historian, critic, and curator T.K. Sabapathy will share his insights on the artist.
Kumazawa Mikiko, Going to Buddha's House (2018). Pencil on gesso, mounted on panel. 130.3 x 194 cm. © Kumazawa Mikiko, courtesy the artist and Mizuma Gallery.
Hopes & Dialogues in Rumah Kijang Mizuma
Mizuma Gallery, 22 Lock Road #01-34 Gillman Barracks, 108939
12 January–17 February 2019
Founded by the gallery's director, Sueo Mizuma, Rumah Kijang Mizuma in Yogyakarta, Indonesia, is a co-working and residency space that promotes cultural exchange between Japan and Indonesia. This exhibition at Mizuma Gallery is curated by Hermanto Soerjanto, a Jakarta-based art collector and co-founder of Rumah Kijang Mizuma. It features works by 14 artists from Indonesia and Japan who have undertaken a residency at Rumah Kijang Mizuma: Agan Harahap, Aiko Yamamoto, Angki Purbandono, Eguchi Ayane, Fatoni Makturodi, Gilang Fradika, Kumazawa Mikiko, Okada Hiroko, Okamoto Ellie, PAPs (Prison Art Programs), Ryuki Yamamoto, Tsutsui Shinsuke, Yoga Mahendra, and Yuna Ogino. Works offer personal takes on Yogyakarta's rich cultural and historical make-up, along with its thriving contemporary arts scene, including Fatoni Makturodi's Chaosphere (2018)—a black and white paint marker and acrylic on canvas depiction of a globe teaming with small graphic bodies, houses, and other signs of life that express the busyness of Yogyakarta's urban fabric. In Kumazawa Mikiko's Going to Buddha's House (2018), tradition and modern life come together in an exquisitely detailed pencil on gesso work that depicts the famous Borobudur temple spread across the picture plane, with adults and children resting and playing in its nooks.
Between 6 and 7 pm on Friday 25 January, exhibiting artists Gilang Fradika, Okamoto Ellie, Agan Harahap, Andy 'Memet' Zulfan, will share their experiences of the residency with the show's curator, in conjunction with Gillman Barracks' annual event, Art After Dark.
Alvin Ong, Club Tropicana (2018). Oil on canvas. 90 x 77 cm. Courtesy the artist and Yavuz Gallery.
Alvin Ong: Supper Club
Yavuz Gallery, 9 Lock Road, #02-23, 108937
23 January–24 February 2019
With elements reminiscent of Italian Futurism, and in the scale and drama of history painting, Alvin Ong's paintings simultaneously convey pleasure and pain, as strikes of bright yellow, black, and dark blue oil paint charge beneath curvaceous figures whose limbs bend and twist across the picture plane. This latest body of work is Ong's most ecstatic to date, continuing his exploration of amorphous figures in surrealistic settings, albeit in sharper, stronger colours and forms. In this series, repeated spiky forms across the canvas appear like the comic POW! symbol, but are in fact depictions of the almighty durian, king of fruits, employed here as an object of desire. The figures in these paintings represent 'clandestine circles of privilege and exclusivity', whose contortions across the canvas are suggestive of profane acts, staged both independently and to others. A hedonistic joyride, this exhibition—Ong's first at the gallery—will open between 6 and 9 pm on 23 January. On 27 January, Ong will discuss his works with fellow painter, Genevieve Chua, between 3 and 4:30 pm.
Michelangelo Pistoletto, The Third Paradise – Il Terzo Paradiso (2018). Nanyang Technological University. Courtesy Partners & Mucciaccia.
The Third Paradise – Between Obverse and Reverse
Partners & Mucciaccia, 6 Lock road, #02-10 Gillman Barracks, 108934
19 January–3 February 2019
Having enjoyed an array of group and solo exhibitions in 2018, including Do It at YARAT Contemporary Art Space in Baku (1 April–10 June 2018) and Arte Povera. A Creative Revolution at St. Petersburg's State Hermitage Museum (17 May–16 August 2018), Michelangelo Pistoletto brings his legacy as a leading conceptual artist to Singapore. The artist is staging a joint exhibition at Partners & Mucciaccia in Gillman Barracks and at the Nanyang Technological University, where he will donate a new installation titled The Third Paradise – Il Terzo Paradiso, which takes the form of a reconfigured infinity sign. The artist explains that the third paradise represents a fusion between the first paradise, in which humans are fully integrated into nature, while the second is an artificial realm developed by humans through science and technology. The third paradise is a balance between these two poles, in which everyone takes 'personal responsibility in the global vision.' On Tuesday 22 January, Pistoletto will join Nobel Laureate Ben Feringa and moderator Professor Em. Helfa Nowotny to discuss 'Science Meets Art: How to Shape the Future of Humanity'—a 'partners event' of the Global Young Scientists Summit (GYSS), which will be broadcast worldwide on www.radioartemobile.it. The exhibition at Partners & Mucciaccia will open in the presence of the artist on 19 January between 6 and 8 pm.
Ben Loong, Bloodshot (2018). Resinated drywall plaster on wood. 81.5 x 84 cm. Courtesy Pearl Lam Galleries.
Zulkifli Lee and Ben Loong: FrictionaL
Pearl Lam Galleries, 9 Lock Road, #03-22 Gillman Barracks, 108937
2 December 2018–27 January 2019
This show brings together the work of Malaysian artist Zulkifli Lee and Singaporean artist Ben Loong whose material languages meet at intriguing crossroads. Lee's enduring interest in the Islamic aesthetic philosophy of Nazzariyah, which asserts organicity and man's interconnectedness with nature. Intricate patterns are created with unique materials such as limestone, dirt, soil, and sand. In the case of Serangkai (2018), soil is applied to jute in an interlocking pattern that varies in shades of deep brown and sage green. In Ben Loong's series 'Terra Blanca' (2018), wall plaster is poured into moulds to construct sandy mosaics dappled with cracks, crevices, and the occasional bulge. Placed against the wall, the work seemingly blends into the gallery's architecture, whilst simultaneously holding their own. A conversation between the two artists on the subject of their practices will take place on 27 January between 3 and 5 pm, moderated by Pearl Lam Galleries' managing director, Joseph Ng.
Exhibition view: Boedi Widjaja, Rivers and lakes Tanah dan air, ShanghART Gallery, Singapore (7 December 2018–17 February 2019). Courtesy ShanghART Gallery.
Boedi Widjaja: Rivers and lakes Tanah dan air 江湖水土
ShanghART Singapore, 9 Lock Rd, 108937
8 December 2018–17 February 2019
Image negatives take a central role in the practice of Boedi Widjaja, which he transfers, reappropriates and creates himself in an exploration of tracing and mark-making. At ShanghART Singapore, two ongoing series highlight these preoccupations—'Stone Telling' (2011–ongoing) and 'Imaginary homeland' (2015–ongoing), both of which feature graphite transfer sheets as a mechanism of transporting images. Upon encountering the red stones of Singapore's hilltop landmark, Fort Canning Hill, Widjaja placed graphite transfer paper upon the stones, creating rubbings, marking the geological surface. The more figurative 'Imaginary Homeland' series was created by applying carbon sheets to stills from martial arts films that the artist watched in his youth, which he spent in Singapore after migrating with his parents from his native Indonesia, where ethnic tensions were at their height during President Suharto's New Order. The artist went on to study architecture in Australia before turning to graphic design, and it was only in his thirties when he decided to turn to art.
Lindy Lee, Flame from the Dragon's Pearl – Fluid as Ice (2013). Bronze. 30 x 60 x 40 cm. Edition of 3. Courtesy the artist and Sullivan+Strumpf.
Lindy Lee: Exploding Suns
Sullivan+Strumpf, 5 Lock Rd, #01-06, Singapore 108933
25 January–24 February 2019
Bronze sculptures and works on paper will be on view in Brisbane-born artist Lindy Lee's exhibition at Sullivan+Strumpf's Singapore space, which opens Friday 25 January at 7pm. A founding member of Sydney's 4A Centre for Contemporary Asian Art, an independent not-for-profit that has showcased contemporary Asian art since 1996, Lee's practice explores Taoist and Buddhist philosophies to reflect on humanity's relationship with nature and the universe. Lee's early works were primarily concerned with selfhood and authenticity, using photocopies of ready-made images, such as old masters, in bold colours that were repeated, often to the point of their fading into complete darkness, as in the case of Untitled (After Titian) (1990). The recent works in Lee's exhibition at Sullivan+Strumpf are primarily concerned with the concept of time, and in particular deep time, which she explores in her paper scroll works that have been licked by fire, a prevalent symbol in Buddhist imagery. Lee has long been interested in the process of 'flung' ink, in which Ch'an monks fling hot wax and ink onto paper after a period of meditation, resulting in a composition of 'accidental' marks as a representation of the totality of the cosmos. The physicality of this action is furthered by Lee in her 'flung' bronze works, in which she throws hot liquid of molten bronze onto the foundry floor to create enigmatic shapes.
Chris Chong Chan Fui, Python (2019). (detail). 18k gold. 5 x 2 cm. Courtesy the artist and Chan+Hori Contemporary.
Chris Chong Chan Fui: Devices
Chan+Hori Contemporary, 6 Lock Road, #02-09, Gillman Barracks, 108934
23 January–3 March 2019
For this exhibition, Malaysian artist Chris Chong Chan Fui takes as his departure point one of the more unusual Asian delicacies—edible bird's nests created by certain species of swiflets, using solidified saliva. These nests are harvested and consumed for their reported health properties, believed to rejuvenate skin and clear digestive tracts. In 2013, it was reported that the trade value of edible bird's reached in excess of USD 200 million in Malaysia, though only 6 percent of the industry market share is owned by Malaysia. The rest primarily is consumed by the Chinese diaspora in Indonesia (70 percent of market share) and Thailand (20 percent). The idiosyncrasies of this commodity and its trade are compounded by the heavy, industrial labour that goes into the harvesting process, demonstrative of the lengths that humans will go to obtain naturally occurring resources, with top-quality bird's nests reaching about SGD 3,000. The harvesting process involves specially-built bungalows in which traps are placed to ensnare pests such as owls. For this show, the artist has reconstructed these traps as human-sized sculptures, along with other takes on the folly of human exploitation of natural resources. —[O]