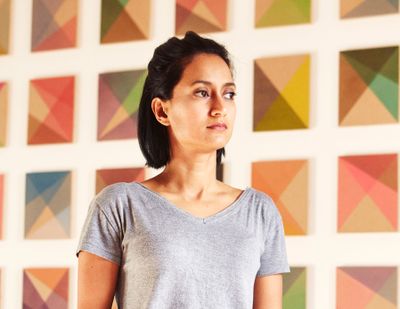 Rana Begum. Courtesy the artist. Photo: Philip White.
Rana Begum, winner of the Abraaj Group Art Prize 2017, is an Anglo-Bangladeshi artist whose conversation with the historical legacy of minimalism is textured by childhood memories of reading the Quran inside a mosque in Bangladesh. Her union of styles and influences, which combine references ranging from Donald Judd and Agnes Martin to Islamic art and architecture, manifests in geometrically composed sculptures. Her works are made from various materials—from mirror finish stainless steel and aluminium, to birch wood and industrial mesh fencing—that are painted various colours and react to the lighting conditions of exhibition spaces and sites.
Often described as 'origami-like', some of Begum's most well-known sculptures are made from metal sheets that have been scored and folded, each section coloured to follow a considered combination of tones. Take No. 579 (2015): the front side of a folded mirror finish steel sheet is coloured a glossy black, while the back is painted a luminous orange. The latter colour is visible both on the one plane that is folded to face the viewer, and on the wall on which the work is mounted, where edges of orange shadow seep out from behind. But these colour studies also manifest in other considered forms. In the case of No. 480 (2013), 20 powder-coated aluminium bars with black edges hang vertically on a wall, one side painted with a bright orange triangle and the other painted a mute grey, the two colours reflecting off one another to offer a salmon-pink as the viewer walks across it. (The overall effect recalls that of a lenticular print or rotating billboard.) Begum does not see the visual effects these works display as optical illusions—the works' composition, as she explained in one interview, reveals itself slowly; nothing is illusory at all.
Rana Begum, No. 579 SFold (2015). Paint on mirror finish stainless steel. 58 x 66 x 18 cm. Courtesy the artist. Photo: Philip White.
Begum's journey into minimalism has been a steady and organic process, with the artist leaving much of her investigation open to outside influences. She has noted that her origins were in representational art, first studying for her Foundation Diploma in Art and Design at University of Hertfordshire, Hatfield, before pursuing a BA in Fine Art at Chelsea College of Art and Design, London, and a MFA in Painting at Slade School of Fine Art in the same city. Begum's move away from representation started after she was introduced to the work of Donald Judd, Sol LeWitt, Agnes Martin, and Ellsworth Kelly, after which she began to dissect her practice into various components: form, colour, light, and line—things that she discovered could be investigated on their own.
After some exploration, Begum began to move into colour, working first with coloured adhesive tapes and resin in order to explore how even a single line of colour might influence an overall composition of layered colour fields. A 2006 British Council Residency in Bangkok saw the artist work with orange reflectors for the first time—a readymade material that points to Begum's relationship with the cityscape, and a perspective that art critic and curator Nick Hackworth has described as 'urban Romantic'. Ten years later, Begum would use 30,000 reflectors in a large, 50-metre-long site-specific work installed at Lewis Cubitt Square in London's King's Cross. Titled No. 700 Reflectors (2016), the work points to the interest Begum has in capturing the infinite in moments of unexpected and contemplative intervention, and in particular, extracting those moments from right within the urban setting itself. As she has noted, it is not only the mosques of her childhood that she seeks to invoke in her work, but the architectural and infrastructural composition of a city, a site full of form, colour and light, where the confluence of elements can sometimes spontaneously work together to create unexpected spaces of calm.
In this interview, Ocula talks to Begum about her work, the way it has developed, and elaborates on the concepts that she explores.
SB

I wanted to start with the moment you discovered Judd, Martin, Ellsworth, and LeWitt—a pivotal moment in your practice that signalled your move into minimalism. Were there any particular works or ideas from these artists that really resonated with you, and if so, why?

RBFor me, Minimalism is about making work, which evokes contemplation and serenity while using materials that bear truth to structure, mass and surface. The work of Donald Judd, Frank Stella, Ellsworth Kelly and Sol LeWitt showed me how you can embrace the physicality of materials while simultaneously exploring light and colour. Most recently I have been drawing inspiration from the non-representational and reductive paintings of Agnes Martin. I find that they instill a feeling of calm and serenity. Her rational and logical processes seem to offer infinite possibilities of expression.
SB

What you have retained from your origins in representation—are there elements that you carried over into abstraction from that period?

RBI don't think there is any obvious transfer of representational elements from my earlier career to my abstract work. However, there are visual parallels of course, such as the varied quality and weight of line, vibrancy of colour and celebration of light. These elements have always imbued my work.

Rana Begum, No. 207 (2010). Drinking straws and UV lights. Courtesy the artist and Delfina Foundation, London. Photo: Begum Studio.
SB

How did your influences expand after this initial encounter with American minimalism? Your work so often recalls the great Latin American minimalists, from Lygia Pape and Hélio Oiticica, to Jesús Rafael de Soto, who was in turn influenced by Mondrian and Malevich, representatives of Neoplasticism/De Stijl and Constructivism, which I believe are also two influences?
Could you talk about how your art historical influences and references have developed from the moment you first started researching them? Have any other artists become especially important to you, or have you maintained a relationship with those first references?
RBI became interested in the work of Latin American artists such as Jesús Rafael de Soto and Hélio Oiticia while I was doing my MA. Exploring colour was a big focus for me at that time and they, as well as Constructivist artists like Charles Biederman, offered boundless inspiration. However, as I developed my ideas and became more fluent with the use of light, colour and form, I found myself returning to my initial sources of inspiration—Josef Albers, Sol LeWitt, Donald Judd and in particular Agnes Martin. It was through studying the work of these artists that I truly found my direction. I never tire of them!
I also really admire the work of Tess Jaray and Flore Nové-Josserand. Their work always feels fresh and exciting. I worked as an assistant to Tess Jaray for five years after graduating and have admired her work ever since. I also greatly enjoyed Ugo Rondinone's 2015 show clouds + mountains + waterfalls at Sadie Coles HQ in London—I was surrounded by intense colour and beautiful forms, it was like being in heaven. I would love to have one of those sculptures!
Rana Begum, No. 480 (2013). Paint on powder-coated aluminium. 200 x 156 x 8 cm. 20 sections. Courtesy the artist. Photo: Philip White.
SB

You have said that if we were to look at your 2016 work No. 680 Painting, we would be able to understand what is happening in your earlier practice. Why?

RBNo. 680 Painting is comprised of 54 studies on MDF panels that focus on overlapping, transparent coloured planes which create a third layer of geometry and colour. I used a similar principle in my previous series of 'Box' works. Here, colours mix across the powder-coated aluminium bars, revealing the dynamic qualities of colour and tone. The same work can appear completely different depending on the quality of light and the angle from which it is viewed.

It has been said before that my work creates illusions in colour and light, but actually it really has nothing to do with illusion. The work reveals itself as you interact with it, communicating the material from which it is made and the way the colour is used—it's not hiding anything. I think that approach becomes much clearer in works such as No. 680 Painting.
SB

The development in your practice has been shaped in part by your participation in various residencies around the world. For example, you first used reflectors during a residency in Bangkok, which marked a development in your work moving into three dimensions. You have noted this was influenced by your use of adhesive tape and the necessity for resin to fix tape down, which resulted in reflective surfaces that made you very aware of space. Then there was the 2009 residency in Beirut with the Delfina Foundation, where you began using steel rods in order to 'draw' shapes inspired by studies you made of Beirut's skyline using straws.
Could you talk about the importance of these residencies to you?
RBAs you mentioned, residencies are a great way to immerse yourself in a different environment and start exploring new directions. It's essential for me to have these moments to focus my entire energy on creating different works. It is great to be an artist in a city like London, which is constantly morphing and changing, as it provides so much inspiration. However it is still essential to be taken out of your comfort zone in order to really push and challenge the work. This year I will go on two more residencies: the Vannucci Artist Residency in Italy and Bellas Artes Projects in Philippines. I'm very grateful for these opportunities.
Rana Begum, No. 670 (2016). Powder-coated mesh. Dimensions variable. Exhibition view: The Space Between, Parason Unit, London (20 June–18 September 2016). Courtesy the artist and Parasol Unit. Photo: Philip White.
SB

You have talked about your work making its way out into the room as your studies into colour and form developed—in other words, from two-dimensional surfaces into three-dimensional forms. This was demonstrated in relation to No. 670 (2016), one of the work's you showed at the Parasol Unit in London during your 2016 exhibition, The Space Between (30 June–18 September 2016). The work comprised a large, room-sized installation of industrial mesh fencing cut into squares, painted in various colours and arranged to form a three-dimensional architectural structure within the the Parasol Unit space. The effect is a three-dimensional view of an intricate colour study—a physical crosshatching.
What does No. 670 say about how far you've come, or how far the work has pushed itself out into the room?
RBMy work is in a constant state of evolution with three-dimensional work giving rise to drawings and vice versa. It is not the distinction between sculpture, painting, design, architecture that I am interested in, but more the blurring of the boundaries between these disciplines. No. 670 stems from my interest in geometric patterns and activating a two-dimensional composition. It evolved from No. 473 Baskets (2013), a large-scale basket installation produced by the Samdani Art Foundation for the 2nd Dhaka Art Summit (7–9 February 2014).
I am continuously working with the fundamental elements of light, colour and geometry, and No. 670 combines all three. Viewers can walk through the installation and experience it as a labyrinth of coloured mesh, pierced by rays of light. Its scale elevates the industrial material, making it seem at once imposing and delicate. The viewer often plays an instrumental part in the activation of my work. I love the way this work allows you to truly experience it from every angle.
Rana Begum, No. 473 Baskets (2013). Baskets. Exhibition view: Dhaka Art Summit (7–9 February 2014). Courtesy the artist and Dhaka Art Summit.
SB

Could you talk about the way colour and form express these ideas of the infinite, as you express them in your compositions?

RBThe infinite was never a preoccupation of mine. Rather it has naturally developed from the work itself. As my practice was refined and distilled, adopting a language of modularity and repetition, a theme of the infinite revealed itself and continues to take form.

My use of repetition gives rise to the idea of the infinite, which in turn evokes a sense of the spiritual. From very early on, I wished to create work that was not static. In life we are in constant motion, seeing things change and shift around us. I felt the need to reflect these transitions and changes within my work. I rely upon both natural light and the interaction of the viewer to achieve this.

The colours used in the work change dramatically from the beginning to the end of day as they absorb and reflect varied densities of light. The viewer also plays a vital role. Loud, bright colours become subtle hues as the viewer moves across the surface of the work experiencing form, colour and pattern simultaneously.

Rana Begum, No. 700 Cubitt Sq. (2016). 30,000 reflectors. 50 m. Exhibition view: Kings Cross, London. Courtesy the artist and Anthony Upton/PA Wire.
SB

How does this relate to your use of numbers for titles, which reflects your desire for viewers to always see the work, the colour and the form, first and foremost, and not the artist or their culture and religion?

RBDespite the varied influences informing my practice, I think it's important to remember that my work isn't about religion, culture, gender or politics. Rather it is a visual universal language that everyone can relate to and understand. This is one of the reasons that the works are titled by number—I don't wish to dictate how the viewer should interpret the work. I prefer that they find their own meaning, their own kind of connection with it.
SB

You have compared minimalism with the repetition of Islamic prayer and have also talked about wanting to recreate the contemplative calm you experienced in the mosque. How does this unite with your relationship to urban architectural space, and your interest in seeking out contemplative moments in the city? Does your preference for grey as a neutral, universal colour provide a link between the city, the mosque, and geometric abstraction in this regard?

RBThe urban environment provides serendipitous moments of calm and beauty—the play of light on a wall, an unexpected silence amidst the clamour. These are things which inspire my work and which I try to capture and take energy from. Above all however, the urban environment inspires my choice of materials. I work by responding to what is readily available and at hand, fully engaging and experimenting with a material to test its capacities and limits. The work often grows out of the desire to work with a specific material rather than attempting to fit a medium to a finished design. I love working with industrial materials and metals such as steel and extruded aluminium, which perhaps explains my use of grey as a neutral. There is an honesty of functionality in these materials and I find a beauty in the repetition of their mass production, their artificiality. The modular nature of built structures and the city grid has a marked influence on the way I create my work. It provides a semblance of order and control.
SB

Finally, could you talk about what you will be showing as part of the 2017 Abraaj Capital Art Prize exhibition at Art Dubai (15–18 March 2017)? It would be great to know how you see this as an evolution in your practice. For example, as your various residencies enabled you to push your practice further, how has this prize influenced your development?

RBThe work stems from my interest in the interplay between light and colour. More specifically, the commission evolved from a series of studies on MDF panels (including No. 680 Painting). These works were the starting point, which prompted me to explore this interplay further and attempt to make it concrete. The paintings become more physical through the use of transparent glass, which allows the viewer to see how light, colour and form come together in an open space. Natural light is thus the only contingent element in the work, which activates the composition and unites the whole piece.

Being selected for the Abraaj Group Prize 2017 has allowed me to see this concept come to life at a much larger scale than my previous works. It's the first time that I have worked with glass panels, so I'm a bit nervous but looking forward to seeing the finished piece. I hope that this commission will bring the last few years' research together. —[O]