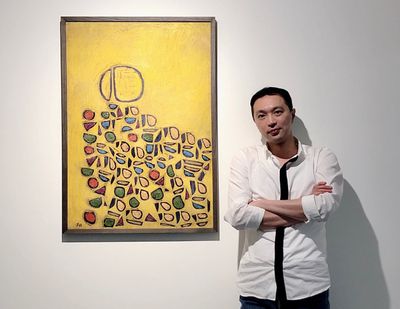 Steven Lee, Managing Director, Asia Art Center (Taipei). Courtesy Asia Art Center.
For nearly four decades, Asia Art Center has supported over 40 artists, providing a platform for modern art history from 1945 onwards in Taiwan as well as countries and regions including Japan and Southeast Asia.
This is supported by Asia Art Center's outposts in Beijing, at the 798 Art Zone, and in Shanghai's M50 Creative Park. A new headquarters opens in Taipei's Dazhi area this month with 1,800 square metres of gallery space, including 3,000 square metres of outdoor space available for public sculptures. Having organised over 300 art events in over 20 cities over the years, the gallery is now 'at a very ideal stage', explains Steven Lee, Managing Director of Asia Art Center (Taipei), to bring a series of large-scale international exhibitions to Taipei.
Asia Art Center (Taipei). Courtesy Asia Art Center.
The new headquarters, which replaces Asia Art Center's two spaces in Taipei on Jianguo South Road and Lequn 2nd Road, is set to provide a platform for the gallery's activities, which encompass research, publishing, and education programmes alongside regular exhibitions. The first of these will be Transgression throughout the Volatile World, which blends historical and contemporary artists including Li Chen, Walasse Ting, Atsuko Tanaka, Howard Fonda, and Foujita Tsuguharu in a display that aims to convey 'the ideals of transcendence and limitless creativity.'
In this interview, Steven Lee discusses Asia Art Center's past while looking to the future, introducing some of the highlights to come.
Li Chen, Golden Rain (2005). Bronze. 142 x 141.5 x 256.5 cm. Courtesy Asia Art Center.
TM

For 38 years, Asia Art Center has supported art ranging from ink and video to photography and sound, and represents over 40 artists. Does the establishment of the new headquarters represent an expansion of this roster, or a specialisation in certain areas? Or perhaps both?

SLAsia Art Center was founded in 1982 in Taipei, Taiwan. We have maintained unparalleled passion and professionalism, promoting high-quality art programmes and art education. In addition to the management of Asian classic masters, we grow with artists who have collaborated with us for many years, and we are gradually expanding our cooperation with artists from different countries as well.

Our brand-new Asia Art Center (Taipei) flagship space is set to showcase a series of large-scale international exhibitions. The high-rise gallery exhibition room with flexible usage can meet the needs of diverse forms of exhibition. We are always looking for more possibilities!

Asia Art Center (Taipei). Courtesy Asia Art Center.

We have been preparing for this new headquarters since 2010. It has 1,800 square metres of floor space, which is larger than the two venues we used to have in Taipei, including three different-sized exhibition spaces, two VIP rooms, an office seating 30 staff members, a library, a multimedia conference room, and storage areas.

All exhibition spaces are open plan without columns, and are equipped with multiple rigging points and professional lighting, which can support diverse multimedia art displays and provide artists with a high-quality presentation platform. There is also a 3,000-square-metre outdoor walkway area, which is perfect for large-scale sculptures and installations.

Asia Art Center (Taipei). Courtesy Asia Art Center.
TM

The Center's exhibitions have been of museum calibre since its founding—a characteristic that perhaps will be emphasised in its proximity to other key institutions such as the National Palace Museum. What can we expect of Asia Art Center (Taipei)'s public and educational programming with the opening of the new headquarters?

SLAsia Art Center is devoted to art education. In 2009, Pop Art Godfather — Andy Warhol World Exhibition toured Taipei. My father, Mr. Li Duen-lang, participated in the relevant contemporary art forum with curator Victoria Yung-Chih Lu at his alma mater National Taiwan University of Arts; in addition, we also organised art talks that display artists' fleshed-out ideas and issues that are relevant to the exhibitions.

Zao Wou-Ki, Ile (Island) (1956). Oil on canvas. 60 x 71 cm. Courtesy Asia Art Center.

Over the years, we have continued inviting artists and scholars to participate in our educational programmes. For example, during Calling for A New Renaissance — Gao Xingjian Solo Exhibition in 2016, we organised two events: a panel discussion including the artist and 2000 Nobel Prize in Literature winner Gao Xingjian, Taiwan National University Professor Hu Yao-heng, and National Taiwan University of Arts President Chen Chih-cheng, as well as another art talk by the Taiwan Film Institute's Film Appreciation Journal Executive Editor-in-Chief Austin Ming-Han Hsu and National Tainan University of the Arts Professor Sun Sung-jung.

Foujita Tsuguharu, Young Woman in Profil (1929). Oil on canvas. 23.8 x 19.8 cm. Courtesy Asia Art Center.

In recent years, Asia Art Center has been actively working with international contemporary artists. Now we have updated our hardware in the new flagship space; for example, one of our exhibition spaces—known as Room C—is also a professional multimedia room for educational purposes.

Additionally, we have wide outdoor spaces for art that aim to connect the gallery to the local Dazhi community. We will of course continue organising art education programmes, events, and public art. Asia Art Center focuses not only on the local art scene, but also on the exchange and promotion of contemporary art in Taiwan and internationally.

Tanaka Atsuko, 83E (1983). Synthetic Polymer Paint On Canvas. 194 x 129.9 cm. Courtesy Asia Art Center.
TM

What is an upcoming exhibition or programme that you are most excited about, beyond the opening of the new headquarters?

SLIn the second half of 2021, Asia Art Center (Taipei) will bring in several international collaborative exhibitions, as well as a solo exhibition by Taiwanese contemporary artist Etan Pavavalung, whose work forms a dialogue between art, ecology, theology, and the lost ancient wisdom of the mountains. The artist himself is of Taiwanese indigenous descent.

Guy Yanai, Fox Hill Road - Hotel Regina (2016). Oil on linen. 130 x 100 cm. Courtesy the artist and Praz-Delavallade, Los Angeles.

Following the development of modern and contemporary art in China, Northeast, and Southeast Asia, we are intensively working with artists, curators, and galleries from Europe and America. Asia Art Center is keen on introducing Western contemporary art to the Taiwanese art market, exchanging art information, and vice versa.

The most recent show after the grand opening will be a group exhibition of 20 female artists from Europe and America. We are working on this exhibition with the goal of bringing together women's points of view and showing how female characters in the social context develop their beauty, self-confidence, freedom, wildness, and introspection, among other aspects, rather than simply gathering works from female artists in a dichotomised discourse. We are all very excited about this show. Let's look forward to it!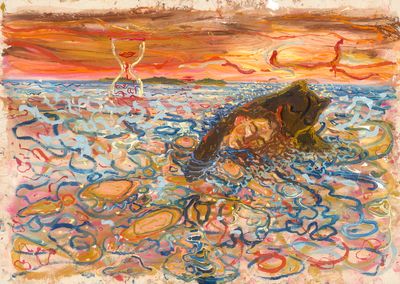 Katarina Janeckova Walshe,
Memories and Trust
(2021). Acrylic on canvas. 135 x 195 cm. Courtesy Asia Art Center.
TM

Taipei's art scene has demonstrated resilience through the pandemic, in comparison to other regions of the world. How has this period contributed to or changed Asia Art Center's global strategy?

SLAsia Art Center currently has branches in Taipei's Dazhi area, Beijing's 798 Art Zone, and Shanghai's M50 Creative Park, with a total of more than 3,000 square metres in exhibition spaces.

We are deeply engaged in Asian modern and contemporary art, including Overseas Chinese Artists' societies, the Fifth Moon and Eastern Painting Groups in Taiwan, Mono-ha and Gutai in Japan, Dansaekhwa in South Korea, Nanyang School in Singapore, Bandung and Yogyakarta Schools in Indonesia, Filipino modern art, and experimental art. We have organised more than 300 art events in over 20 cities.

Marius Bercea, After the Rain (2021). Oil on canvas. 190 x 140 cm. Courtesy the artist and François Ghebaly.

A few years before the pandemic, Asia Art Center started a conversation with the international art world. After the outbreak of Covid-19, we turned our focus to western contemporary art, including the United States, Britain, Germany, and Romania.

Compared to other countries, Taiwan has been effective in controlling the spread of the virus. Also, Taiwan has a multicultural background and is open minded to diverse art practices, as well as profound humanistic and aesthetic values.

Most importantly, people in Taiwan are living a normal life without lockdown, which makes this a good opportunity for art exposure and presentation. This also makes the relationship more established between us and overseas artists—Taiwan is at a very ideal stage. We are now more confident to introduce international contemporary art to Taiwan. —[O]