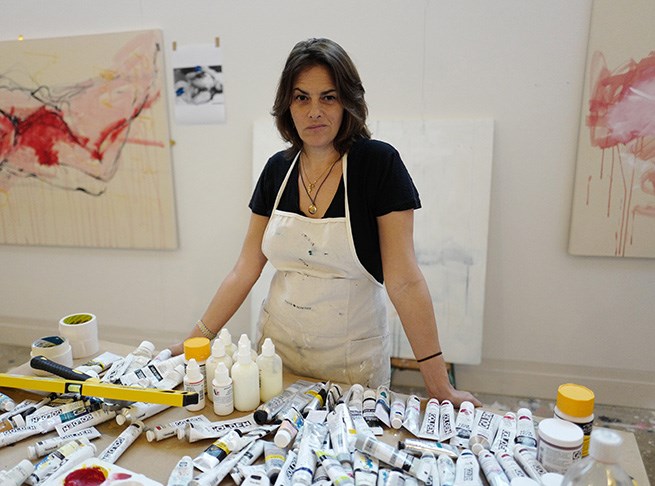 Image: Tracey Emin. Photo: Richard Young.
On the eve of the opening of Tracey Emin's exhibition I Cried Because I Love You (21 March–21 May 2016) at Lehmann Maupin and White Cube in Hong Kong, Ocula interviewed the artist about her practice. The conversation took Emin's survey exhibition She Lay Down Deep Beneath the Sea at Turner Contemporary in 2012—located in Margate, where the artist grew up—as a starting point. The show presented a new body of work—formal studies of the female form, including large, expressive line paintings of the body rendered in blue paint on raw canvas—that marked a radical departure from Emin's vernacular up until that moment. Emin had become known for angst-ridden expressions infused with the artist's personal biography, which she has consistently used as material for her work; exemplary pieces include her 1999 Turner Prize shortlisted work My Bed, which consisted of Emin's own bed, and Everyone I Ever Slept With 1963–1995, a tent appliquéd with all the names of people Emin ever shared a bed with. The 2012 show, by contrast, offered a totally new turn.
She Lay Down Deep Beneath the Sea was followed by the exhibitions The Last Great Adventure is You (8 October – 16 November 2014) at White Cube in London, and Tracey Emin/Egon Schiele: Where I Want to Go at Leopold Museum in Vienna (24 April 2014–September 2015. The White Cube show presented an evolved body of work that built on the developments Emin showcased in 2012: paintings, drawings, bronze sculptures and neon lights, all reflecting a more tempered relationship to the female form, while the exhibition in Vienna created a synergy between Emin's softer formalism and the expressive lines of Egon Schiele's figurative studies.
In Hong Kong, Emin will present a continuous exhibition of painting, embroidery and neon across White Cube's and Lehman Maupin's galleries, reflecting the diversity of her practice. A central aspect to this narrative is a large stone located in an olive grove outside Emin's studio in the South of France, on which the artist has based a series of drawings that commemorate a marriage ceremony which took place in the summer of 2015. The stone, for Emin, represents a metaphor for stability and enduring love, be it platonic, erotic, or focused on the self; a concept that has defined the scope of Emin's practice from the very beginning.
I'd like to start with your 2012 exhibition She Lay Down Deep Beneath the Sea (26 May–23 September 2012) at Turner Contemporary in your hometown, Margate. With the view of the coast visible from within the gallery space, it seemed such a perfect articulation of how Margate must have so deeply influenced your work—the coastline feels at once like a potential release and a trap. I wonder if you could talk about what this exhibition meant to you, as an artist coming home to where it all began? The exhibition opened less than a year after your mid-career survey at the Hayward closed, after all, and presented a new series of works that suggested a real break from the past.
With my show in Margate, I really wanted to do something that was more optimistic, that had light. Everybody in Margate was aware of my past and history and that was the idea I had from the start; to show something that showed that my life had moved on but was still related to my past. The most wonderful thing about my show in Margate was that 170,000 people went to view it; that really was a feeling of being home.

Image: Tracey Emin, Body, 2015, gouache on paper, 12 x 16 inches (30.5 x 40.6 cm) © Tracey Emin. All rights reserved, DACS 2015. Photo © Ben Westoby. Courtesy of Lehmann Maupin and White Cube.
The exhibition also included these remarkable erotic drawings by JMW Turner and Rodin. Turner being an artist whose work constantly invoked the British coast, and the billowing clouds that rush over the island. I wonder if you could talk about the influence Turner had on you?
When I was a student I actually did a series of oil paintings of Margate in the style of Turner. I find his work very sensual and extremely passionate. It was fascinating as a child knowing that a great artist was associated with Margate.
Another influence on your work has been Egon Schiele. I understand you have been obsessed with him since you were 15? What led you to Schiele, and what was it about his work that spoke to you at such a young age?
David Bowie's cover for 'Heroes' was influenced by Egon Schiele, and that's how I became aware of him. I went to the local bookshop and found a book on Expressionism and there was a tiny image of Egon Schiele: a self-portrait that I could totally relate to. I think this was a defining moment for me in terms of my understanding of art.
The Last Great Adventure is You at White Cube in 2014 took place at the same time as an Egon Schiele exhibition at The Courtauld Gallery in London. The two exhibitions put into perspective your prolific career, which recalls the same sense of urgency Alfred Werner observed in Schiele, as an artist who not only relieved himself of his anxieties, but also somehow made the public participate in them. I wonder what this exhibition at White Cube meant to you, given that it preceded your exhibition at the Leopold Museum, Where I Want to Go, which presented more than 80 of your works alongside Schiele's?
My show at White Cube was a big move forward for me. I showed bronzes and paintings; it was very important to me that the work showed the creative process with my hands. It is only now I'm in my fifties that I really feel that my mind and heart and soul and hands are actually coming together. I just wish it had happened earlier. I think it showed in my White Cube show.

Image: Tracey Emin, I Cried Because I Love You, 2016, neon, 31.5 x 78.74 inches (80 x 200 cm) © Tracey Emin. All rights reserved, DACS 2016. Photo © George Darrell. Courtesy of Lehmann Maupin and White Cube.
In the White Cube exhibition, I particularly enjoyed a collection of deformed bronze female figures which recalled an interview you gave in 2002, in which you stated: 'I couldn't see myself making a bronze sculpture—it's not me.' And yet, after all this sustained reworking and rethinking, it became you. How do you feel about this development? And further to this, which artists have been the greatest formal influences on you and why? You have mentioned Bacon, Rodin, and Picasso... Are there others?
Yes, Louise Bourgeois. I actually had the fortune to collaborate with Louise Bourgeois before she died on a series of images called
Do Not Abandon Me
. I became friends with Jerry Gorovoy from the Louise Bourgeois Foundation [The Easton Foundation], and he introduced me to the foundry that she used. This gave me a lot of confidence in terms of learning the lost wax process, and over the last four or five years I have become very excited about bronze sculpture. It's something I never thought I would be able to do—like learning a language at an old age. It's something that I am pursuing and learning more and more as the days go by.

Related to the last question is how your take on the formal study of the female form is subverted, somehow, by the fact that it is your own gaze, and not a man's, which is studying and representing it?
It is my body; I know my body better than anyone else. I am my best model; it makes it really different that I am the woman because I am not viewing my body with a sexual gaze but with an understanding one.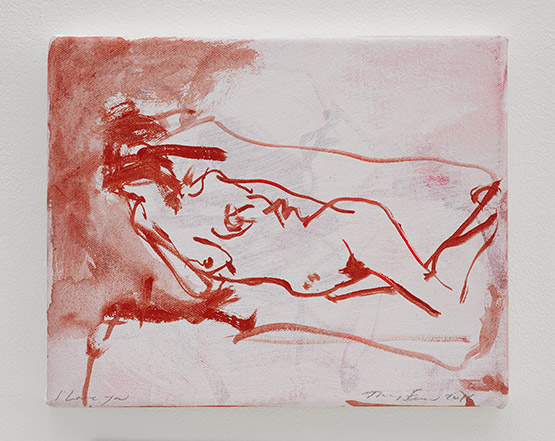 Image: Tracey Emin, I love you, 2015, acrylic on canvas, 8 1/8 x 10 1/16 inches (20.6 x 25.5 cm) © Tracey Emin. All rights reserved, DACS 2016. Photo © George Darrell. Courtesy of Lehmann Maupin and White Cube.
What was interesting about The Last Great Adventure is You was the positive reception you received from the British press, which reflected another aspect that has defined your career: your relationship to the public and to the media.
On the critical battering you received from UK critics for your exhibition in the 2007 Venice Biennale British Pavilion, you noted in an interview with Vanity Fair, 'The press was cruel, because they didn't just dislike my work; they disliked me, personally—my voice, the way I dress, the way I look, my attitude. I'm sure they wouldn't have carried on that way if I were a man. I'm absolutely convinced of that.' Looking back, how do you feel your changing relationship with the media reflects the way people have learned to understand your work?
I don't think it's so much people learning to understand me as it is also the fact that I have a much quieter, diligent attitude. I haven't been brow-beaten but I don't really have time or energy to fight back anymore. I just have to get on with my work. I think that after 20 years of being in the public eye, thankfully people are more judgmental about my work rather than the size of my breasts.
You have said you are an Expressionist. This is manifested in the works that deal directly with your past, including themes of rape, assault and the side effects of such experiences, including alcoholism and non-existent self-esteem, coupled with a deep and unbearable need to be loved while being acutely incapable of letting love in. Your later work appears to present a calmer Emin: one who understands, as expressed in one of the neons included in the 2014 White Cube show, that 'the soul will always do what it needs to do.' I wonder if you could talk about your relationship with art in this regard—as a conduit for the soul to express itself?
All those feelings are still there, except I have just learnt to deal with them better. All I seem to do is work and think about my ideas and by doing that I tend to resolve more of my problems in life—or just don't have time for problems anymore. I am so lucky that I have art: it looks after me, it holds me, it feeds me, and even though sometimes I may have a creative block, art has never left me. It is always there.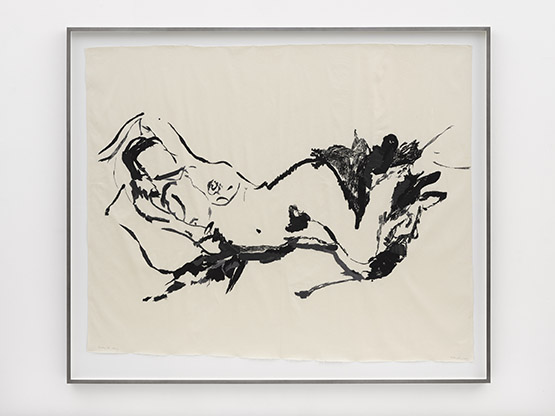 Image: Tracey Emin, Waiting For Morning, 2015, embroidered calico, 82 5/16 x 99 7/16 inches (209 x 252.5 cm), 90 9/16 x 107 1/2 x 3 9/16 inches (230 x 273 x 9 cm) (framed) © Tracey Emin. All rights reserved, DACS 2015. Photo © Ben WestobyCourtesy of Lehmann Maupin and White Cube.
Your work recalls another description of Schiele put forward by Alfred Werner: 'Too many have yet to see that beneath the agitation in Schiele's drawings and paintings there is the calm of a brooding philosophy which searches out the remotest corners of the soul.' I wonder how your current exhibition in Hong Kong at Lehmann Maupin and White Cube might reflect on the corners of the soul you have reached at this point in your practice?
After May, when the Hong Kong exhibition finishes, I am taking a year off, which will give me some time to do some soul searching. I desperately crave more time to think. Art should never feel like a treadmill; it should be an expression of the soul. I would be happy if I can just go away somewhere and scream, even if no one hears me.
—[O]