Feature
Sydney Art Week 2017: a round up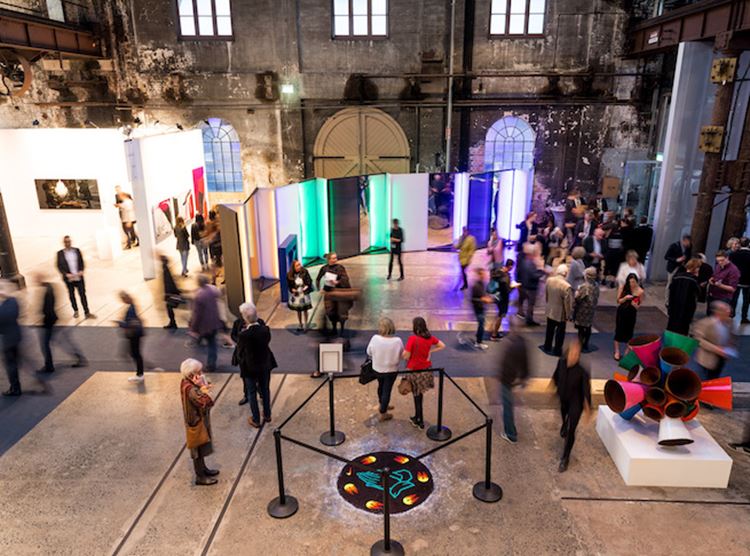 Sydney Contemporary, Carriageworks (7 September–10 September 2017). Courtesy Sydney Contemporary. Photo: Jacquie Manning.
Sydney Art Week saw the city's art ecology coming together in celebration all things creative in one of Australia's largest art hubs. The week was headlined by the 2017 iteration of Sydney Contemporary, Australia's largest art fair held at the multi-arts venue Carriageworks (7 September–10 September), and boutique fair SPRING1883, held at the Establishment Hotel (6 September–9 September 2017). These fairs, along with satellite exhibitions, displays, events, and parties, were enough to draw local and international audiences to a city CEO and Group Fairs Director Barry Keldoulis describes as being 'on everyone's bucket-list'.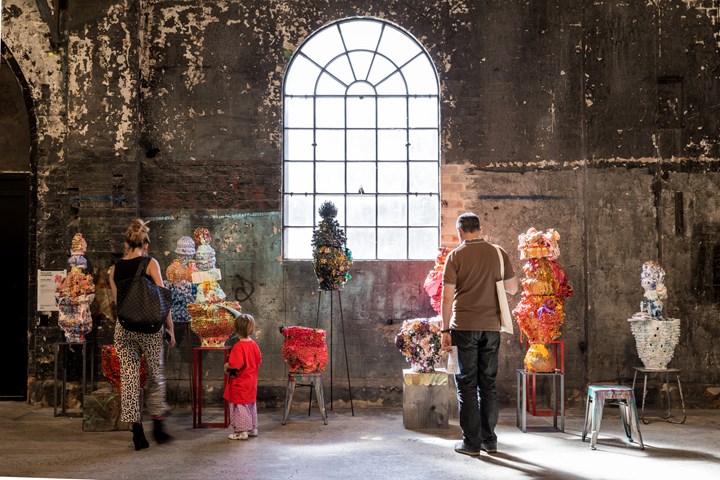 Sydney Contemporary, Carriageworks (7 September–10 September 2017). Courtesy Sydney Contemporary. Photo: Jacquie Manning.
This year, the third edition of Sydney Contemporary featured more than 90 participating galleries, with exhibiting galleries making use of larger booths than in previous iterations to present largely museum-style exhibits. There were strong presentations by Australian galleries, with Sullivan+Strumpf showcasing leading Australian Indigenous artist Tony Albert, and THIS IS NO FANTASY + dianne tanzer gallery showing work by Vincent Namatjira, great-grandson of the famous Australian Indigenous artist and historical figure Albert Namatjira. Jan Murphy Gallery displayed a strong booth with work by Danie Mellor, Juz Kitson and Guy Maestri, and The Commercial showed a group exhibition including the work of recent Archibald Prize winner Mitch Cairns. Alongside these Australian galleries were those from Santiago, Wellington, Kyoto, Hong Kong, Cologne, Tehran, Singapore, Auckland, Berlin, New York, Manila, and Cordoba.
The vernissage drew interest, with much local and international support, with collectors visiting from Singapore, Hong Kong, London and New York. For some, sales were robust. Ursula Sullivan, Co-Director of Sullivan+Strumpf describing the opening night of Sydney Contemporary as confirmation of 'the strength of Australia's art audience and market', with the gallery's solo show of works by Tony Albert selling out in just a few hours. Justin Miller, Director of Justin Miller Art, confirmed sales of more than AUD 1 million, including a Brett Whiteley self-portrait, which was purchased by Gerard Vaughan for the National Gallery of Australia on the opening night.
Sydney Contemporary, Carriageworks (7 September–10 September 2017). Courtesy Sydney Contemporary. Photo: Jacquie Manning.
Looking beyond the galleries sector, one highlight of Sydney Contemporary was Installation Contemporary: a show within a show curated by Museum of Contemporary Art Australia Chief Curator, Rachel Kent, and Assistant Curator, Megan Robson. The sector brought together works by 15 contemporary Australian and international artists, including Australian artist Lara Merrett's compelling textiles work, Time After Time (Compendium of Gestures) (2017). Presented in-situ, studio-style, visitors were able to physically cut a piece of the work off and take it home with them.
An attitude of sharing was also on display at the 4A Centre for Contemporary Asian Art booth, which presented Speculative Entertainment No. 1 (Sydney Edition) by Indonesian artist Uji Handoko Eko Saputro—aka Hahan. The large-scale, 7.5 metre-long work was divided into small sections that visitors could purchase for a small cost, the result of which was a process that made the concept of art collecting accessible, while at the same time offering a critical layer to the fair.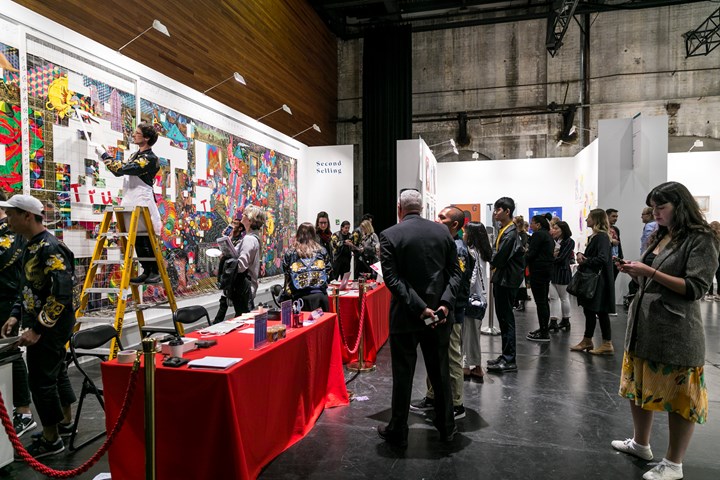 Sydney Contemporary, Carriageworks (7 September–10 September 2017). Courtesy Sydney Contemporary. Photo: Jacquie Manning.
The site-specific context of an art fair as a space of exchange was also a theme at SPRING1883, where New Zealand-based artist Eve Armstrong showcased her ongoing participatory project Trading Table, presented by Michael Lett gallery and Chartwell Trust. Located at the hotel's gym, visitors were invited to trade with the artist for something on the table, which displayed anything from a trading manual to a basketball hoop. (The artist started with some core items, and the collection morphed and changed as more people engaged with the work.) SPRING1883 markets itself as a boutique fair, and what audiences love about it is the chance it offers to see work in a hotel-room format, outside the usual white-cube or booth-designed art fair. Staged at the Establishment Hotel, the setting offers a perfect context to view, sell, and buy art, since pieces are displayed in a way that helps collectors to imagine the works in their homes. In addition, showing work on a smaller scale, and in more intimate manner, allows for more direct engagement between gallerists, artists, and audience.
Overall, this year's iteration of SPRING1883 included 23 participating galleries; from Australia, the US, New Zealand and the UAE. Highlights included minimal-style works on paper by Pakistan-based artist Fahd Burki, presented by Dubai-based gallery Grey Noise. The gallery is well regarded as a space that fosters experimental thinking within the commercial space, with all its shows expressing a strong conceptual grounding. The gallery also represents major international artists, such as Lala Rukh and Lantian Xie, who have each recently been exhibited in major exhibitions including documenta 14 and the 57th Venice Biennale.
Sydney-based project space ALASKA Projects was another standout, with an immersive installation by emerging Sydney-based artist Jason Phu, his display included a full bed cover in black painted with white Chinese characters (where does loves come from? it comes from the guts. your heart explodes and your tongue is ripped out, 2017). Sydney and Berlin-based Michael Reid Gallery presented a photo series by artist Christian Thompson, who recently participated in the 11th Shanghai Biennale. Artist Heather B. Swann presented an eerie install for Hobart-based Michael Bugelli Gallery, starting in the bed and continuing into the bathroom space. Sydney-based Darren Knight Gallery presented work by Melbourne based artist Ronnie Van Hout and New York-based artist Jess Johnson.
Beyond Sydney Contemporary and SPRING1883, it was heartening to see exhibitions staged around Sydney that highlighted the work of senior women artists, such as The Fabric of Fantasy (5 July–2 October), a major solo exhibition by pioneer feminist artist Jenny Watson at the Museum of Contemporary Art Australia, curated by MCA Curator Anna Davis. A hop, skip and a jump away at Art Gallery of NSW was the major new solo exhibition a shape of thought (August 2017–February 2018) by senior Australian installation artist Mikala Dwyer, curated by Wayne Tunnicliffe.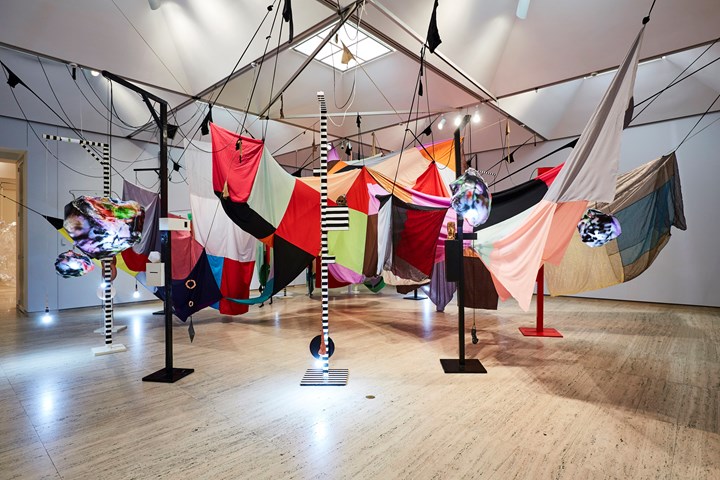 Mikala Dwyer, Square cloud compound (2010). Fabric stockings, glass, beer, champagne, plastic, ceramics, found things, wood, rocks, lights, paint, acrylic, cat and bird ornaments. Dimensions variable. Exhibition view: A shape of thought, Art Gallery of New South Wales, Sydney (26 August–4 February 2018). © Mikala Dwyer. Courtesy the artist and Art Gallery of New South Wales. Photo: Jessica Maurer.
In addition to this, there was also a strong representation of artists from diverse backgrounds, such as Balik Bayan (7 September–2 November), a group exhibition at Blacktown Arts Centre that features work by local and international artists with Filipino ancestry. 4A Centre for Contemporary Asian Art's exhibition curated by Mikala Tai and Kate Warren, I don't want to be there when it happens (18 August–8 October 2017), presents recent works by Raj Kumar, Sonia Leber & David Chesworth, and Adeela Suleman, who seek to represent individual experiences of war in relation to Pakistan. Curated by Talia Linz and Alexie Glass-Kantor, Artspace Sydney's THE PUBLIC BODY .02 (28 July–2 October 2017) is the second in a two-part exhibition exploring ideas surrounding the body as an entity subject to physical constraints and limitations, featuring over 40 artists and collectives.
Other surrounding Sydney exhibitions of note included Primavera 2017: Young Australian Artists (23 August–19 November 2017) at the Museum of Contemporary Art, Australia, which brought together works by eight artists—Jacobus Capone, Adam John Cullen, Nicole Foreshew, Teelah George, Laura Hindmarsh, Elena Papanikolakis, Tom Polo and Kynan Tan. Curated by Sophia Kouyoumdjian, the exhibition explored how perceptions of archives are changing in light of the digital.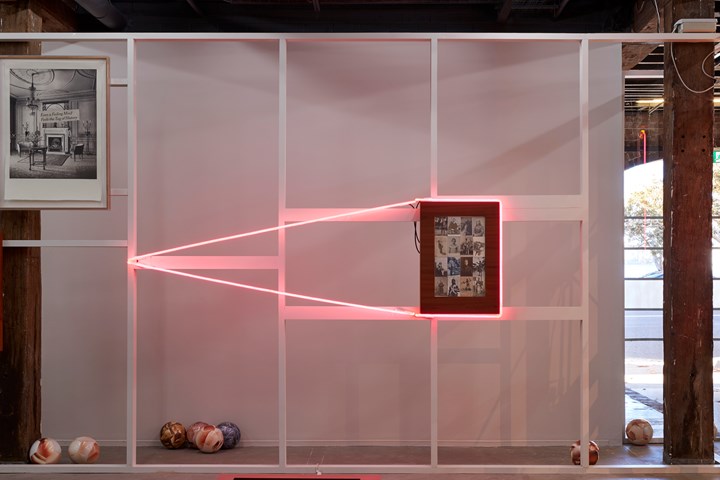 Exhibition view: THE PUBLIC BODY .02, Artspace, Sydney (28 July–2 October 2017). Courtesy Artspace. Photo: Zan Wimberley.
Of course, the major news of Sydney Art Week 2017 was an announcement that the bi-annual Sydney Contemporary would make the transition to a yearly fair starting with its 2018 edition. This was a bold decision taken after what Keldoulis described as a major consultation process with exhibiting galleries. On the decision, Carriageworks Director Lisa Havilah said: 'We look forward to continuing our partnership as Sydney Contemporary becomes an annual event on the international arts calendar.' Gallerists also enthused about the change. John McCormack, Director of Starkwhite said: 'Going annual is a tipping point—Sydney Contemporary has secured its place as Australia's preeminent art fair and is on the way to becoming a regional fair with an international profile.'
Overall, in a climate where Australia can feel overlooked, and with the country being so physically far away from the rest of the world, efforts are being made to shift the art world's gaze. With Sydney Contemporary returning in 2018, it is apparent that Sydney's art ecology is continuing in its efforts to position the city as a major hub within the Asia-Pacific, and more widely, the world. —[O]