Feature
A love letter to Kathmandu: Kathmandu Triennale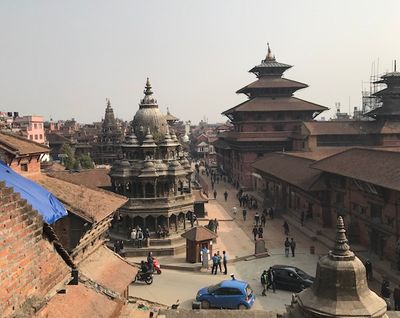 Patan Durbar Square, Lalitpur, Nepal. Courtesy the author.
At six in the morning, the crows of brown city-dwelling roosters began. Then came the howling dogs, the melodic chants, the children's voices, and the roar of motorbikes, punctuated by the cacophony of honking horns; hit-or-miss substitutes for traffic signs. The sun had risen high above the hazy cloud of dust in Kathmandu. In Lalitpur, an ancient temple in Patan Durbar Square—a UNESCO World Heritage Site and once the centre of one of the world's oldest Buddhist cities—was crisscrossed with bamboo scaffolding, two years into a lengthy restoration project.
This sight of reconstruction is common across Nepal. On 25 April 2015, the country was struck with an earthquake that killed nearly 9,000 people and injured nearly 22,000, flattening entire villages and leaving hundreds of thousands of Nepalese homeless. For a nation with a significant poverty rate—nearly 25 percent of the population—and serious political instability (in 2001, then-Crown Prince Dipendra allegedly massacred his family, leading eventually to the abolition of the monarchy in 2008, while a subsequent assembly created to write a constitution has since been dissolved), Nepal has found itself fighting uphill. Despite the efforts of numerous NGOs to assist in restoration and alleviate increased hardships, it's widely speculated that a great deal of foreign aid has been withheld by the government since the quake. With agriculture and tourism central to its economy, the landlocked country is also continually impacted by environmental issues including climate change, drought, waste mismanagement and clean water shortages. The capital of Kathmandu is situated in a central valley and is covered in a thick blanket of pollution, held in place by the surrounding Himalayan mountains. Once a vital source of clean water for washing, drinking and cooking, the Bagmati River which runs through the city is now choked with garbage and trickles slowly. When it rains in Kathmandu, as it does robustly and without warning, the dust that's settled on the ground turns to soft brown mud, splashing up on the ankles of those on the street.
Youdhister Maharjan, Untitled (2017). Exhibition view: Kathmandu Triennale, Patan Museum (24 March–9 April 2017). Courtesy the author.
The Kathmandu Triennale (24 March-9 April 2017) follows the Kathmandu International Arts Festival which took place in 2009 and 2012. Yet the event's adoption of such a weighted buzzword in its name this year doesn't signify the grandiosity and commercialism that it has in other cities. This exhibition—engaged, humble and vibrant—is dedicated to the people of Nepal and the victims of the devastating earthquake. This year, the event has been led by Philippe Van Cauteren, artistic director of S.M.A.K. (the Museum of Contemporary Art) in Ghent, Belgium, with the assistance of seven international curators: Gary Wornell, Asimina Ranjit, Michael Candy, Sangeeta Thapa, Dina Bangdel, Veeranganakumari Solanki Jamwal and Krzysztof Lukomski. Van Cauteren is no stranger to the bi/triennale format: in 2002, he was co-curator of the first Bienniale Ceara America in Fortaleza, Brazil. In 2015, he curated the National Pavilion of Iraq for the 56th Venice Biennale. His sensitivity to fragile nations is evident in the execution of the event and its specificity to the conditions of its locale. 'It was important that the Triennale have less artists and less venues than previous years', Van Cauteren said. With over 60 artists from over 25 countries (about half are Nepalese), the event is staged across the city at the Patan Museum, Taragaon Museum, Nepal Art Council and Siddhartha Arts Gallery. Titled My City, My Studio / My City, My Life, the Triennale's thematic waxes on the role of the city as a hub for creative activity and (ex)change. Kathmandu's population has doubled to 1.2 million over the past 15 years with many inhabitants of rural villages migrating into the urban centre, a shift accompanied by a modestly growing middle class. This massive metropolitan growth—combined with a precarious juggling of ancient tradition and high-speed modernity—is fruitful matter for artists concerned with the complexities of contemporary life.
A critical decision made early on by Van Cauteren characterises this unique Triennale: foreign artists were invited to travel to Nepal with the commitment of only bringing materials that they could fit in their pockets or suitcases. Given the limited financial resources (the Nepalese government did not contribute funds to the event), this modesty of material and scale gave way to a circumvention of spectacle and instead led to a focus on meaningful gestures. Furthermore, it meant that most artworks were made onsite. 'I didn't want the artists to come and have a holiday', Van Cauteren said. 'I wanted them to work'.
Ricardo Brey, Dust Bathing (2017). Exhibition view: Kathmandu Triennale, Patan Museum (24 March–9 April 2017). Courtesy the author.
The international artists arrived in Nepal two weeks prior to the Triennale's opening to work and research with local residents, students and artists, creating works that engaged directly with the city. Dutch artist Anno Dijkstra—whose previous projects saw him secretly sculpting a perfect stranger with only Facebook photos as his reference (Afterimage 2 (2015)), or creating champagne fountains in European parks by shaking bottles while hidden underground—staged five iterations of a performance on the streets of Kathmandu. Dijkstra, a skilled figurative sculptor, carefully formed realistic hands from clay while crouching on a busy curb. Video of the performance shows passerby pausing to watch the artist at work, whom, when finished, passed the completed object to a random onlooker and walked away. Bewilderment followed by laughter ensued as the artist quite literally gave strangers a hand. Also working with clay but unable to travel to Kathmandu, Cuban artist Ricardo Brey sent instructions for volunteers to sculpt tiny clay birds, a flock of which are placed on the ground in front of a shrine devoted to Lord Vishnu at the Patan Museum. Here Brey uses dust—from the clay, the ground and the air—as a sign of purification and rebirth. In keeping with his decades-long practice, Belgian artist Bart Lodewijks drew simple, parallel lines around the city in white chalk, holding workshops to engage the community in the process. A week into the Triennale, one could see evidence that his materials were hijacked by local children, serendipitous drawings and writings overtaking the artist's minimal lines.
Bart Lodewijks at work during the Kathmandu Triennale (24 March–9 April 2017). Courtesy Kathmandu Triennale. Photo: Kunjan Tamang.
Other works respond directly to the architecture and infrastructure of the city. UK artist Alice Fox worked with 'twelve artists, writers and thinkers, four taxis, their drivers and Kathmandu's monsoon roads' to facilitate a series of spontaneous drawings made while riding in cabs on the city's notoriously bumpy dirt streets; these are displayed flat on a shelf at the Nepal Art Council. Belgian artist Honoré d'O's installation BeTEKA (2017) invites visitors to assume a pose as long as one was capable of doing so, afterwards being rewarded with a stamped certificate indicating their particular duration. The shape of the pose, requiring participants to lean at a steep angle with both arms outstretched, supporting their weight on a thin board, mimicked the wooden beams that have been erected around the city to support deteriorating buildings. Similarly referencing vulnerable architecture at the Nepal Art Council, Romanian artist Ciprian Muresan created a scaled-down cardboard model of a section of Bucharest on the floor at the top of a stairway. Viewers were forced to step over it and destroy the city in order to see the rest of the exhibition, leaving the work in ruins by the end of opening night. Upstairs, Chinese artist Song Dong formed a city inspired by the pattern of a mandala from local biscuits, wafers and candies which visitors were invited to eat as they pleased. This too was demolished by the end of the night.
Bhuwan Thapa, Purna Kalasha (Full/Complete vessel) (2017). Exhibition view: Kathmandu Triennale, Taragaon Museum (24 March–9 April 2017). Courtesy the author.
Nepalese artists dealt with the idiosyncrasies of and their relationships to the city in varied ways: Sunita Maharaja stitched image-transferred textiles together to create compositions of local neighbourhoods, while painter Kiran Maharjan made seven colourful murals across Kathmandu (7 Moderate sins, (2017). Self-taught artist Karan Shrestha's multimedia installation Everything at centre is a little off (2017) at Taragaon Museum combines disparate film footage of the city along with a resin sculpture of Nepal melting into Kathmandu, a comment on how the nation has become overly 'Kathmandu-centric' in recent years (the city has the largest economy and only international airport in the country). Hung in the historical Patan Museum, Kunjan Tamang's Teko (support around us) (2015) is a Malevich-esque black square canvas that's been punctured with staples to create forms resembling the same wooden beams referenced in d'O's work. Formidable objects pinned simply to a wall, Youdhister Maharjan's untitled works are made from single sheets of local newspapers, their contents painstakingly dissected and rearranged. In one work, every 'o' from a news article has been cut and moved to form a delicate collage of circles overtop an image of Prime Minister Pushpa Kamal Dahal Prachanda. Nearby in Patan Museum, Saurganga Darshandhari's installation Mero Aama ko Thaili (My mother's purse) (2017) consists of a series of etchings and a handmade purse emitting a recording of jangling coins, functioning as a metaphor for the preservation of memories. At the Taragaon Museum, S. C. Suman presented three highly detailed works citing the histories of ritual art and Mithila painting, a craft originally practiced by only women. Close by, Bhuwan Thapa's Purna Kalasha (Full/Complete vessel) (2017) is a transparent metal vessel on the museum's front lawn, filled with stones inscribed with the names of people that he knows from across Nepal.
Artist Amrit Karki and his work Rectangle (2017) in Kirtipur, Nepal. Kathmandu Triennale (24 March–9 April 2017). Courtesy the author.
In the hillside neighbourhood of Kirtipur, another promising young Nepalese artist Amrit Karki gained permission from property owners to paint a single red line across 21 buildings, working with architects to create an enormous rectangle on their facades that resembles a frame or window into the city. Also a skilled figurative painter on a smaller scale, Karki's large-scale intervention was inspired by the years he spent looking at the motley cityscape, imagining its possibilities as a canvas. The biggest and most visible work in the Triennale by far, the work has made ripples through the city and sparked conversation among locals. Artist-activist Hit Man Gurung's I have to feed myself, my family and my country (2017) at the Taragaon Museum comprises two coffins and a series of small lightboxes, illuminated one at a time. Within the lightboxes are intimate drawings of Nepalese workers lined up with papers to go work in Qatar. Remittance makes up over a quarter of Nepal's GDP, as a great number of Nepalese migrant workers (most often young men) in the Middle East, India and east Asia transfer money to relatives back home. The working conditions in these countries (usually construction sites) are often extremely dangerous and underpaid. Gurung hung a construction uniform in one of the upright coffins as a tribute to the grim fate of anonymous Nepalese men. At the Nepal Art Council, Sujan Dangol's video If we don't know where we come from, we don't know where we are going (2017) is documentation of a game of musical chairs he recently conducted with refugees in Nepal—a simple and powerful analogy for the roles of luck and competition in deciding their fates.
Anonymous, I Replace You (2017). Exhibition view: Kathmandu Triennale, Nepal Art Council (24 March–9 April 2017). Courtesy the author.
Any event that invites an international team or audience—and especially one in a country recoiling from tragedy—chances error on many fronts. While the number of Nepalese artists participating in the exhibition is not insignificant and the Triennale's team includes local art students and teachers, there was nevertheless a risk of the local scene being subsumed by the global one. Addressing the elephant in the room, and also wider issues of colonialism, Oscar Murillo hung a banner at Taragaon Art Museum with the words 'THE EUROPEANS ARE COMING' scrawled across it. Another well-known foreign artist, choosing to remain anonymous, wrapped hundreds of stones in aluminium foil and lining them up across the Triennale venues in rows—on staircases, sidewalks, gates, railings and floors. Titled I Replace You (2017), the work's apex is in the Taragaon Museum where the names of hundreds of Nepalese artists (some of whom were not selected for this year's exhibition) are tacked to the walls, taking the place of her own.
Despite the possibility for criticism, this Triennale presents a respectful platform for both local and international artists to show their work. Most importantly, instead of prioritising a certain art historical narrative over another, the exhibition allows for and creates a possibility for dialogue between artists. Each visiting artist was matched with a Nepalese 'ambassador' during their time in Kathmandu, leading into both practical working relationships and productive mentoring and mutual exchange. Van Cauteren, who seems to have a knack for nudging things along, maintained that all artists should be challenged regardless of their lineage. Acknowledging the rich history of craft in Nepal (as seen in a concurrent exhibition of traditional arts at the Nepal Tourism Board), and some artists' tendencies to lean heavily on that heritage, Van Cauteren is adamant that risks need to be taken to achieve contemporaneity. 'As an artist, it's your duty to be in the now and in the future. Artists can't only focus on the past', he said. 'They need to eat the past and look ahead.'
Taking advantage of an especially engaged audience, a number of collateral events were staged during the Triennale. For two weeks, a group of Polish artists (Krzysztof Lukomski, Piotr Kurka, Anna Adamowicz, Aleksander Blaszkiewicz, Dawid Misiorny, Maciej Rudzin, Izabela Sitarska and Magdalena Starska) lived and worked with the Sa: ko community in Sundhara, Patan to co-create projects with the community including children's photography workshops, a flower garden, readymade sculptures comprising people's treasured items, and a 'children's headquarters' in a residential square. On 1 April, female artists Marie Julia Bollansée, Alice Fox, Monali Meher, Asimina Ranjit and Ryan Elisabeth Reid staged a performance project with young Nepalese artists, focusing on the body as medium, while over the course of two nights, illustrator Sana Nasir invited participants to wander through her audio-visual installation in Patan Durbar Square, an immersive experience inspired by her memory of becoming lost in the dark. The Triennale has also included a series of city-specific symposiums curated by Indian writer and curator Veeranganakumari Solanki Jamwal, such as a talk on the private, public and social with panelists Monali Meher, Marie Julia Bolanseé and Sheelasha Rajbhandari. The latter artist's intimately personal work is displayed in the Nepal Art Council: a grouping of collected objects and photographs is inscribed with the stories and memories of her grandmother. These talks were enthusiastically attended; after a symposium topically titled 'The City: as a Local, a Visitor, an Immigrant', I sat down for tea with a group of local audience members. Were they artists? I asked. They weren't—one wrote novels, one studied physics—but they attended the events because they felt they had a responsibility to the city and its creative initiatives. Yet rather than an obligation to Kathmandu, their showing up seemed rooted more in a deep domestic affection intertwined with a longing for the city's wellbeing. Driving the point home in a talk the next day, Sana Nasir said, 'Sometimes I'm frustrated with this city. But sometimes I love it. It feels like home.'
Krzysztof Lukomski leading a tour of ART (OF) JOURNEY—TEAM.WORK in Sundhara, Patan (27 March 2017). Courtesy the author.
Notably, none of the foreign artists' gallerists attended the exhibition and international journalists, at least in the second week, were few; the Triennale was staged for (and largely by) the city and not for the usual jet-set biennial crowd. Given Van Cauteren's dedication and spirited championing of young Nepalese artists, the next curator has substantial shoes to fill in three years' time; his Triennale reads like a heartfelt love letter to Kathmandu. Still, one looks forward to the first edition of the exhibition led by a Nepalese artistic director. And while only the local residents and artists can say how the Triennale affected them and their city, it's clear that the exhibition and the friendships forged from it have touched the visitors deeply. One artist spent a day driving me around on a motorbike to visit the far-spread exhibition venues—a generosity seldom experienced elsewhere.
Surasi Kusolwong, Please stay here 4-ever (2017). Exhibition view: Kathmandu Triennale, Taragaon Museum (24 March–9 April 2017). Courtesy the author.
Summing up the feelings of many, Thai artist Surasi Kusolwong used traditional Nepali pigments to paint a sign, hung on a slope at the Taragaon Museum, that reads 'PLEASE STAY HERE 4-EVER'. Treating the city as a living and changing social organism, the first Kathmandu Triennale caused a rupture that leaves one reluctant to humour with much energy the international art world encumbered with VIP passes, superficial small talk, excess and perfect lighting. (It was particularly pertinent that the Triennale opened at the same time as Art Basel in Hong Kong). The Triennale's tagline, 'Art thrives here', seems entirely appropriate in the post-quake context. Have we lost sight of where art can be most important? As Anno Dijkstra said in a symposium mid-Triennale, 'It's been such a beautiful two weeks. I am going away with pain in my heart.' —[O]