Feature
2018 Lowdown: Shows to See during Armory Week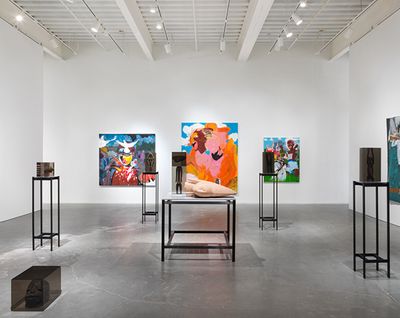 Installation view: Songs for Sabotage, 4th New Museum Triennial, New Museum, New York (13 February–27 May 2018). Courtesy New Museum. Photo: Maris Hutchinson/EPW Studio.
Seasoned visitors to New York City's Armory Show (8–11 March 2018) know that the fair is really just the weekend-long cherry on top of the splendid sundae that is the New York art scene and all it has to offer. With so much else to see, here's the lowdown on some of the city's current standout shows.
Songs for Sabotage
New Museum
13 February–27 May 2018
If you only see one exhibition while in the city, it should be the fourth edition of the New Museum Triennial, Songs for Sabotage. The triennial was established in 2009 to draw attention to younger experimental artists and to identify trends and directions in their work. The endeavour has had mixed success over the years, with this year's edition proving to be yet another polarising event. It is almost misleading to select highlights from Songs for Sabotage because it is the cumulative effect of the show—and the conversations it has ignited—that is most compelling.
Exhibition view: Songs for Sabotage, 4th New Museum Triennial, New Museum, New York (13 February–27 May 2018). Courtesy New Museum. Photo: Maris Hutchinson/EPW Studio.
Among the more remarkable contributions on view, by some 26 artists and artist-groups from 19 different countries, are Wilmer Wilson IV's figure studies, which are based on representations of Black Americans in advertising materials that Wilson blows up to more than life-size, and partly obscures with industrial staples (up to 200,000 of them are fired into each piece). Wong Ping's Fables 1 (2018) comprises a trio of video shorts animated in wild fluorescent colours that concoct weird, interrelated stories about characters like Elephant, Chicken, and Tree, and their very human interactions in a highly technologised present. Echoes of Aesop's Fables, Buddhist koans, contemporary telenovelas, Facebook, and Instagram contribute to an experience that is as unsettling as it is entertaining.
Carolee Schneemann: Kinetic Painting
MoMA PS1
22 October 2017–11 March 2018
Proving that artists at the other end of their career can be every bit as exciting is Carolee Schneemann's scandalously overdue first full retrospective in the United States (and even this one was originally organised in Austria). Still making remarkable work in her eighties, Schneemann began her career in the late 1950s post-Abstract Expressionist scene in downtown Manhattan and is quite rightly regarded as one of the principal originators of contemporary feminist art. She was also one of the inventors of performance art, and although performance has always remained at the heart of her endeavours, what this show also reveals—and this is signalled in its title—is her tireless technical innovation.
Carolee Schneemann, Up to and Including Her Limits (1973-76). Crayon on paper, rope, harness, 16mm film projector, video (colour, sound, 29 min), six monitors. Dimensions variable. The Museum of Modern Art, New York. Committee on Drawings Funds and Committee on Media and Performance Art Funds (2012). © 2015 Courtesy Carolee Schneemann and PPOW Gallery, New York. Digital image © 2015 The Museum of Modern Art, New York. Photo: Jonathan Muzikar.
While the exhibition includes fascinating documentation and remnants of her legendary performances—like Meat Joy (1964), in which she and a group of semi-naked performers cavorted with dead fish and chickens; Up to and Including her Limits (1973-76), for which she drew on the walls and ceiling of her performance space while suspended naked in a tree surgeon's harness; and the infamous Interior Scroll (1975), with part of the script written on a long scroll that Schneemann withdrew from her vagina—it also encompasses the early paintings from which her performance practice grew, the photographic and experimental cinema works that these performances spawned, and the installations and kinetic sculptures that she has made in the last 20 years. Catch the show before it closes.
Birds of a Feather: Joseph Cornell's Homage to Juan Gris
Metropolitan Museum of Art
23 January–15 April 2018
If the immense scale of the Armory Show leaves you yearning for a something rather more intimate, you will not find anything better than this exhibition at the Metropolitan Museum. Remarkably, Birds of a Feather pairs a dozen of the 18 boxes that Cornell started making in 1953 after seeing a 1914 Juan Gris painting, The Man at the Café, in an exhibition at the Sidney Janis Gallery that year.
Joseph Cornell, Homage to Juan Gris (1953–54). Box construction. Philadelphia Museum of Art, Purchased with the John D. McIlhenny Fund, 1976 (1976-218-1). © The Joseph and Robert Cornell Memorial Foundation/Licensed by VAGA, New York, NY.
The Man at the Café is a typical example of Gris' high-Cubist period, with sections of collaged newsprint and imagery that is almost indecipherable. In particular, the man of the painting's title is almost entirely hidden by the newspaper that he is reading, and is identified more by the shadows that he casts than anything else. In Cornell's homages, he undergoes a wonderful surrealist transformation, and appears as a great white-crested cockatoo, which appears in several of the boxes included in this show, that Cornell knew from a 19th-century lithograph. Even more intriguing, however, are the boxes in which the cockatoo is absent; identified by the void that it leaves in its absence. On full display here is Cornell's highly personal surrealism, with Cornell's boxes installed in tall vitrines that enable viewers to inspect them from all sides, and thus understand how the boxes' exteriors were often almost as fascinating as their elegantly cluttered interiors.
Peter Hujar: Speed of Life
The Morgan Library & Museum
26 January–20 May 2018
There are, quite coincidentally, a number of exceptional photography exhibitions happening currently. These include Stephen Shore's major retrospective at MoMA (19 November 2017–28 May 2018), Gordon Parks, I am You, Part 2 at Jack Shainman Gallery at 524 West 24th Street (15 February–24 March 2018), and Ahmed Mater: Mecca Journeys at the Brooklyn Museum (1 December 2017–8 April 2018). Showing at The Morgan Library & Museum is the wonderfully life-affirming Peter Hujar: Speed of Life. Like the Schneemann, this is a first U.S. retrospective for Hujar, and it presents work that sprang from the same downtown Manhattan art milieu. (Hujar, who died of AIDS-related pneumonia in 1987, was five years Schneemann's senior.)
Exhibition view: Peter Hujar: Speed of Life, The Morgan Library & Museum, New York (26 January–20 May 2018). Courtesy The Morgan Library & Museum. Photo: Graham Huber.
Hujar's art seems entirely relevant in Trump's America. He was a gay artist working at a time when mainstream acceptance of homosexuality was a shameful contradiction in terms. (Included in this show is a photograph that Hujar made for one of the very first Gay Liberation Front posters in 1970.) Hujar was a romantic who scorned materialism, and at the heart of his art is the profound humanity that he celebrated in a world on the edge—a world of artists, writers, musicians, drag queens and self-styled freaks, often living in poverty in a city that seemed in a state of inexorable decay.
Among the truly remarkable images here are his famous 1975 portrait Susan Sontag, his even more celebrated Candy Darling on her Deathbed from 1973, and lesser known images of landscapes, architectures, and animals that are not often associated with his name. Peter Hujar famously explained that he made 'uncomplicated, direct photographs of complicated and difficult subjects', and this 140-work retrospective—which is hung so that we might focus on individual works, rather than be distracted by themes—is a great opportunity to appreciate what he meant by that.
Peter Hujar, Susan Sontag (1975). Vintage gelatin silver print. 25.4 × 20.3 cm. Purchased on The Charina Endowment Fund, The Morgan Library & Museum, 2013.108.8.2310. © Peter Hujar Archive, LLC. Courtesy Pace/MacGill Gallery, New York and Fraenkel Gallery, San Francisco.
Vestiges & Verse: Notes from the Newfangled Epic
The American Folk Art Museum
21 January–27 May 2018
The American Folk Art Museum is an easy half-hour stroll from the Armory Show piers, but its current exhibition, like much of its programme, is probably way off the beaten track for most contemporary art enthusiasts. All the more reason to include it in this set of recommendations, because Vestiges & Verse: Notes from the Newfangled Epic features a whole group of 21 artists—from Jean-Daniel Allanche (1940-2015) to Adolf Wölfli (1864–1930)—who are able to throw new light not only on the assumptions that have been brought to professional art making in the 20th and 21st centuries, but also on the broader question of how human intelligence manifests itself in art practices. The artists here fall into the category sometimes known as 'self-taught' or 'outsider', and while some of them—Henry Darger, most obviously—are extremely well known, others will be genuine discoveries for most visitors.
Exhibition view: Vestiges & Verse: Notes from the Newfangled Epic, American Folk Art Museum, New York (21 January–27 May 2018). Courtesy American Folk Art Museum. Photo: Stephen Smith.
Take James Edwards Deeds, for example, who was dubbed 'The Electric Pencil' when his work first came to light about ten years ago. Deeds was born in 1908 in rural Missouri and was institutionalised from the age of 25 until his death in 1987. For most of that time, he was deemed insane and confined to State Hospital No. 3 in Nevada, and it was here—and using pages from the hospital's ledger books—that Deeds produced the remarkable coloured drawings that are the unforgettable highlight of this show. From some yet-to-be-explained territory between his own imagination and things that he had seen depicted elsewhere, Deeds conjured up a nostalgic world of smartly dressed ladies and gentlemen, steam trains, paddle steamers, ancient automobiles, and wild animals, with human faces dominated by outsized staring eyes, and boats, trains, and buildings obsessively detailed and drawn with the aid of a straight-edge. Every drawing (Deeds used both sides of his paper) is numbered by hand and depicted in a highly idiosyncratic style that is entirely consistent in the 283 examples that exist.
James Edward Deeds, DEER. BOY / Untitled (landscape with bridge and train car) (pages 195, 196) (double-sided), Nevada, Missouri (c. 1936–1969). Pencil and crayon on ledger paper. 23.5 x 21.3 cm. Collection of Frank Tosto. Photo: Adam Reich.
Chelsea
You will of course be visiting Chelsea.
While you are there, do not miss Marjan Teeuwen: Destroyed House at Bruce Silverstein Gallery, 529 West 20th Street (8 February–14 April 2018). This is the Dutch artist's first exhibition outside of Europe, for which she takes the wreckage of demolished buildings, rebuilds them into totally new configurations, and makes exquisite photographic images of the results.
Isa Genzken: Sky Energy at David Zwirner, 533 West 19th Street (22 February–7 April 2018) reveals the splendidly multifarious artist expanding on some of her longstanding series—new industrial-looking cast-concrete pieces from the series 'Lautsprecher' ('Loudspeakers') (1986-present) and 'Paravents' ('Screens') (1990-present) are particularly powerful—while exploring new ways of making work, such as combining her familiar decorated mannequins with wall-mounted panels.
Admirers of Zhang Enli will be fascinated by his new show The Garden at Hauser & Wirth, 548 West 22nd Street (25 January–7 April 2018), as it reveals the Shanghai artist's continuing venture into a highly personalised abstract language in a series of mostly huge and frankly quite beautiful paintings that couple vague, thinly-applied backgrounds with looping calligraphic foreground shapes.
Another show of large and not-entirely-abstract paintings is Mildred Thompson: Radiation Explorations and Magnetic Fields at Galerie Lelong & Co., 528 West 26th Street (22 February–31 March 2018). Thompson, who died in 2003, quit New York for Germany in 1963 in reaction to the racism and sexism she experienced in the United States, returning to the country in 1985 to settle in Atlanta, Georgia. Shockingly, this is her first solo show in New York, which only adds to the sense of injustice that is attached to the spectacular canvases that Thompson created. In this exhibition, two thematically-linked series are foregrounded: 'Radiation Explorations' and 'Magnetic Fields', characterised by brightly coloured surfaces brimming with overlapping circular strokes and zigzagging lines. In conjunction with this exhibition, the gallery will be showing more canvases from 'Magnetic Fields' alongside works on paper from 2003 at ADAA Art Show.
Exhibition view: Mildred Thompson: Radiation Explorations and Magnetic Fields, Galerie Lelong & Co., New York (22 February–31 March 2018). Courtesy Galerie Lelong & Co.
Cyprien Gaillard: Nightlife at Gladstone Gallery, 530 West 21st Street (23 February–14 April 2018) is something quite special. This 3D film and accompanying sound piece from 2015 is being shown in the US for the first time. In the film, Gaillard draws connections between subjects as different as the version of Rodin's The Thinker—one of the last casts made during the artist's lifetime—that sits outside the Cleveland Museum of Art, where it was damaged by an anti-imperialist bombing in 1970; an annual fireworks display staged at the Olympiastadion in Berlin; plants found in the Los Angeles basin; and an oak tree that grew from a sapling that Hitler gave U.S. athlete Jesse Owens at the 1936 Berlin Olympics. Gaillard uses long, sweeping takes, unusual camera and lighting angles, and close-up shots that make images difficult to read at first. Taken with the stereoscopic technology that he employs, this makes the overall experience so immersive as to seem almost hallucinatory.—[O]