News | Artist
Alicja Kwade Embarks on a New Chapter Working with Pace
Pace Gallery takes on the Polish-born, Berlin-based visual artist Alicja Kwade, a well-known sculptor of the universe, with a debut presentation at Paris+ par Art Basel.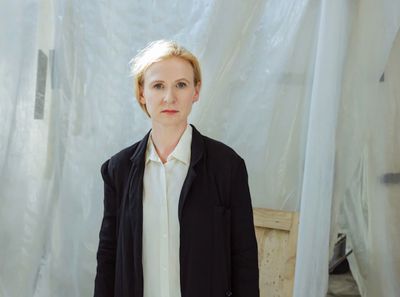 Alicja Kwade. © Alicja Kwade. Photo: Doro Zinn.
It is a new chapter for the artist, who recently parted ways with her long-time dealer of 15 years Johann König. Pace will represent the artist alongside her existing galleries: Mennour, Paris, 303 Gallery, New York, and i8 Gallery, Reykjavik.
Kwade creates installations with raw materials and common objects shaped into evocative cosmic realms. Her work, including film, photography, and works on paper, seeks to challenge scientific and philosophical realities by questioning perception.
'Alicja is an artist who reveals the unknowable,' says Marc Glimcher, the CEO of Pace Gallery. 'There is a deep affinity with our programme in the philosophical and spiritual nature of Kwade's work, and I'm honoured to welcome her to our programme.'
Alicja Kwade, Trait Transference (2015). © Alicja Kwade.
Pace is presenting Kwade's Trait Transference (2015), a double-mirror work dusted in iron rust, at Paris+ this week. Looking through the panel against the wall, covered only partially by iron dust, one sees the uncovered portion within the fully-dusted mirror on the ground, thus completing the surface.
In 2019, Kwade was commissioned to create a rooftop installation for the Metropolitan Museum of Art in New York and Place Vendôme in Paris in 2022. Her work was also shown at the 57th Venice Biennale in 2017.
In 2024, Pace will host an exhibition of Kwade's work at its Los Angeles location in May. Kwade is also scheduled to have shows at Museum Voorlinden in the Netherlands and Tai Kwun Contemporary in Hong Kong next year. —[O]