News | Artists
David Shrigley, Wolfgang Tillmans and More Offer Affordable Art to Combat COVID-19
Sales of works on paper and illustrated face masks will support charities and struggling art institutions.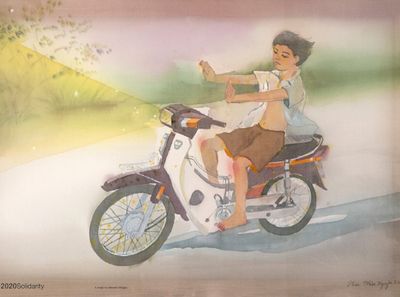 Thao Nguyen Phan, March on a Honda Dream (2020). 2020Solidarity poster. Offset print on paper 42 cm x 59.4 cm. Courtesy the artist and Para Site.
Hong Kong art space Para Site is among the latest institutions to join the 2020Solidarity campaign, in which posters by over 50 artists, including Wolfgang Tillmans, Thomas Struth and Thao Nguyen Phan, are being sold to support struggling art organisations.
Para Site is selling the posters for 400 HKD in what they're calling The Hong Kong Collective Independent Art Spaces Fundraiser, which will support 17 Hong Kong cultural venues, community projects and independent spaces.
2020Solidarity was developed by Between Bridges, a foundation established by Tillmans in 2017 to advance democracy, international understanding, the arts, and LGBT rights. Between Bridges has organised, printed and distributed the A2 posters free of charge for institutions to sell and raise funds. The posters are available in an unlimited edition for a limited time and can be purchased in Europe the UK and the US for 50 euros, pounds or dollars.
A similar fundraising initiative is Unit London's online exhibition Drawn Together, which will feature works on paper by over 100 artists, including Nir Hod, Katherine Bradford and Chantal Joffe, when it takes place from June 11. All of the gallery proceeds and more than half of the artist proceeds will go to two charities: Médicins Sans Frontières and World Vision.
David Shrigley face mask design. Courtesy the artist and Contemporary Art Society.
Straddling the boundary between art and product are face mask designs by artists David Shrigley, Linder, Eddie Peake, and Yinka Shonibare, which are being sold on the Contemporary Art Society's (CAS) Crowdfunder page for £35 ( US $42).
Shrigley's hand drawn wave pattern is tagged with the text 'EMOTIONS', which he said, 'acknowledges that our emotions are more difficult to see when we wear a mask.'
The CAS Rapid Response Fund aims to ensure museums in the UK are able to make new acquisitions from artists when they reopen. It had raised over 97,000 pounds at time of publishing. —[O]
Send art news, announcements, and tips to [email protected]