News | Market
Adrian Burr and Peter Tatham's 'Museum Quality' Art Collection Going to Auction
Auction house Art+Object believes it could be New Zealand's most lucrative art auction ever.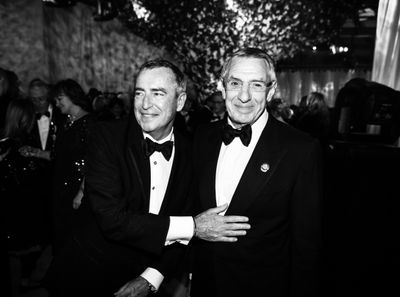 Peter Tatham and Adrian Burr on the occasion of Adrian's 70th birthday celebrations. Courtesy Art+Object.
Adrian Burr and Peter Tatham's art collection will be sold at Auckland auction house Art+Object in September.
The collection is a who's who of New Zealand's leading contemporary artists, with artworks by Colin McCahon, Séraphine Pick, Shane Cotton, Ans Westra, Dick Frizzell, Max Gimblett, and many others.
'For us, it was like uncovering a museum collection held in a vault for a long time,' said Ben Plumbly, director at Art+Object. He emphasised how few people have seen the works since their acquisition by the determinedly private couple.
Michael Parekōwhai, A Peak in Darien (2011). Bronze and stainless steel, two parts. 2,200 x 2,850 x 1,750mm & 520 x 1,050 x 320mm. Courtesy Art+Object.
Plumbly suggested the auction could set several national records.
Its total value is 'in the vicinity of NZ $9–10 million dollars,' he said.
That's significantly more than New Zealand's most lucrative auction on record, the Tim and Sherrah Francis Collection, which garnered $7 million at Art+Object in 2016.
One of the works sold in that auction was Colin McCahon's Canoe Tainui (1969), which brought in $1.6 million, the highest sum a Kiwi artist has ever fetched at auction.
But a piece in the Burr and Tatham collection—Michael Parekōwhai's bronze and stainless steel sculpture of a bull on a grand piano, entitled A Peak in Darien (2011)—could challenge that record.
The Michael Parekōwhai has an estimate of $900,000 to $1.4 million, compared to the existing auction record for a living New Zealand artist of $250,000 to $300,000, Plumbly said.
Bill Hammond, Living Large No. 7 (1995). Acrylic on unstretched canvas. 2,100 x 2,000mm. Courtesy Art+Object.
Unlike other major Kiwi collectors, who largely bought artworks directly from artists and galleries, Burr and Tatham purchased many of their works on the secondary market.
'Adrian and Peter have gone out in and around the 1990s and early 2000s looking for the best examples of artists already firmly established,' Plumbly said.
For instance, they purchased Bill Hammond's Living Large No. 7 (1995) in 2001 with an 'express desire to own a major Hammond bird painting', he said.
Adrian Burr amassed an estimated $500 million fortune, primarily by purchasing and developing property, including Auckland's Viaduct Harbour. He passed away in December 2020, three years after his partner, interior designer Peter Tatham.
The auction will take place on 23 and 25 September. —[O]