News | Exhibitions
Diriyah Biennale Announces Artists for First Saudi Art Biennial
Curated by UCCA's Philip Tinari, the biennial features a strong contingent of Chinese artists including Xu Bing, Zhang Peili, and Nabuqi.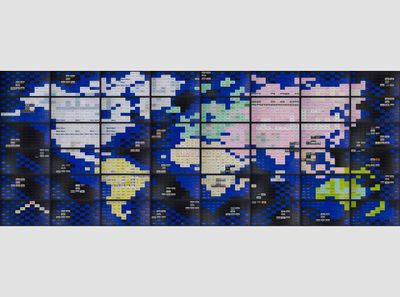 Maha Malluh, Food for Thought "WORLD MAP" (2021). Cassette tapes. Courtesy Diriyah Biennale Foundation and the artist.
The Diriyah Biennale Foundation, established just last year by the Saudi Ministry of Culture, announced the full list of artists taking part in the Diriyah Biennale yesterday.
Simon Denny, Sarah Morris, and Lawrence Lek are among the international artists who will show at the biennale from 11 December 2021 till 11 March 2022. It will take place in Diriyah's JAX district, which comprises over 100 refurbished warehouses not far from Saudi Arabia's capital, Riyadh.
Of the event's 63 artists, 26 come from Saudi Arabia, including Maha Malluh, Manal AlDowayan, Ahmed Mater, and Sarah Abu Abdallah.
The biennale's sizeable Chinese contingent of 12 artists — including Xu Bing, Birdhead, Nabuqi, and Han Mengyun — can be attributed to the curatorial team's leader Philip Tinari, director of Beijing's UCCA Center for Contemporary Art.
'Inspired by the notion of "crossing the river by feeling the stones", the exhibition explores how social transformation happens in a way that is iterative yet directional, experimental yet pragmatic,' Tinari said in a statement.
'We have chosen to focus on major projects by Saudi and international artists, including more than 30 site-specific commissions,' he said.
Details of the Diriyah Biennale's public programming and opening symposium are yet to be announced.
Han Mengyun did, however, share with Ocula Magazine images of the work she will show in Diriyah, which include striking paintings that integrate Arabic text and her own artistic language of crows, fences, and the moon.
'When I encounter how Chinese culture is perceived through another lens, in another tradition, such as seeing the Chinese phoenix motif in Islamic manuscript, the strangeness of what is familiar excites me,' she said.
Han Mengyun's The Pavilion of Three Mirrors
Han will also exhibit The Pavilion of Three Mirrors, an installation inspired by the story of an ancient competition between Greek and Chinese painters.
In the story, a room is divided in two, with painters from each empire responsible for one half. At the end of the first competition, two identical paintings are revealed. Alexander the Great has a curtain erected to prevent one team from copying the other. When the curtain is removed, the Chinese painters have brought their wall to a high polish, reflecting the Greek painting. Alexander proclaims the Greeks the best painters and the Chinese the best polishers.
'In some other versions of the story found in texts, it is the Greeks that polish and the Chinese paint,' Han explains, 'so it does not matter who polishes the mirror. What really matters is what the mirror does in relation to painting.'
'Just as a mirror reflects the world, painting reflects the mind of the artist, and the mind is also a form of mirror that reflects the alchemy of the encounter between humans and the outer world,' she said. 'Hence three mirrors in my pavilion.'
The full list of participating artists are listed below. —[O]
Artists Participating in the first Diriyah Biennale
Omar Abduljawad (Saudi Arabia, 1989)
Sarah Abu Abdallah (Saudi Arabia, 1990)
Hmoud Al Attawi (Saudi Arabia, 1986)
Manal AlDowayan (Saudi Arabia, 1973)
Fahad Al Hejailan (Saudi Arabia, 1957-2018)
Lulwah Al-Homoud (Saudi Arabia, 1967)
Mahdi Al Jeraibi (Saudi Arabia, 1969)
Abdullah AlOthman (Saudi Arabia, 1985)
Monira Al Qadiri (Kuwait, 1983)
Daniah Al Saleh (Saudi Arabia, 1970)
Mohammed Al Saleem (Saudi Arabia, 1939- 1997)
Shadia Alem (Saudi Arabia, 1960)
Zahrah Al Ghamdi (Saudi Arabia, 1977)
Marwah AlMugait (Saudi Arabia, 1981)
Jowhara AlSaud (Saudi Arabia, 1978)
Rashed AlShashai (Saudi Arabia, 1977)
Dana Awartani (Saudi Arabia/Palestine, 1987)
Larry Bell (United States, 1939)
Sultan Bin Fahad (Saudi Arabia, 1971)
Birdhead (China, est 2004)
Sarah Brahim (Saudi Arabia, 1992)
Colin Chinnery (United Kingdom, 1971)
Ayman Yossri Daydban (Palestine/Jordan, 1966)
Simon Denny (New Zealand, 1982)
Ibrahim El Dessouki (Egypt, 1969)
Osama Esid (Syria, 1970)
Morris Foit (Kenya, 1940)
John Gerrard (Ireland, 1974)
Abdullah Hammas (Saudi Arabia, 1953)
Huang Rui (China, 1952)
William Kentridge (South Africa, 1955)
Wolfgang Laib (Germany, 1950)
Lei Lei & Chai Mi (China, 1985)
Lawrence Lek (Germany, 1982)
Richard Long (United Kingdom, 1945)
Maha Malluh (Saudi Arabia, 1959)
Ahmed Mater (Saudi Arabia, 1979)
Mohamed Melehi (Morocco, 1936-2020)
Han Mengyun (China, 1989)
Sarah Morris (United States, 1967)
Munira Mosli (Saudi Arabia, 1954 - 2019)
Peter Mulindwa (Uganda, 1943)
Nabuqi (China, 1984)
Filwa Nazer (Saudi Arabia, 1972)
Geof Oppenheimer (United States, 1973)
Miguel Angel Payano Jr. (United States, 1980)
Faisal Samra (Saudi Arabia, 1956)
Shao Fan (China, 1964)
Muhannad Shono (Saudi Arabia, 1977)
Timur Si-Qin (Germany, 1984)
Tavares Strachan (Bahamas, 1979)
Superstudio (Italy, est 1966)
Koki Tanaka (Japan, 1975)
Wang Luyan (China, 1956)
Wang Sishun (China,1979)
Wang Yuping (China, 1962)
Andro Wekua (Georgia, 1977)
Xu Bing (China, 1955)
Yukinori Yanagi (Japan, 1959)
Ayman Zedani (Saudi Arabia, 1984)
Zhang Peili (China, 1957)
Zheng Yuan (China, 1988)
Zou Zhao (Singapore, 1989)