News | Institutions
Blockbuster European Exhibition Opens in Tempelhof Hangars
Diversity United is a soft power push to unite Europe. But Putin is pushing back.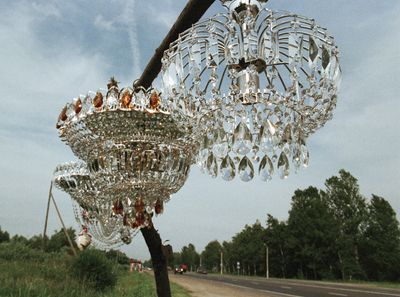 Olga Chernysheva, On the Sidelines (2010) (detail). Seven lightboxes. 80 x 120 x 8cm. DIEHL Gallery, Berlin. © Olga Chernysheva.
Ninety artists from 34 European countries are exhibiting works in an exhibition that fills two hangars at the defunct Berlin Tempelhof Airport.
Diversity United is more like a biennial than a typical group show. A nine-person curatorial team persuaded big name artists such as Gerhard Richter, Ugo Rondinone, Georg Baselitz, and Olafur Eliasson to take part.
Almost a third of participating artists were commissioned to make new works for the well-resourced show, sponsored by the Lars Windhorst Foundation, automotive corporation Daimler AG, and finance companies Meridian Capital and New Yorker SE. They include: Yael Bartana, Erwin Wurm, Alicja Kwade, and Yan Pei-Ming.
Katja Novitskova, Approximation (The Apocalypse's Many Horsemen) (2020). Digital print on aluminium cut-out. 250 x 180 x 50cm. Courtesy the artist und Kraupa-Tuskany Zeidler, Berlin. Photo: def image / © Katja Novitskova.
'At Tempelhof Airport we are looking into the artistic face of Europe,' said Walter Smerling, chairman of the Foundation for Art and Culture in Bonn, which organised the exhibition, and speaker of the show's board of curators.
'Each artist has their own language, which together form a powerful chorus; it was important to us that diversity and unity are equally perceptible and that the exhibition functions as a harmony of many voices.'
Anselm Kiefer, Winter Trip (2015-2020). Stage design project, Opéra Garnier, Paris Emulsion, oil, acrylic, shellac, charcoal on canvas and wood with lead objects, metal, zinc, resin, wood, cardboard and charcoal, burned books. 310 x 600 x 1,250cm. © Foundation for Art and Culture, Bonn. Photo: Silke Briel / © Anselm Kiefer.
The exhibition was initially slated to open in Moscow in November 2020 to mark the 75th anniversary of the end of World War II, but was pushed back due to the pandemic. It is still scheduled to travel to Moscow and Paris after its run in Berlin concludes on 19 September.
But there are doubts about whether it will reach Russia after a crackdown on not-for-profits, including several represented by Petersburg Dialogue, one of the exhibition's two cooperating partners, along with the Foreign Office of the Federal Republic of Germany.
Smerling told Ocula Magazine, 'The recent decision of the Russian government to ban two sub-organisations of the Petersburger Dialog—the Centre for Liberal Modernity and the Deutsch-Russischer Austausch (German-Russian Exchange)—cannot be tolerated.'
'We cannot imagine showing Diversity United in Moscow under these circumstances,' he said. 'We continue with the planning of the exhibition, hoping that these bans will be withdrawn, counting on the power of art.'
Anri Sala, Title Suspended (Sky Blue) (2008). Resin, nitrile rubber and electric motor. 20 x 80 x 20cm. Courtesy of the artist and Hauser & Wirth. © Anri Sala and VG Bild - Kunst, Bonn 2021.
A Russian court yesterday designated Aleksei A. Navalny's political movement, the leading opposition to President Vladimir Putin, as extremist, allowing organisers, donors, and even social-media supporters to be prosecuted and imprisoned, according to The New York Times.
That doesn't bode well for the ambitions of the exhibition, whose nine chapters include one entitled 'dreams & democracy'.
In a statement shared yesterday, Ronald Pofalla, Germany's co-chairman of the Petersburg Dialogue, said the exhibition would 'build bridges and inspire a new impetus to stimulate a dialogue, which, given the currently difficult situation vis-à-vis the relationship with Russia, is urgently needed.' —[O]