News | Artists
Gilbert & George Resign From Royal Academy of Art
The Royal Academy described the decision as regrettable.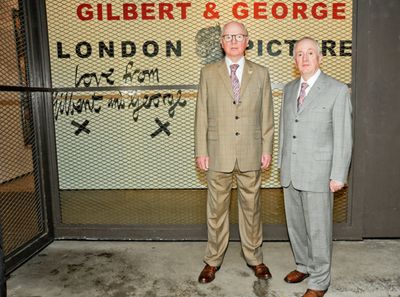 Gilbert & George. Courtesy the artists and Lehmann Maupin, New York/Hong Kong. Photo: BFA, New York.
British artists Gilbert Proesch and George Passmore, better known as Gilbert & George, have quit the exclusive Royal Academy of Art (RA) after the private institution cancelled a planned exhibition of their work.
The last time an artist resigned from the RA was in 2005, when Peter Blake quit in protest of the expulsion of Brendan Neiland, former director of the RA school.
A spokesperson for the RA told the Observer that the resignation of Gilbert and George was regrettable but decisions had to be made about which academicians could have shows when.
The Royal Academy's exhibition calendar has been significantly disrupted by the Covid-19 pandemic. A Léon Spilliaert exhibition is temporarily closed, a Rita Angus show has been postponed, and Angelica Kauffman and Paul Cézanne exhibitions have been cancelled.
Founded by King George III in 1768, the Royal Academy currently consists of 77 artists and architects under the age of 75. Members include Anish Kapoor, Tracey Emin, Michael Craig-Martin, David Hockney and Tony Cragg. Gilbert, 76, & George, 78, were elected to the academy as a single artist in 2017, and had become 'senior academicians' when they quit.
The decision to leave the RA is in keeping with Gilbert & George's posture as art world outsiders—conceptual artists with working class backgrounds and contrarian, conservative politics. Speaking to Ocula Magazine in 2017, Gilbert said, 'We try to make a more personal art that's not part of the inner circle of art.'
The artists have been active during the lockdown, posting video diaries on White Cube gallery's Instagram. Their zany but dry mini-performances include Our New Normal Walk (2020), a stiff, besuited march around a table. —[O]