News | Galleries
Matthew Day Jackson Joins Pace, Will Show at Frieze Seoul
Yane Calovski, and up-and-comers Antonio Tarsis, Thiago Barbalho, and Lotte Maiwald also joined new galleries this month.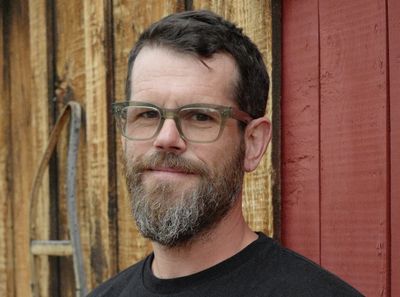 Portrait of Matthew DayJackson. © Matthew Day Jackson, courtesy Pace Gallery.
American multidisciplinary artist Matthew Day Jackson joined Pace Gallery this month after leaving Hauser & Wirth who represented him for more than a decade.
Pace, who are now representing Jackson in collaboration with Amsterdam's GRIMM gallery, will present his work at their Frieze Seoul booth next month, alongside pieces by Huong Dodinh, Virginia Jaramillo, Lynda Benglis, and Kiki Smith, among others.
Pace's Frieze Seoul booth will include one of Jackson's recent laser-etched landscapes that reference 19th century painters such as Caspar David Friedrich, Albert Bierstadt, and Frederic Edwin Church, as well as science fiction landscapes. Drawing together 19th-century and present-day worlds, Jackson's Tree (After CDF) (2022) toys with concepts of memory and authorship while pursuing physical and digital methods of production.
Matthew Day Jackson, Tree (afterCDF) (2022). © Matthew Day Jackson.
Jackson was born in Los Angeles in 1974. He received his BFA from the University of Washington and completed his MFA at the Mason Gross School of the Arts, Rutgers University in 2001. He now lives and works in New York. His practice spans sculpture, drawing, painting, printmaking, photography, performance, installation, furniture design, and more.
Using an ensemble of conventional, industrial and found materials—including formica, wood, paint, molten lead, and epoxy—Jackson critiques myths of beauty and U.S. exceptionalism through renditions of familiar iconic American imagery and crude pastiches of the art historical canon. Jackson's art has found an international audience, appearing in shows at the Van Gogh Museum in Amsterdam, ZKM Karlsruhe, and Kunstmuseum Luzern, among others.
'I've always been struck by his engagement with historical, philosophical, and pop cultural subjects—Matt can take a big idea and give it new emotional and personal resonance', said Pace President and CEO Marc Glimcher.
Jackson will hold his first solo exhibition with Pace in New York next year.
Antonio Tarsis. Photo: Paula Faraco.
Elsewhere, GRIMM signed emerging U.K. artist Francesca Mollett this month. Influenced by literature and nature, Mollett's abstract paintings explore mediations between human bodies and the environment.
Other artists who joined new galleries in August include Yane Calovski, who represented North Macedonia at the 56th Venice Biennale in 2015 and is now represented by Zilberman Gallery. London-based artist Antonio Tarsis, who first emerged from Salvador making collages with discarded matchboxes and leftover wall paint, is now represented by Fortes D'Aloia & Gabriel.
Also finding new representation this month are emerging artists: Thiago Barbalho, now represented by Galeria Nara Roesler (New York); Fabian Treiber, now represented by Anat Ebgi (Los Angeles); and Lotte Maiwald, who joined Sies + Höke (Düsseldorf). —[O]