News | Artists
Who Are the Nominees for the Marcel Duchamp Prize 2022?
Among the four shortlisted artists are a self-described alchemist and a 21st-century exponent of Op art.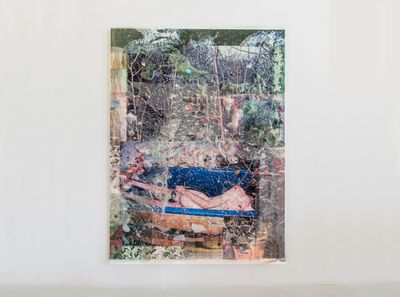 Mimosa Echard, Baigneur (Egg) (2021). Photographic print, digital print on fabric, fabric, pills, mirror, glass bead, plastic bead, metallic bracelet, gardenia seed, poppy flowers, fake flower pistils, cherry pits, fake hairs, synthetic lacker, gloss. 250 x 90 cm. © Mimosa Echard / ADAGP, Paris. Courtesy the artist and Galerie Chantal Crousel, Paris. Photo: Pauline Assathiany.
The Association for the International Diffusion of French Art (ADIAF) has announced the four nominees for the €35,000 (US $40,000) Prix Marcel Duchamp 2022, France's pre-eminent prize for contemporary art.
The nominees are Giulia Andreani, Iván Argote, Philippe Decrauzat, and Mimosa Echard.
Of the four, only one was born in France. Foreign-born artists who are based in France are also eligible for the prize.
Exhibition view: Giulia Andreani, Kitchen Knife, Galerie Max Hetzler, Berlin (14 January – 26 February 2022). Courtesy the artist and Galerie Max Hetzler, Berlin | Paris | London. © Inge Mahn. Photo: def image.
Born in Venice, Italy, Giulia Andreani combines personal memorabilia and historical photographs in Payne's Grey paintings that have an unsettling quality, like memories addled in a dream. Based in Paris, she is represented by Galerie Max Hetzler in Berlin.
Sculptor and video maker Iván Argote was born in Bogota. Attuned to different forms of protest, he uses humour in his work to question institutions and power structures. Argote graduated from École Nationale Supérieure des Beaux-Arts de Paris in 2009, and is represented by Perrotin in Paris.
Iván Argote, Setting up a system: The Hidden persuaders (2017). Laser cut documents and posters, neodymium magnets, varnished steel structure. 120 x 70 cm. Courtesy Perrotin.
Following Op artists like Victor Vasarely and Bridget Riley, Swiss-born painter Philippe Decrauzat creates acrylic on canvas paintings whose precise lines trick the eye and bend the mind. Based in Lausanne and Paris, he is represented in France by Praz Delavallade and abroad by Galeria Nara Roesler.
Feminist and alchemist Mimosa Echard uses materials as disparate as glass bulbs, false nails, snail shells, and cherry pits in assemblages akin to post-industrial magic potions. Born in Alès, in the south of France, she is represented by Galerie Chantal Crousel in Paris.
Philippe Decrauzat, Flag wave (2019). Acrylic paint on canvas. 119 x 119 cm. Courtesy Galeria Nara Roesler.
The finalists will present an exhibition at the Centre Pompidou in Paris from 4 October, with the winner to be revealed on 17 October.
In addition to the cash prize, the winning artist will receive an artist residency in the United States through Villa Albertine, an institution created by the French Ministry for Europe and Foreign Affairs to support French cultural endeavours abroad. —[O]