News | Galleries
Pace to Open Tokyo Gallery
The new gallery will open in Tokyo's forthcoming Azabudai Hills Complex in 2024.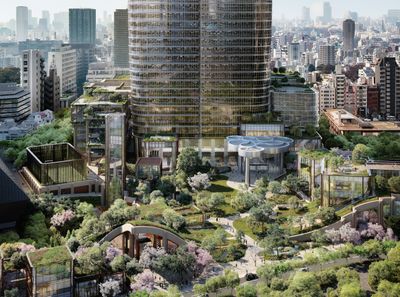 Rendering - Azabudai Hills. Courtesy Mori Building Co. and Pace. Photo: DBOX for Mori Building Co., Ltd.
Pace has announced its latest expansion in Asia. The gallery giant will open a new space in the heart of Tokyo next year.
Pace CEO Marc Glimcher said Tokyo 'is and has always been a key city in the international cultural scene.'
'As one of the great capitals of the world, it is a place where ancient and modern cultures combine with an incredibly vibrant contemporary art scene', he said.
The new gallery will occupy space on three floors of the sustainability-themed Azabundai Hills development.
The gallery's interior is designed by Tokyo architect Sou Fujimoto, whose previous projects include the Musashino Art University Museum & Library, and Budapest's House of Music.
The first and second floor will provide 278 square metres of exhibition space. The third floor, meanwhile, will feature space for outdoor sculpture and a private terrace integrated into the complex's rolling hills landscape design.
Rendering - Azabudai Hills. Courtesy Mori Building Co. and Pace. Photo: DBOX for Mori Building Co., Ltd.
Highly anticipated digital art space, teamLab Borderless, will open in the same complex in January 2024.
The announcement of Pace's move to Tokyo comes within a few months of the inaugural edition of international fair Tokyo Gendai, along with other art events in the city.
'Over the past few years, Tokyo's increasing importance in the Asian art ecosystem has become even clearer', said Glimcher.
'We believe it is time for Japan to take its place again as one of the most prominent collecting communities in the world, and I hope that Pace can play an important role in that growth,' he added.
The gallery has long-established connections with Japan, since Pace founder Arne Glimcher's first visits in the late 1960s. The gallery currently represents Japanese artists including Yoshitomo Nara, Lee Ufan, Kohei Nawa, and teamLab.
When it opens in Spring 2024 the new gallery will be Pace's ninth worldwide, expanding its presence in Asia beyond Hong Kong and Seoul. —[O]