News | Institutions
The 11 Most Anticipated Museum Openings of 2023
Ribbons will be cut on major new museum developments from Buffalo to Bengaluru this year.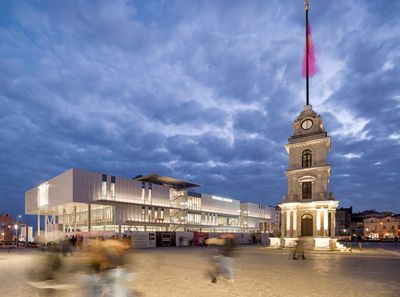 The new Istanbul Modern building designed by Renzo Piano Building Workshop. Photo: Cemal Emden.
The Hammer Museum will open its new Lynda and Stewart Resnick Cultural Center on 26 March, adding 60% more gallery space. It will feature a Chiharu Shiota installation, Rita McBride's high-intensity laser and mist installation Particulates (2021), and a retrospective of drawings by Op art giant Bridget Riley.
The Buffalo AKG's new three-storey building, designed by Shohei Shigematsu at OMA, will open on 25 May. The museum formerly known as the Albright-Knox Art Gallery acquired its 'G' from billionaire financier Jeffrey Gundlach. In 2012, Gundlach recovered works by Piet Mondrian and Jasper Johns stolen from his Santa Monica home after offering rewards of up to US $1.7 million.
Rendering of the Jeffrey E. Gundlach Building viewed from the patio of the Robert and Elisabeth Wilmers Building. Courtesy OMA New York.
Art and performance space Factory International will host the Yayoi Kusama exhibition You, Me and the Balloons from 30 June to 28 August. The show, which features inflatable sculptures, predates Factory International's official opening exhibition Free Your Mind, a Matrix-inspired extravaganza from Danny Boyle that launches on 18 October.
Closed since 2020, the refurbished National Portrait Gallery will reopen on 22 June with a reworked presentation of its collection and a new entrance, forecourt, and learning centre. The gallery is home to the largest collection of portraits in the world with over 215,000 works.
teamLab Borderless will open this year in the basement of the Toranomon-Azabudai development in central Tokyo. Photo: DBox for Mori Building Co.
Japanese experiential art wizards teamLab will open their new location in the Azabudai Hills development in central Tokyo this year. The relocation testifies to the success of teamLab's Odaiba museum, which attracted 2.3 million visitors in its first year after opening in June 2018.
Istanbul Modern will soon reopen in a new building designed by Renzo Piano on the waterfront of Karaköy at the mouth of the Golden Horn. An undulating six-metre-tall sculpture by Tony Cragg has already been installed outside the building's entrance.
MAP opens on 18 February in a building designed by Indian architect Soumitro Ghosh. MAP was announced by founder Abhishek Poddar in 2016, who launched the museum digitally in 2020. With donations from Poddar and others, MAP's collection has grown to over 18,000 artworks.
Warsaw's Museum of Modern Art will open a new four-storey building this year designed by New York architecture studio Thomas Phifer and Partners.
Katharina Cibulka, SOLANGE #27 (installation view, National Museum of Women in the Arts, Washington, D.C.), 2022; Mesh scaffolding net, tulle, and cable ties, 82 x 82 ft. (25 x 25 meters); © 2022 Katharina Cibulka; Photo by Kevin Allen.
The National Museum of Women in the Arts will reopen this autumn after closing in August 2021 for its first full renovation since 1987. The construction site is currently covered with SOLANGE #27 (2022), a huge tulle, mesh, and cable tie installation by Katharina Cibulka.
The brand new International African American Museum occupies the former site of Gadsden's Wharf, where an estimated 30,000 African captives arrived in America. When it opens this year, the museum aims to 'explore cultures and knowledge systems retained and adapted by Africans in the Americas', and the 'journeys and achievements' of them and their descendants.
Finally, one of the most anticipated new museums slated to open this year is the US $1 billion Grand Egyptian Museum. The museum will house a trove of ancient Egyptian artefacts, including a comprehensive collection of treasures from Tutankhamun's tomb. —[O]