News | Exhibitions
Shanghai Biennale Reveals Commissions and New Artists
A Yang Fudong video featuring K-pop superstar Jackson Wang was also released at the opening on Saturday.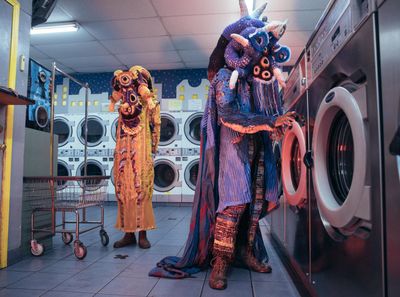 Liam Young, The Zero Waste Weavers of Planet City (2021). Photo by Driely S.
The 13th Shanghai Biennale opened its exhibition at the Power Station of Art (PSA) and venues across Shanghai on Saturday 17 April.
The exhibition presents works by 64 artists, including 33 new commissions. Five previously unannounced artists have now been revealed. They are: Chinese artists Chuang Liu, Shi Qing, Tong Wenmin, and Wang Tuo, and Pakisitani artist Bani Abidi.
Chief Curator Andrés Jaque told Ocula Magazine he was excited for people to see new commissions by Ibiye Camp, Zadie Xa and Benito Mayor Vallejo, and Michael Wang, among others. Wang's 10,000 li, 100 billion kilowatt-hours (2021) is a glass and steel terrarium that uses refrigeration units to recreate a sliver of the icy Qinghai mountains, the source of the Yangtze River, which flows into the Three Gorges Dam and provides Shanghai with both fresh water and electricity.
Michael Wang, 10,000 li, 100 billion kilowatt-hours (concept sketch) (2020). Digital drawing. Courtesy of the artist.
A video commissioned by the Shanghai Biennale and shot by Yang Fudong was also revealed at the opening of the exhibition. Eight celebrities including Hong Kong-born K-pop star Jackson Wang, painter Ding Yi, and actress Tan Zhuo appear in the ten minute video, entitled 爱他,爱她,爱ta (Love Him, Love Her, Love Ta) (2021). The title repeats the phrase 'ai ta', which sounds vaguely like 'art' in English.
Directed by Shanghai-based video artist Yang Fudong, whose sensibility leans towards the wistful and romantic, the video was shot at the PSA and other sites around Shanghai. Each of the celebrities recalls moments from their past.
Jackson Wang, whose song 'Fendiman' climbed to number two in the iTunes chart in 2018, remembers visiting his grandparents in Shanghai as a boy. He laughs at being recommended a 'mushroom' haircut by a local barber.
Ding Yi appears in the video with his arms outstretched, forming a cross-shape reminiscent of his paintings.
The exhibition is being presented as the third 'phase' of the biennale, which began in November with a five-day forum and continued with five months of activity and programming leading up to the exhibition.
'The 13th Shanghai Biennale advocates for the momentous contribution that art plays in the reconstruction of a world shaped by environmental, social and political distress,' Jaque said in an announcement. 'The Biennale is sensitive to the way art constitutes and infiltrates life itself, and to its capacities for bodied reparation, transformation and dissidence.'
The full list of participating artists is below. —[O]
13th Shanghai Biennale Participating Artists
Alberto Baraya,
Ana Mendieta,
Antoni Muntadas,
Astrida Neimanis, Aunty Rhonda Dixon-Grovenor, and Clare Britton,
Ayesha Tan Jones,
Bani Abidi,
Cao Minghao and Chen Jianjun,
Carlos Casas,
Carlos Irijalba,
Cecilia Vicuña,
Cheng Xinyi,
Chuang Liu,
Cooking Sections (Daniel Fernández Pascual and Alon Schwabe),
Dai Chenlian,
Debajo del Sombrero (participating artists: Andrés Fernández, José Manuel Egea, Miguel García, María Lapastora and Belén Sánchez),
Diakron and Emil Rønn Andersen,
Diane Severin Nguyen,
Feliciano Centurión,
Guo Fengyi,
Heather Phillipson,
Hylozoic/Desires (Himali Singh Soin + David Soin Tappeser),
Ibiye Camp,
Itziar Okariz,
Jenna Sutela,
Joan Jonas,
Karrabing Film Collective,
Kyriaki Goni,
Liam Young,
Michael Wang,
Nerea Calvillo (C+arquitectas),
P Staff in collaboration with Basse Stittgen,
Pan Daijing,
Pepe Espaliú,
Pu Yingwei,
ReUnion X DMAS,
Revital Cohen and Tuur Van Balen,
Shi Qing,
Sun Xiaoxing,
Qiu Zhen,
Zhao Kunfang and Huang Siyao,
Tabita Rézaire,
Torkwase Dyson,
Tong Wenmin,
Vera Frenkel,
Wang Tuo,
WORKac (Amale Andraos and Dan Wood),
Zadie Xa and Benito Mayor Vallejo, and
Zheng Mahler (Royce Ng and Daisy Bisenieks).