News | Artists
'Activist, Artist, Terrorist and Cyclist' Tame Iti Named Arts Foundation Laureate
Iti joined nine other creators honoured in this year's awards. He's the only one to have been convicted of firearms charges.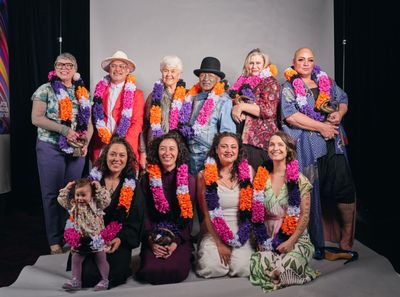 New Zealand Arts Foundation Te Tumu Toi 2022 Laureates.
Activist artist Tame Iti was named among the New Zealand Arts Foundation Te Tumu Toi 2022 Laureates on Friday.
Chosen by a multi-disciplinary panel of arts professionals, the Laureates each receive NZ $30,000 from private donors. Iti was chosen for the The Burr/Tatham Trust Award given to an outstanding artist of any discipline.
Cutting a distinctive figure in full-body moko (tatoos) and Victorian-era hats, Tame Iti has traversed boundaries of disciplines, genres and activities to tell indigenous stories. In his Twitter bio he describes himself as an 'Activist, Artist, Terrorist and Cyclist'.
'Everyone tries to label me,' Iti told Ocula Magazine. 'An activist, a terrorist, an artist. That's their stuff.'
'A lot of my work back in the day was not seen as art,' he said. 'It was seen as activism. I climbed a ladder to deliver my submission to the Waitangi Tribunal, written on a dirty horse blanket. I climbed a ladder to meet them eye to eye and today the blanket hangs in the office of Treaty Settlements. What discipline is that? I set cars on fire and shoot their flag. I paint, I provoke, I do things.'
A campaigner for Maori rights and the rights of his tribe Ngāi Tūhoe since the 1970s, Iti carried out his fair share of performative activism including discharging a gun into the New Zealand flag during a Waitangi Tribunal hearing in 2005.
In 2007 he was again thrown into the national spotlight after being swept up in the controversial Te Urewera raids carried out by New Zealand police under the Terrorism Suppression Act. Charges of conspiracy and belonging to a criminal group were dropped, but Iti still served nine months in prison on firearms charges.
During his incarceration, Iti honed his writing and painting skills. His multidisciplinary practice today encompasses sculpture, carving, installation, performance, and poetry, and has involved collaborations with the late Billy Apple and other prominent New Zealand artists.
Mata Aho Collective, Kaokao (2014). Hi-vis reflective cloth tape and cotton. 1,200 × 220 cm. Courtesy the artists.
The Laureate award comes as Iti puts aside his campaigning and active role on the marae to pursue his artistic interests.
Iti told Radio New Zealand's Kim Hill, 'For me, at 70, it's just the beginning'.
For his project I will Not Speak Māori Iti wrote the titular phrase, a reference to his punishment for speaking the language at school, before defiantly crossing out the 'not'. The project is being exhibited at Odlins Plaza in Wellington through 17 September.
'I am projecting myself on their wall writing the lines I was forced to write as a child, "I Will Not Speak Māori",' Iti said. 'What do you call that? I don't know?''
The other 2022 Laureates include the four-person Mata Aho Collective, Dr Maureen Lander, Areta Wilkinson, Hone Kouka, Paula Morris, and fa'afafine artist and fashion designer Lindah Lepou, who took away the inaugural Toi Kō Iriiri Queer Laureate Award.
Lepou said the award 'means that my fellow peers and the mainstream art industry "see" me and acknowledge the significant contributions I've made over three decades.' She said she hoped the award would ensure future winners of the award would be similarly multidimensional and collaborating in their practice.
This year's laureates join a 120-strong alumni that includes artists Brett Graham, Yuki Kihara, FAFSWAG, Lisa Reihana, Fiona Pardington, Shane Cotton,Neil Dawson, and Michael Parekōwhai, and Academy Award-winning movie directors Taika Waititi and Jane Campion.
Iti was initially perplexed to receive the acknowledgement.
' "What is this?", I thought,' Iti said. 'I had no idea. Never heard of it. But I think it is good. It is good that they can see the art in my mahi. It means the walls that have blocked their perceptions are falling. It means culture is shifting and changing. He pai tēnā. It is a good thing.' —[O]