News | Artists
Maureen Lander and Mata Aho Collective Win Walters Prize 2021
It's the first time New Zealand's most prestigious contemporary art prize has been awarded to a collective.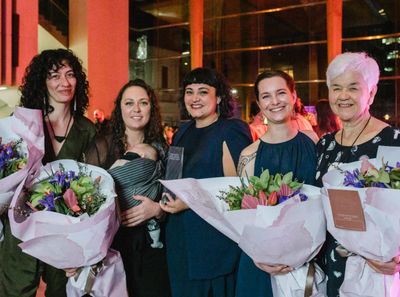 Mata Aho Collective's Bridget Reweti, Erena Baker, Sarah Hudson, and Terri Te Tau (left), and Maureen Lander (right). Courtesy Auckland Art Gallery Toi o Tāmaki.
Mata Aho Collective and Maureen Lander were announced the winners of the NZ $50,000 Walters Prize at a ceremony held at Auckland Art Gallery Toi o Tāmaki on Saturday night.
Judge Kate Fowle, director of New York's MoMA PS1, awarded the prize to the five Māori female artists for their 'sustained collective practices', 'collaborative thinking and generative processes'.
'For me, these qualities, together with the commitment the artists have to creating proximity, signal the work that needs to be done by all of us in the coming years, regardless of the barriers we encounter,' Fowle said.
The prize 'means so much', said Mata Aho, which was co-founded in 2012 by Bridget Reweti, Erena Baker, Sarah Hudson, and Terri Te Tau.
(They asked to be quoted as a group.)
'One of the best things is to have our collective practice recognised as a really valuable way of making art today,' they said.
Another was that Maureen Lander was recognised for her practice and her intergenerational contribution to theirs.
Lander, 79, helped blaze a trail for Māori artists and the recognition of weaving in a contemporary art context. In 2002, she became the first person of Māori descent to gain a PhD in Fine Arts from a New Zealand university, and in 2020 she became a Member of the New Zealand Order of Merit for her services to Māori art.
Mata Aho first met Lander at the Māori Art Market in 2014 while examining a sealskin cloak and discussing how warm it must be. The collective asked her to mentor them and while they've maintained a close relationship, their Walters Prize-winning installation, Atapō (2020), is their first co-authored work.
'We draw strength from a lineage of indigenous people and women working collectively,' said Mata Aho. 'We don't feel like we're doing anything groundbreaking working together. This is how we work as Māori.'
Collectives have received more attention since the beginning of the pandemic as members of the art world sought to strengthen vulnerable members of the art community. All five nominees for Britain's Turner Prize, for instance, are collectives.
While the art world is turning to collectives for solutions, art institutions aren't always equipped to cater to them. Earlier this year, Turner Prize nominees Black Obsidian Sound System (B.O.S.S.) said art institutions have an 'in-built reverence for individual inspiration over the diffusion, complexity and opacity of collaborative endeavour.'
Mata Aho Collective and Maureen Lander, _Atapō _(2020). Installation view at Auckland Art Gallery Toi o Tāmaki, 2021. Courtesy the artists and Auckland Art Gallery Toi o Tāmaki.
Mata Aho experienced similar challenges creating art as a collective. The hardest part?
'Getting paid. Full stop, really. There's lots of positives and strengths, but it's typically policy that single artists get X amount of money per show, and we as four Māori women end up splitting that,' Mata Aho said.
Of all the places they've exhibited, Mata Aho said Canada was best equipped to support collectives. There, institutions such as the National Gallery of Canada had paid not only for their work but for time spent installing work, giving talks, and even attending meetings.
'Our work is really labour-intensive,' they continued. 'It's testament to the types of materials and techniques that Māori have always used, but also the labour that women and indigenous women perform every day that may not be as highly paid.'
'Our collectivity is political,' they said.
Fiona Amundsen, Sonya Lacey, and Sriwhana Spong were also nominated for the 2021 Walters Prize.
Fowle said installations by all four finalists brought 'nuanced perspectives on social, cultural and political urgencies of our time that each deserve our attention and engagement.'
'As such, it does not feel appropriate to award the prize based on a personal selection of one work over another, particularly when I cannot physically be present with them,' she said.
Mata Aho are currently developing three new works—one for the Toronto Biennial of Art, one for the Biennale of Sydney, and one for a project in New Zealand that is yet to be announced. —[O]