News | Institutions
New Zealand Arts Foundation Launches Dedicated Queer Artist Award
The $30,000 Toi Kō Iriiri annual prize is the first of its kind in Aotearoa New Zealand.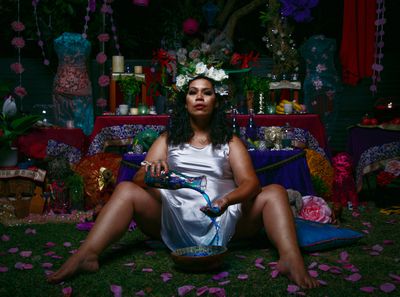 Elyssia Wilson-Heti, Only I can name me (2021). Photo: Pati Tyrell.
The Arts Foundation Te Tumu Toi o Aotearoa has announced a new Laureate Award that will be presented to queer artists annually for the next ten years.
The NZ $30,000 award will go to an artist or collective whose practice meaningfully impacts the queer community.
Artist and Member of Parliament Dr Elizabeth Kerekere gave the award its māori name, Toi Kō Iriiri. She said it references 'art that transforms – that moves us in or out of discomfort, but always to a new place.'
The inaugural recipient of the award will be announced in August 2022 following the establishment of a selection panel under the guidance of Kerekere and former Arts Foundation laureates val smith and Elyssia Wilson-Heti.
'Some of the most innovative, form-pushing, boundary-breaking, glass-ceiling-shattering work comes from queer practitioners,' offered Wilson-Heti, a member of the FAFSWAG collective and the Creative Director of Auckland Pride Festival.
'They absolutely should get recognised for that contribution,' she said.
While the Arts Foundation already has a track record of awarding queer artists, the organisation's Lead, Jo Blair, told Ocula Magazine that 'in the same way we have traditionally awarded female artists but also have the Theresa Gattung Female Arts Practitioners Award, we believe more is more.'
Toi Kō Iriiri award backer Hall Cannon.
The award is backed by an NZ $300,000 gift from Hall Cannon, owner of Otahuna Lodge, one of the country's most luxurious hotels. Cannon, who was raised in Memphis, Tennessee, recently became an Arts Foundation Te Tumu Toi Trustee.
'With this award we have a really exceptional opportunity to be, frankly, a global leader in this space,' Hall said.
Other queer art awards globally include the Midsumma and Australia Post Art Award, an AU $6,000 prize open to queer Australian artists that was established in 2016. This year it was won by Emma Armstrong-Porter for her quilted vulva work NOT URS (2019).
Another is the Queer | Art | Prize, which presents two US $10,000 awards annually to LGBTQ+ artists based in the United States. Founded in 2017, its previous winners include Catherine Opie (2017) and photographer Lola Flash (2021). —[O]