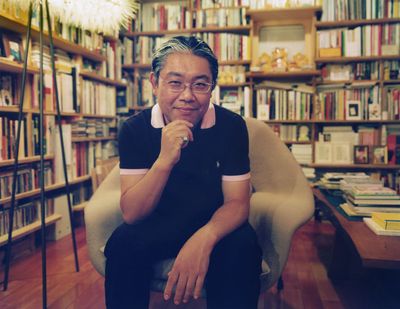 Courtesy Daisuke Miyatsu. Photo: Asakai.
Japanese collector Daisuke Miyatsu has merged his life with a passion for collecting art perhaps more than any other collector today. Known as the 'salaryman collector', Miyatsu started his collecting journey as a surprisingly typical office worker with a limited budget for art, originally working in advertising and supplementing his salary as a nighttime receptionist at hotels to help develop his collection. In over 25 years, he has amassed an enviable international art collection that includes Yayoi Kusama and Olafur Eliasson, and many new media artists, such as Yang Fudong, Yuan Goang-Ming, Apichatpong Weerasethakul, Ming Wong, and Ade Darmawan.
Designed by Dominique Gonzalez-Foerster, Miyatsu's home is a work of art in its own right, containing a Japanese ink painted sliding door by Yoshitomo Nara, a full-length mirror by Yayoi Kusama, wallpaper by Jung Yeondoo, and more. More radically, he has started inviting artists to use his body as their canvas by designing tattoos for him, including Keiichi Tanamai, Ryan Gander, Djordje Ozbolt, and Daido Moriyama, with the Estate of Felix Gonzalez-Torres soon to offer a design.
Dominique Gonzalez-Foerster, Moment Dream House. Courtesy the artist, Gallery Koyanagi, Tokyo; and Tokyo Opera City Art Gallery.
Gaining an international reputation as a collector both for his modest means and for a collecting style that harks back to an old-fashioned and intimate approach, Miyatsu's collection has been exhibited in Tokyo Opera City Art Gallery, the Daelim Museum of Contemporary Art in Seoul, the Taipei Museum of Contemporary Art, and Busan Exhibition & Convention Center. Recent exhibitions of Miyatsu's collection include SYNCHRONICITY - Daisuke Miyatsu Collection x Kasama Nichido Museum of Art Blending the quintessence of modern and contemporary art at Kasama Nichido Museum of Art (23 March–19 May 2019), which showcased works by Yang Fudong, Tawan Wattuya, and Yuan Goang-Ming, among others.
Miyatsu has recently developed a more professional interest in art, becoming a professor at Yokohama College of Art and Design in 2017—where he teaches Contemporary Economics, analysing art phenomena from a business point of view, Career Designing for Creators, and Global Communication Workshop—and is also a visiting professor at Kyoto University of Art and Design. With an interest in developing a collecting culture in Japan that is not just for the super-rich, Miyatsu is also the author of several books in Japanese, including Let's Buy Contemporary Art (published in 2010 as part of the Shinsho de Shûeisha collection and available in traditional Chinese, Taiwanese, and Korean languages); The Age of Art x Technology – Revolutionary changes in a Society brought about by the Creative Business, published in 2017; and Contemporary Art Economics, most recently published in 2014 by Kobunsha.
In 2017, Miyatsu embarked on a collector residency at Delfina Foundation as part of 'Collecting as Practice'—a thematic programme curated by Rose Lejeune that explored urgent questions around the philosophy, psychology, and politics of collecting. During his time in London, Miyatsu began a conversation that reflects on the development of his collection over time, the changing art world, and his radically intimate new works.
This conversation has been transcribed and edited for publication on Ocula in collaboration with Delfina.
Exhibition view: SYNCHRONICITY - Daisuke Miyatsu Collection x Kasama Nichido Museum of Art Blending the quintessence of modern and contemporary art, Kasama Nichido Museum of Art (23 March–19 May 2019). Courtesy Kasama Nichido Museum of Art.
RL

You've been collecting since the mid-1990s, fairly early in your career as a young professional working in advertising. What were the first works that you bought, and where did you see them? How did you fund your collecting in the early days?

DMYayoi Kusama has been my idol since I saw her 'Infinity Nets' series at the National Museum of Modern Art in Tokyo around 1994, when I was still a student studying business. Up until then, I had always loved art and frequently visited museums, but she was something else, just amazing—her work was so totally different from anything else showing in Japan at that time. The most impressive thing for me was when I stood in front of her work, I couldn't tell whether I was somehow inside the painting, or standing outside of it, looking at it. That was my first experience of something that truly moved me and stayed with me.

About seven or eight years later, as my career developed a little, I decided to buy myself a present. At that time, my friends were also moving into better paid jobs and were buying themselves cars, or Rolex watches. Instead of something like that, I decided I wanted to buy an artwork by Kusama. I called all seven museums in Japan that have her works in their permanent collections and finally, one gave me the details of her gallery in Tokyo, who I called and they showed me some small works that I could buy with my budget. I selected the one I liked the most that I could afford, which was one of her famous 'dot' paintings from 1953—it was in all honesty more expensive than I had expected! I thought I was going to pay with my summer bonus but in the end, I needed bonuses from both the summer and the winter to afford the work.

Yayoi Kusama, Infinity Net (1965). Oil on canvas. 132 x 158 cm. © YAYOI KUSAMA. Courtesy Ota Fine Arts.
RL

With a limited budget, it seems that you have had to be very specific—not only about how you spend your money on art, but also how you think about being involved in art and with artists as a collector. Could you say something about how your approach to collecting has changed over time?

DMI started my collection in 1994 when I was 30 years old and two years later I already had more than I could hang at home, and I started to need professional storage for my collection. As you know, I really am just an ordinary office worker, and so I didn't have much space for artworks and couldn't really afford a large storage space, but I also believed I could find my own way to make a collection, even with these limits. Some famous collectors have huge sculpture gardens or private museums, and over time I realised that although I would never be able to do something like that, I still wanted to be able to commission and work with artists on ambitious projects. I had the same intent as some of those people, but I knew I would need to find a different way to make it happen.

Yoshitomo Nara, Fusuma, ink painting on sliding door in the home of Daisuke Miyatsu. © Yoshitomo Nara.

Eventually, I struck upon an idea. In Japan, it's possible to get a mortgage for building one's own house, and that was how I realised I could build one huge artwork as my residence. The first artist I thought of was Dominique Gonzalez-Foerster, because of her unique way of understanding space, and she became the architect to some degree. Next, I decided to invite Shimabuku, because we are old friends and he also knows Dominique well. It's grown organically in that way—today, there are over ten artists who have contributed to the fabric of the building, but it's still not finished completely. Again, I was aware of projects by super wealthy collectors involving houses built with artists and star architects, but this project is totally different. All of the artists involved are my friends, who know me and my lifestyle. Each artist has been able to develop an element of the house that is truly unique and comfortable.

For me, it's also important to understand the project's place within the history of Japanese architecture. A long time ago, only the highest monks, the shogun with samurai knights, and nobility were permitted to have huge tatami rooms and sliding doors featuring black ink paintings by master painters, which is one of the elements I now have in my house. I love how I've been able to take these ancient traditions and weave them into the home of a Japanese salaryman through contemporary art—it's democratic.

Jung Yeondoo, Borame Dance Hall wallpaper in the home of Daisuke Miyatsu. © Jung Yeondoo.
RL

This approach to fusing historic Japanese cultures into your way of collecting is interesting. As well as your love for Japanese artists such as Kusama and your early interest in the digital, it seems like you've used contemporary art to think about Japanese culture and history increasingly in your collection, is that right? I'm especially interested to hear about the very personal, bodily way you have started collecting, by getting tattoos designed by artists. This seems especially interesting, not only because tattoos are generally taboo in Japanese culture, due to their outlawing in the early 20th century and associations with crimes more recently; but also because this way of engaging with art requires very direct contact with the artists involved.

DMFor over ten years I focused on video and new media art, because it was possible for me to get museum-quality pieces at a smaller budget. Now I'm very interested in moving towards an ideas-based collection, and in particular I'm looking towards art that is concerned with queer culture. For me, now is the time to think about diversity and the means to maintain, expand, and protect open cultures.

I learn so much from art. To me, art is the most important media to understand the world—more so than newspapers, TV news, or even the internet. I'm constantly motivated to experience it, so I spend more and more time with artists and don't buy a huge amount. Of course, we cannot communicate with old and modern masters like van Gogh or Picasso, but we can spend time with contemporary artists—from the established, to the very young and talented—and this is the space where I learn the most about new ideas and see what the world is like through the eyes of others.

Exhibition view: Invisibleness is Visibleness: International Contemporary Art Collection of a Salaryman—Daisuke Miyatsu, Museum of Contemporary Art Taipei (9 July–4 September 2011). Courtesy Museum of Contemporary Art Taipei.

In Japan, we have a long and beautiful tradition of tattooing, but more recently it has been associated with the Japanese mafia. I was an ordinary office worker, so those tattoos were far away from my life. But as I started to think more about my art collection, and how intertwined it is with my life, I realised I wanted works that could live with me until my death. So I decided to get a tattoo, but not just any tattoo of course—tattoos originating through long, long discussions with artists. My tattoos are like conceptual artworks. Right now, I have five on my back, which I like because they're very private—not even I can see them directly. Sometimes, when I go to some big art world party, I might feel lonely or unsure about whether I belong there, but when I go back to the hotel and take a shower, and catch a glimpse of the tattoos in the mirror, I remember I'm living with my art collection. I want my art and life to exist together. At some point I want to donate my whole collection to a museum—except my tattoos, which are only beautiful as long as my blood circulates!

Exhibition view: Invisibleness is Visibleness: International Contemporary Art Collection of a Salaryman—Daisuke Miyatsu, Museum of Contemporary Art Taipei (9 July–4 September 2011). Courtesy Museum of Contemporary Art Taipei.
RL

One of the things that I like so much about your collection of tattoos is how different this concept of collecting is to the idea of collections being housed or shown in a museum. This approach is both personal and unique to you, and also represents a truly intimate way of knowing and engaging with art.

DMI think this is like the relationship between my wife and I. A long time ago when I started to go steady with her, we would put on smart or social masks on top of our real faces, but now, after living together for so long, we know everything about each other—in a good way of course! My relationship with my collection is similar—it's always there, and I get to know it better and better as time goes on.
RL

When you describe your tattoo collection against the experience of being at an art world party feeling lonely, it reminds me of just how strange and alienating a place the art market can be, especially if you don't feel like you're as wealthy as many of the people you meet. What do you like most about being involved in contemporary art?

DMI love to learn from art, and share it with my friends from all over the world. My collection will never be complete, and I'm always trying to think about how to expand what I know about art and how to engage with it with the resources that I have. That's also why I decided to change professions and become an art writer and teacher—to help others engage with contemporary art and to think more about how it can help the world.

Exhibition view: Invisibleness is Visibleness: International Contemporary Art Collection of a Salaryman—Daisuke Miyatsu, Museum of Contemporary Art Taipei (9 July–4 September 2011). Courtesy Museum of Contemporary Art Taipei.
RL

Can you tell us a little about your time at Delfina Foundation in London? You were one of the first collectors in residence there in 2017, and we were very happy to have someone who has not only expanded what collecting can be, but has also been so affected personally and professionally by collecting. Now that you have had a chance to reflect on it, has your Delfina residency changed the way you think about collecting?

DMFor me, every new experience changes how I think about collecting. When I first began, Kusama was the central artist to me, then I met Dominique Gonzalez-Foerster and she became the architect of my house, then video and new media art totally changed my collection—my point of view has continued to change. As for Delfina—New York, Hong Kong, and Shanghai are very important cities that we should visit at regular intervals, but I don't think that it's possible to understand what's going on in the art world if you don't go to London frequently. Delfina means I now have family in London! Spending more time in London with people who know the city made the difference—I love the amazing collections of the National Gallery and Tate Modern but some small individual museums like Sir John Soane's Museum are charming too, and of course the edgy programmes of galleries in London are stimulus for me and having local guides helps!
RL

Finally, what is next for you?

DMIt's not next, but in the future I hope to build my small private library with my artist friends because my art book collection is still growing. —[O]