Feature | Must-See Exhibitions
5 Must-See Gallery Exhibitions in Paris over Autumn 2023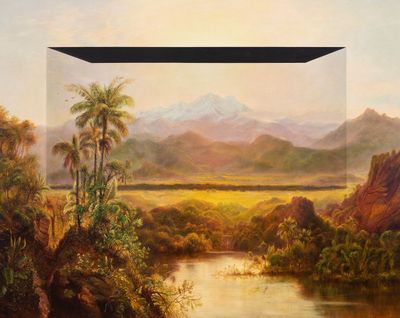 Laurent Grasso, Studies into the Past (2023). Oil on panel. © Laurent Grasso / ADAGP, Paris 2023. Courtesy the artist and Perrotin. Photo: Tanguy Beurdeley.
Beyond the unmissable surveys of canonical modernists from Mark Rothko to Marc Chagall, Pablo Picasso, and Amedeo Modigliani in Paris' institutions this autumn, we share five must-see exhibitions across Parisian galleries, including Henry Taylor's inaugurating solo at Hauser & Wirth's new space and TARWUK at White Cube.
Henry Taylor, One tree per family (2023). Mixed media. 457.2 x 152.4 x 121.9 cm. © Henry Taylor. Courtesy the artist and Hauser & Wirth. Photo: Jeff McLane.
Henry Taylor: From Sugar to Shit
Hauser & Wirth, 26 bis Rue François 1er
14 October 2023–7 January 2024
Expect: portraits and assemblages made from milk bottles, bicycle wheels, or baseball bats, and a monumental 'tree' with a giant afro in the place of foliage.
Los Angeles-based artist Henry Taylor continues a tradition of figurative painting in the lineage of artists such as Alice Neel, Jean-Michel Basquiat, and Jacob Lawrence. Born in California, Taylor is the youngest of eight siblings, one of whom was a founding member of the Ventura County chapter of the Black Panthers.
Today Taylor is best known for portraying the experiences and histories of Black American communities with blunt realism. There is an almost intentional roughness to his surfaces, which depict anyone from family to strangers, political figures, and faces from other artists' works.
Five youths in crisp shirts pose on the lawn in I got brothers ALL OVA the world but they forget we're related (2023), with the word 'Victory' inscribed in large letters in the backdrop. It is executed in a vibrant and decisive style that has been described as 'the visual equivalent to blues music'.
At Hauser & Wirth, the artist presents paintings alongside lesser-seen sculptures and assemblages made through a process of 'hunting and gathering'. Taylor is also currently the subject of a major survey, B Side, at the Whitney Museum of American Art in New York until 28 January 2024.
Laurent Grasso, Orchid Island (2023) (still). HR film, 19 min, 14 sec. © Laurent Grasso / ADAGP, Paris 2023. Courtesy the artist and Perrotin.
Laurent Grasso: Orchid Island
Perrotin, 10 Impasse Saint-Claude
14 October–23 December 2023
Expect: veiled paintings, sculptures, and a film shot in Taiwan's wilderness that questions the idealisation of nature amid ecological crises.
French conceptual artist Laurent Grasso is known to create research-based narratives that question the single-minded perspective of scientific truths. One of his best-known video works Élysée (2015) investigated the aesthetics of power sited within the French Presidential offices, capturing the iconography of political might across a slow pan.
In another previous film, Soleil Double (2014), two identical suns rise over a dystopian cityscape filmed inside a Roman district built in the 1930s to host the World's Fair. Disorienting viewers, the sequence recalls the sombre histories associated with authoritarian architectures.
Grasso's latest work Orchid Island (2023) centres a site of natural beauty in Taiwan, where authorities have also deposited nuclear waste. As with his previous works, the black-and-white film questions perception and probes an important question of how to represent nature amid ecological crises.
Fawn Rogers, Car Meat (Akhal Teke) (2023). Accident-impacted car hoods, casters, meat hooks, trollies, automotive primer, and paint; rack mixed metals. 238.8 x 152.4 x 76.2 cm. Edition unique. Courtesy the artist and Galerie Marguo. Photo: © Fawn Rogers.
Fawn Rogers: Come Ruin or Rapture
Galerie Marguo, 4 Rue des Minimes
16 October–18 November 2023
Expect: a dive into childhood memories and their influence on an eco-feminist's practice across video, painting, and sculpture.
American artist Fawn Rogers' debut exhibition in Europe narrates a rapturous coming-of-age story. At once embodying the playful rebellion of youth and its pitfalls, Rogers brings nature and femininity to the fore to contemplate social realities.
Beauty and tragedy meet in Car Meat (Akhal Teke) (2023), a metal rack holding crumpled metal sheets neatly suspended like designer gowns. These are in fact lacquered accident-impacted car hoods, with each of their colours—rose gold, silver, deep bronze, and ochre gold—modelled after a rare horse breed, the Akhal-Teke, which is known for its distinct metallic sheen.
Similarly, Rogers' paintings evoke the adolescent desire for emancipation and for finding a language for oneself. Across various canvases, a car is set ablaze under a night sky; a carefree topless woman sunbathes in a field while in the distance, a tree grows through the rear window of an abandoned car; and a swimming horse is seen from underwater, paired with the assertion: Everything that has time in it and becoming (2023).
Sun Yitian, Cruising Creatures (2023). Acrylic on canvas. 60 x 90 cm. Courtesy the artist and Esther Schipper, Berlin/ Paris/Seoul. Photo © Sun Yitian.
Sun Yitian: Once Upon a Time
Esther Schipper, 16 Place Vendôme
18 October–24 November 2023
Expect: the seductive surfaces known to the artist, only muted and transplanted to storybook figures and Renaissance iconography.
Sun Yitian paints mass-produced objects on a large-scale with bright acrylic shades that capture the shiny surfaces of plastic inflatable rifle toys or severed doll heads, often modelled after her own staged photographs.
More closely resembling digitally produced images than hand-rendered paintings, her works aim to 'remove all resistance to perception', as stated by the artist. Indeed, the familiar sight of materials associated with manufactured goods dissolves the ambiguity of an artwork and its interpretation. In Dionysus's Obsessions III (2022), for example, a bunch of purple grapes is painted with seductive surfaces of varying translucencies, appearing almost like glass beads.
A sense of mystery and reassurance stems from the artist's open embrace of popular culture and the spectres of industrial production. At Esther Schipper's Berlin gallery earlier this year, a distinct triptych of male doll heads (Kevin, Alger, and Jason, all 2023), each measuring over two metres tall, greeted audiences as part of Sun's exhibition Portrait.
TARWUK, KLOSKLAS_1969_evitisoP_elbuoD (2022). Acrylic, epoxy clay, steel, wood, aluminium, polyurethane foam, and plastic. 100 x 126 x 57.5 cm. Courtesy White Cube.
TARWUK: Conceived for the Stage
White Cube, 10 Avenue Matignon
17 October–2 December 2023
Expect: a multidisciplinary exploration of the elusive experience of selfhood and the boundaries between the individual and collective.
Artists Bruno Pogačnik Tremow and Ivana Vukšić—collectively known as TARWUK—came of age during the Yugoslav Wars of the 1990s. Their work can be read within this context of state dissolution and its associated traumas of ethnic cleansing, land razing, and mass exodus.
This blend of ideology, placelessness, and frank acknowledgement of death find expression in paintings that borrow from the palettes of Byzantine religious scenes, and Art Nouveau, where the theatrical and existential meet. The artists' carnivalesque sculptures more explicitly express this feeling, with careful arrangements of bone fragments ironically referred to as mise-en-scènes.
In the triptych, MRTISKLAAH_sgnik_fo_maerd_uoy_dna_doolb_sllub_etihw_htiw_dekaos_si_dnal_ehT (2022)—read backwards as 'The land is soaked with white bulls blood and you dream of kings'—the spectral outlines of two masked figures appear on either side of an abstract wash from which a bull's leg peaks out. —[O]