Insight | Virtual Presentation
Artissima XYZ: Artist Highlights
With Artissima's 2020 edition including an online platform, XYZ, running from 3 November to 9 December, Ocula Magazine introduces some of the artists showing across XYZ's curated sections: Present Future, Back to the Future, and Disegni.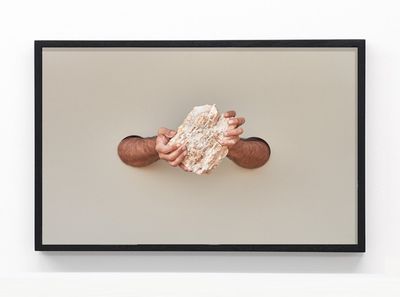 Shadi Harouni, Unnamed Mountain (2017). C-print / Digital C-print. 50 x 75 cm without frame; 54 x 79 cm with frame. Edition of 3 + 2 A.P. Courtesy the artist and Galleria Tiziana Di Caro.
BACK TO THE FUTURE
Curated by Mouna Mekouar and Lorenzo Giusti, Back to the Future looks at works by artists made between 1960 and 1999.
Rose Finn-Kelcey, Power for the People (1972/2011). Colour photograph mounted on aluminium.109.5 x 160.5 cm framed. Unique in this size. Courtesy Kate MacGarry and Estate of Rose Finn-Kelcey. Photo: Angus Mill.
Works from the 1970s to 1990s by Rose Finn-Kelcey are the focus of this insight into the practice of a dynamic figure in the history of feminist and performance art in the U.K.
Irreverent provocation is something of a hallmark in early work. In 1971, a flag printed with 'Here is a Gale Warning' was raised over Alexandra Palace, then a broadcasting station for BBC2, prompting callers to jam the BBC switchboard. In 1972, flags printed with 'Power for the People' had to be taken down from Battersea Power Station after Chelsea residents sounded alarms.
Witty takes on art history include Bureau de Change (1987) recreated Van Gogh's Sunflowers painting with £1,000 worth of coins in response to its £22.5m sale at auction that year, and One for Sorrow Two for Joy (1976), which referenced the time Joseph Beuys shared a gallery space with a coyote for I Love America, America Loves Me, with Finn-Kelcey spending two days with magpies in Covent Garden's Acme Gallery.
In the 1990s, Finn-Kelcey created installations infused with material and spatial tension: Steam Installation, first shown with Chisenhale Gallery in 1992 and then included in the Young British Artists Part 2 show at the Saatchi Gallery in 1993, involved cold air curtains that hold a block of steam in place.
Regina Vater at Galeria Jaqueline Martins
Regina Vater, Untitled from the series 'Tropicália' (1968). Silkscreen on paper. 28.6 x 38.4 cm. Edition 15/25. Courtesy Jaqueline Martins. Photo: José Pelegrini.
'What makes me Latin American if my blood is an European and indigenous mix?' is the quote introducing Carioca artist Regina Vater's showcase, spanning prints from the 1960s to the conceptual sculpture of an egg with 'time' printed on it, dated 1980–2020.
Born in Rio de Janeiro in 1943, Vater challenges preconceptions of identity in her work. She considers her 1975 polyptych Tina América, composed of 12 self-portraits showing the artist embodying different 'personas' associated with Latin American women, one of her seminal works, since it was made before Cindy Sherman started her own self-portraiture in 1977.
Feminist critiques come through in pop-infused figurative silkscreen prints and sculptures from the 1960s that reference the work of painter Tom Wesselmann. The 'Tropicália' series from 1968 responded to the artist's experiences as a female artist in a male-dominated art world, promoting her to make drawings based on Freud's concept of 'uterus envy', showing headless women cut off from thought.
Mohamed Melehi at Loft Art Gallery
Mohamed Melehi, Début de déluge B from the series 'déluge' (2019). Mixed media on canvas. 200 x 160 cm. Courtesy Loft Art Gallery.
Following the news of his recent passing at the age of 84, Loft Art Gallery offers a video introduction to the timeless work of this pioneer of abstraction.
Melehi's hard-edge canvases of parallel lines that curve and wave in uniform patterns are distinguished by an electrifying play of colour. SOLEIL OBLIQUE II (1971), for instance, renders the form of a radiating sun in sharp, cellulose lacquer lines on plywood that move from yellow to black, as alternating waves of eggplant purple and grass green rise up.
Melehi was a cosmopolitan artist. His studies took him to Tétouan, Seville, Rome, Madrid, and Paris, before a 1962 scholarship brought him to Columbia University in New York, where he met the likes of Frank Stella. Returning to Morocco in 1964, he joined the Casablanca school, which blurred the lines between art, craft, design, and architecture, developing a distinctly North African modernism.
Among the group's interventions was the staging of an exhibition, Exposition-Manifeste, on the streets near Jemaa el-Fnaa square in Marrakech in 1969. On the show, Melehi recalls a conscious 'position against the government'—'Our works were in for a week, exposed to the sun and wind. It was an ideological message about what art could be.'1
PRESENT FUTURE
Curated by Ilaria Gianni and Fernanda Brenner, Present Future features artists 'that see art as a way to explore their roles as citizens and social actors.'
Sara Naim, Shelf and Sphere (2020). C-type digital print, plaster, foam, plexiglass. 32 x 80 x 38 cm. Courtesy the artist and The Third Line.
The imaging process is an act of reduction and expansion in Sara Naim's work, with high-tech tools zooming in on organic matter, whether the capture of Naim's blood cells with a scanning electron microscope in Spasm; Lost Connection of a Blood Cell (2018), or the screenshot of the artist's dead skin using a transmission electron microscope in Quiver (2018).
The artist's last solo show with The Third Line, Building Blocks (16 January–27 February 2019), excavated elements associated with the artist's personal history, with the 'Forms' series recording molecular structures of the jasmine and soil from her grandmother's garden in Damascus using a scanning electron microscope and printed as digital C-prints mounted on wood cut into irregular, microbial shapes.
For XYZ, The Third Line foregrounds some of Naim's most recent sculptures, in which digitally printed surfaces combine with smooth, plaster forms, from a large S-curve resting on yellow Plexiglas in S-Curve (2020), to the balanced Shelf and Sphere (2020).
Shadi Harouni at Galleria Tiziana Di Caro
Shadi Harouni, Unnamed Mountain (2017). C-print / Digital C-print. 50 x 75 cm without frame; 54 x 79 cm with frame. Edition of 3 + 2 A.P. Courtesy the artist and Galleria Tiziana Di Caro.
In Shadi Harouni's photographic series 'Unnamed Mountain', arms poke through holes in walls to hold up pieces of rock. The images are drawn from the video I Dream the Mountain is Still Whole (2017), in which a Marxist dissident is filmed wandering the grey, earthen terrain of a quarry as he remembers pre- and post-revolutionary Iran.
As Noa Bronstein writes, 'Quarries are important places for Harouni, as several of these sites have become refuges for displaced and excised revolutionaries.'2 A pumice quarry in Iranian Kurdistan sets the scene for The Lightest of Stones (2015), in which men whose livelihoods have been impacted by U.S. trade sanctions watch Harouni carve the mountain by hand as they talk about remaining invisible to their government, and being misunderstood by those of the West.
In a lecture delivered at University of Oregon's Department of Art titled 'Of Myth and Monument', Harouni mentioned a proposal for monuments that feeds into the images shown at XYZ:'It's not a proposal to make bigger things. It's a way to consider what else can function as a monument.'
Antonio Obá, Untitled (2017). Watercolour on paper. 39.5 x 48 cm framed. Courtesy the artist and Mendes Wood DM. Photo: Kristien Daem.
In the work of Antonio Obá—whose adopted names reference Saint Anthony of Categeró, an enslaved 15th-century Northern African who protected Sicily's poor, the words for 'King' in the Benin Empire, and a Yoruba deity that rules over thunder—the trajectories of pre-colonial, colonial, and post-colonial Brazil intersect.
Malungo, the artist's installation for Parcours at Art Basel in 2019, was aptly placed in the Barfüsserkirche of the Historisches Museum Basel: a three-panel gold-leafed homage to the sanctuary spaces of Baroque churches in Minas Gerais, Brazil. This framing foregrounded two paintings, both included in the artist's 2019 solo show with Mendes Wood DM, Sentinela. In Negro Spiritual (2019), a gold halo hovers over a head thrown back, while in Sentinela (2019), which brings to mind Kerry James Marshall's Portrait of Nat Turner with the Head of his Master (2011), a black man gripping a knife stands face front.
The paintings on view with XYZ extend from the artist's 2018 solo show with Mendes Wood DM: watercolours on paper in which bodies seem to be drawn in blood. In one, the halo—a recurring motif in Obá's work—hovers over a body without a head.
DISEGNI
For the Disegni section, curators Bettina Steinbrügge and Letizia Ragaglia seek 'to deepen multiple facets of the "drawing cosmos" through the works of ten women artists.'
Heike-Karin Föll at Campoli Presti
Heike-Karin Föll, Miss Nietzsche (2014). Pressed flowers and stems on paper. 78 x 108.5 cm. Courtesy the artist and Campoli Presti.
The mark takes centre stage in the work of Heike-Karin Föll, who also teaches drawing and critical digitality at the Berlin University of the Arts. It dances across surfaces, forming words or making statements without spelling anything out. Sometimes, as with Miss Nietzsche (2019), lines are scored from what already exists—here, the stems of flowers.
Föll's work is a fluid constellation, as demonstrated by speed, her first institutional solo show at Berlin's KW Institute for Contemporary Art (22 June–1 September 2019). A collection of paintings, drawings, and artist books encased in Plexiglas showcased an intertextuality that evolved from the acalculia the artist suffered as a child, making her 'develop her own system of logic'.3
Naturally, Föll's titles say something of the content. In one painting, a single black spray paint line glides over a canvas named Darboven hated Richter's paintings (2016). 'Föll's painting tells us very little about Richter or Darboven,' writes Kristian Vistrup Madsen, 'other than what her single line suggests of her own investment in opacity.'4
Sarah Abu Abdallah at Athr Gallery
Sarah Abu Abdallah, Karam (2019). Acrylic and collage on canvas. 120 x 120 x 1 cm. Courtesy Athr Gallery.
Sarah Abu Abdallah creates commanding commentaries on life in an electrified, interconnected world, in works that mash-up references into incisive form. Early video works are infused with a kind of punk attitude—like Saudi Automobile (2011), showing the artist painting an unusable car baby pink before getting into the driver's seat, and The Salad Zone (2013), featuring two women in black abayas smashing up a television.
The latter film appeared in Abu Abdallah's solo show For the First Time in a Long Time, staged by Kunstverein Hamburg and Jameel Arts Centre between August 2019 and April 2020, alongside Bad Hunches (2019), an epic 23-metre-long horizontal hanging scroll that works on view with XYZ extend from.
Against black backgrounds, networks of images—printed, cut out, drawn, or painted—intersect like the Dunhuang Star Chart: in the case of Karam (2019), a skull hangs over a plane of broad strokes of white paint, while a finger spinning what looks like an orange slice as if it were a basketball.
Sarah Faux at Capsule Shanghai
Sarah Faux, Origin Story (2019). Monotype on paper. 91.4 x 81.3 cm. Courtesy the artist and Capsule Shanghai.
Sarah Faux's monotypes showing with XYZ are at once life studies and sketches for the artist's distinctive large-scale cut-out canvas collages and paintings that depict bodies captured in moments of repose, composed of bright, colour blocks, currently on view in the artist's second solo with Capsule Shanghai, Perfect for Her (20 October–25 December 2020).
Each unique print depicts a moment of bodily intimacy—intertwined hands and legs drawn from the artist's point of view—created by pressing a sheet of paper on painted plexiglas. The result is a medley of colourful lines, strokes, and textures, some marking the imprint of the artist's hand, and others tracing the contours of each print's original surface, that oscillate between figuration and abstraction.
The body in these compositions often becomes a framing or blocking device—in the case of Origin Story (2019), white limbs open to reveal verdant sheets, and a brown, hairy leg.—[O]
---
1 Oliver Basciano, 'Give us a swirl: How Mohamed Melehi became Morocco's modernist master', The Guardian, 12 April 2019, https://www.theguardian.com/artanddesign/2019/apr/12/mohamed-melehi-casablanca-art-school-mosaic-rooms-london
2 Noa Bronstein, 'With an instinct for justice', curatorial essay for With an instinct for justice at Doris McCarthy Gallery (5 May–30 June 2018).
3 Penny Rafferty, 'Heike-Karin Föll on the Joys of Unreliability', Elephant, 11 July 2018, https://elephant.art/studio-visit-heike-foll/
4 Kristian Vistrup Madsen, 'Heike-Karin Föll: Speed', 14 August 2019, https://www.studiointernational.com/index.php/heike-karin-foll-speed-review-kw-institute-for-contemporary-art-berlin