News | Galleries
Art X Lagos Will Return in November 2021
The influential Nigerian fair will resume its run at Federal Palace after last year's online only edition.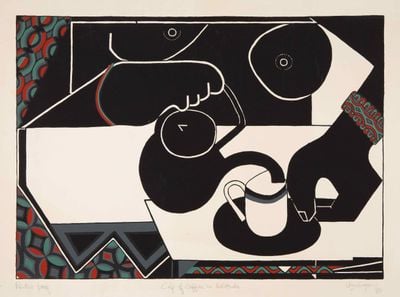 Uzo Egonu, Cup of Coffee in Solitude (1981). Screenprint. Courtesy the artist and Art X Lagos.
The sixth edition of ART X Lagos will take place from 4 to 7 November this year at The Federal Palace in Victoria Island, Lagos.
Founded in 2016, the fair has shown artists who have garnered significant recongition in recent years.
They showed Hank Willis Thomas before he received his Guggenheim Fellowship, Yinka Shonibare CBE before he became a Commander of the Most Excellent Order of the British Empire, and Zimbabwean painter Portia Zvavahera, long before she was represented by David Zwirner—news that was announced just last week.
After the in-person exhibition, this year's fair will continue online at artxlagos.com until 21 November. This hybrid event structure should help galleries and collectors join the fair despite ongoing disruptions caused by the pandemic.
Covid-19 cases are trending upwards in 14 African countries, according to the World Health Organisation. In Nigeria, the African Centre for Disease Control reported deaths due to the disease rose 63% last month.
In 2020, ART X Lagos was further disrupted by the violent response to the #EndSARS protests, which led to the disbanding of the notorious Special Anti Robbery Squad (SARS), a Nigerian Police Force unit established in 1992 to fight armed robbery. ART X Lagos marked the protests with an online exhibition last December featuring works by over 100 artists, filmmakers, protestors and photographers.
'It has never been more important to celebrate creativity, excellence and resilience from across Africa and its diaspora,' said Tokini Peterside, the founder and CEO of ART X Collective, which organises the fair.
Peterside said that 'despite ongoing global challenges' she was proud to provide a platform 'to experience some of the brightest creative talent that exists globally, and to contemplate Africa's place in the world, drawing from archives of the past, present and future.'
ART X Lagos's programming this year includes talks curated by Aude Mgba, a fusion of music and art curated by Lanre Masha and Faridah Folawiyo, and an exploration of African art NFTs curated by Papa Omotayo and AWCA.
Seventeen galleries have so far confirmed their participation in this year's ART X Lagos, including local galleries kó, SMO Contemporary, and DADA Gallery. That's fast approaching the 22 galleries that took part in 2019.
All 17, several of whom also took part in 1-54 New York in May, are listed below. —[O]
Galleries Participating in Art X Lagos 2021
Afriart Gallery (Kampala, Uganda)
Circle Art Gallery (Nairobi, Kenya)
DADA Gallery (Lagos, Nigeria and London, UK)
Eclectica Contemporary (Cape Town, South Africa)
Galerie Cecile Fakhoury (Abidjan, Ivory Coast; Dakar, Senegal; and Paris, France)
Kanbi Projects (London, UK)
kó (Lagos, Nigeria)
Loft Art Gallery (Casablanca, Morocco)
Magnin-A (Paris, France)Nubuke Foundation (Accra, Ghana)
October Gallery (London, UK)
OOA Gallery (Barcelona, Spain)
Skoto Gallery (New York, USA)
SMO Contemporary (Lagos, Nigeria)
Stevenson Gallery (Cape Town and Johannesburg, South Africa)
Tiwani Contemporary (London, UK)
Worldart (Cape Town, South Africa)