News | Market
Nigerian fair ART X Lagos Postponed due to Violence
Dozens of peaceful protestors were allegedly shot by members of the Nigerian Armed Forces on October 20.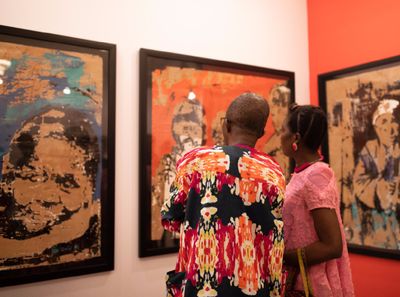 Works by Armand Boua on view at SMO Contemporary Art during ART X Lagos 2018. Courtesy ART X Lagos.
The organisers of art fair ART X Lagos have postponed the event after people protesting police brutality were attacked and killed.
'We have watched with deep sadness the heartbreaking events of the past week, including the violence perpetrated against peaceful protesters in Lagos and across other parts of the country,' they wrote in an email shared with media. 'In light of this, and out of respect for the lives lost, we have decided to postpone ART X Lagos 2020.'
The protests, which began on 8 October, led to the disbanding of the Special Anti Robbery Squad (SARS), a Nigerian Police Force unit established in 1992 to fight armed robbery. SARS officers are accused of exploiting their wide-ranging powers to steal, rape, torture, and murder.
More than 50 people have been killed in the protests, including the Lekki massacre on October 20, which have garnered global attention. By 16 October there were already over 3 million tweets using the hashtag #EndSARS. Over 1.4 million posts have used the same hashtag on Instagram.
'As an organisation led and run by young people, we have been inspired by the #EndSARS movement,' said the team behind the fair, ART X Collective, which was founded by 35-year-old entrepreneur Tokini Peterside. 'We look forward to the time when we will stage our fifth edition of ART X Lagos, creating a space where we can come together to contemplate our society's shared expectations for tomorrow and meditate on new ideas for how our community might move forward as one.'
'May the souls of the departed find peace,' they said.
Art X Lagos has positioned itself as West Africa's premier art fair, though it remains small by international standards. Only 22 galleries took part in 2019, up from 18 the year before. Art X Collective said they would announce new dates for the fifth edition, scheduled to take place in November, shortly. (UPDATE: the fair's fifth edition will take place online from 2–9 December, 2020.)
Ocula Magazine's list of revised dates for art fairs around the globe can be found here. —[O]