News | Institutions
Budi Tek, Collector of Monumental Works, Dies at 65
Tek founded the Yuz Museum in Shanghai aircraft hangars and forged connections with LACMA and Qatar Museums.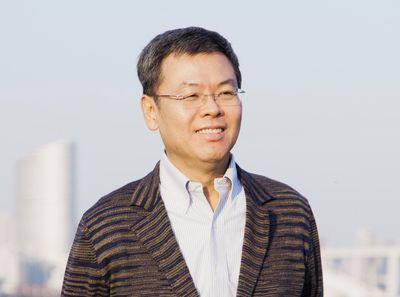 Budi Tek. Courtesy Yuz Foundation.
Chinese-Indonesian art collector Budi Tek died of pancreatic cancer in Hong Kong on 18 March. He passed away peacefully after six years battling the disease, his family shared in an online obituary.
Born in Jakarta in 1957, Budiardjo Tek grew up in Singapore. In 2004, he became obsessed with contemporary art, and began piecing together a world-class collection with an especial emphasis on Chinese art from the 1980s and 90s, and what he called 'mega artworks' that were often difficult to install and maintain.
In 2007, he founded the Yuz Museum in Jakarta, which was succeeded in 2014 by the much larger Yuz Museum Shanghai at what was previously Longhua Airport.
There, he exhibited works such as: Adel Abdessemed's three tangled aeroplanes Telle mère tel fils (2008); Xu Bing's Tobacco Project (2000/2004), a tiger-skin pelt made of 600,000 cigarettes; and Sun Yuan + Peng Yu's Freedom (2009), a high powered rubber hose that thrashes violently inside a steel chamber.
'I am famous for collecting things that are of high academic quality, but not easy to collect,' Tek told Ocula Magazine in 2015. 'This is what I'm interested in.'
Yuz Museum Shanghai. Photo: JJYPHOTO.
In 2018, Tek announced a partnership between the Yuz Museum and the Los Angeles County Museum of Art (LACMA), which was later expanded to include Qatar Museums. Exhibitions developed as part of the collaboration include In Production: Art and the Studio System (7 November 2019–1 March 2020) at the Yuz Museum and Yoshitomo Nara at LACMA (1 April 2021–2 January 2022).
Just two weeks ago, LACMA announced that seven works from their recent exhibition Legacies of Exchange: Chinese Contemporary Art from the Yuz Foundation (4 July 2021–13 March 2022) had been gifted to the museum by Budi Tek and the Yuz Foundation.
The gifted works are Qiu Anxiong's installation The Doubter (2010), three works from Shi Jinsong's 'Blade' (2003) series, Yu Youhan's painting Mao in New York (1995), Zhou Tiehai's painting Venus and Cupid (2006) and Ai Weiwei's bronze sculptures Circle of Animals/Zodiac Heads (2011).
In addition to his work with the Yuz Foundation, Tek was an Asia-Pacific member and collector member of Tate Britain. In 2017, he was awarded the title of Officer of the Legion of Honour in France for advancing cultural dialogue between China and France.
Tek funded his collection of over 1,500 artworks with wealth he amassed in the poultry business as president and director of the PT Sierad Produce Tbk.
(In a Shanghai bar, I was once told that business really took off when Tek introduced an underfloor cooling system for the company's chickens—inspired by Marilyn Monroe, we speculated.)
But it was his attitude to contemporary art that he hoped distinguished him.
'There are plenty of successful men,' Tek said in our 2015 Conversation. 'The most important thing is my philosophy of art.' —[O]