News | Galleries
Frieze London 2022: 7 Directors Introduce Their Booths
Frieze returns to London from 12–16 October. Take an early look at some wonderful works appearing in the booths of Blindspot, Experimenter, Kavi Gupta, Lisson, OMR, Silverlens, and Victoria Miro.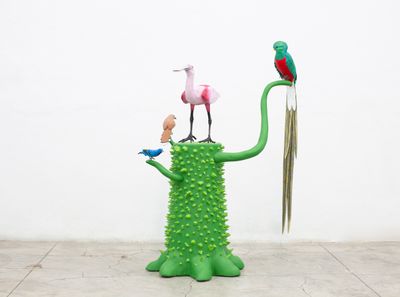 Eduardo Sarabia, Ceiba con aves I (2022). Fibreglass, metal, leather, clay, ceramic, resin, enamel, and acrylic paint. 154 x 100 x 65 cm. Courtesy OMR, Mexico City.
Kerstin Erdmann, Partner at OMR, Mexico City
Our presentation includes core gallery artists such as Jose Dávila and Gabriel Rico as well as new artists to our roster, such as Chilean filmmaker and painter Sebastian Silva and Spanish artist Ana Montiel.
New paintings and sculptures by Jose Dávila (which were conceived for his solo exhibition at Zurich's Museum Haus Konstruktiv) are anchors for the presentation. His strong visual theme of appropriation is key as he approaches the styles of Sonia Delaunay, Hilma af Klint, Frank Stella, and even Marcel Duchamp as seen with Objet du voyageur (The traveller's item) (2021).
Jose Dávila, Objet du voyageur (The traveller's item) (2021). Metal, concrete, and bricks. 252 x 46 x 65 cm. Courtesy the artist and OMR.
Eduardo Sarabia's large-format, photorealistic oil paintings are another highlight of the booth. Based on personal photographs the artist had lying around the studio, the paintings are lushly rendered, yet covered with daubs of colours, obscuring the view and thus making the background image nearly unreadable.
Laure Prouvost, I wish you could see my face (2020). Tapestry. 290 x 436 x 1 cm. © Laure Prouvost. Courtesy Lisson Gallery.
Louise Hayward, Senior Director at Lisson Gallery, London
Laure Prouvost is presenting a multi-sensory, participatory environment with paintings, sculptures, films, and even protest banners in her typically playful yet subtly political way.
Beyond the enclosure created by the freestanding paintings is a large-scale tapestry on the back wall of the booth entitled I wish you could see my face (2020), which is based on Prouvost's film Monolog (2009), also on show at the booth.
The film, and tapestry, includes imagery of overlapping arms enveloping a bright star and galloping horses. The film addresses the fallibility of language, interweaving excerpts of footage, voiceover, and text in a surreal and witty parody that challenges the notion of identity and institutional norms.
Laure Prouvost, The Hidden Paintings Grandma Improved-As One (2019). Paint on canvas (triptych). 151 x 332 x 81 cm. © Laure Prouvost. Courtesy Lisson Gallery.
Alongside the fair, Prouvost is presenting a public commission with CIRCA in Piccadilly Circus. The commission brings an octopus to life on the Shaftesbury Memorial Fountain through augmented reality, and presents a new video work across the outdoor screens.
The octopus is also a leading character in the booth, a creature whose organs are located in her tentacles, so she thinks by feeling and feels by thinking. As she does not contain capacity for memory, she encourages us to forget what we know and focus on the present experience.
Prabhakar Pachpute, Asylum seeker (2020). Charcoal and acrylic colour on plywood. 121.9 x 243.8 cm. Courtesy the artist and Experimenter.
Prateek and Priyanka Raja, Founders of Experimenter, Kolkata
Our Frieze London stand is anchored to the body as an emotive force and a register for exploration of relationships and sexuality, physical, and spatial form, politics of resistance and protest, and a conceptual field for multiple coexisting forces.
We present a body of work by Prabhakar Pachpute that is part of Indira's Net, an incredible fair-wide exhibition curated by Sandhini Poddar that explores the body as a site of resistance.
Alexandra Bachzetsis, Chasing a Ghost (2019) (video still). Performance, single-channel video with sound. 3 min 22 sec (60 min loop). Courtesy the artist and Experimenter.
For the first time, we also present Alexandra Bachzetsis' politically and sexually charged work Chasing a Ghost, which draws from histories of art, music, cinema, popular culture and fashion, and projects them onto the body. Through this method of citation, Bachzetsis considers how our bodies are used and can be activated in today's increasingly polarising discussions around identity and body politics.
We also present Radhika Khimji's recent works and drawings and prints by Krishna Reddy from the '60s and '70s. Separated by over five decades, these works are intricately connected in their exploration of form, space, and perception of the body.
Arghavan Khosravi, The Pomegranate Garden (2022). Acrylic on canvas mounted on shaped wood panels. 74 x 57 x 8 inches. Courtesy the artist and Kavi Gupta.
Chanelle Lacy, Director at Kavi Gupta, Chicago
We'd love to spotlight the work of Arghavan Khosravi, an Iranian artist currently based in the U.S. In addition to the visually stunning aesthetic achievements evident in her multi-dimensional paintings, Arghavan is working with the core issues that are driving the current push for social reform in Iran. She's looking back at Persian art history and critiquing the powerful, intergenerational visual signifiers echoing through Iran's past that continue to affect attitudes towards women in Iranian culture today.
Manuel Mathieu, The Vision (2022). Acrylic, chalk, charcoal, and masking tape. 68 x 72 inches. Courtesy the artist and Kavi Gupta.
We'd also love to highlight the new paintings we're bringing by Manuel Mathieu, a Haitian-born artist based in Montreal. These paintings are so visually and materially impactful—viewers have a visceral reaction to their surfaces and to Manuel's sensual, painterly handling of his mediums. Manuel's deep personal connection to Haitian art history comes through in his visual language, which mutates between pure abstraction, naturalism, and a sense that everything is spirit.
Trevor Yeung, Between Water (2019). Plastic cups, nylon thread, and water. Photo: Jussi Tiainen.
Nick Yu, Associate Director at Blindspot Gallery, Hong Kong
The piece de resistance of our booth is Trevor Yeung's Between Water, a minimalist installation that will take over the whole booth. In an orderly grid of 5 x 5, plastic cups half filled with water are suspended from the ceiling at eye level. Each cup is separated from the next by the distance you'd expect of two strangers engaged in a polite interaction.
In order to approach the other works in the booth, viewers must navigate through this matrix, being mindful not to knock over the water. This work is very much about the invisible structures that govern social interactions. It's an inquiry into the policies of social distancing, quarantines, and lockdowns we have endured over the course of the pandemic.
Trevor Yeung, Cactus in twin pots (12.5 & 12.8cm) (2022). Blowfish, clay pot, and sand. 23 x 30 x 18 cm. Courtesy the artist and Blindspot Gallery.
Another work of note is the cacti, which are actually puffer fish in disguise. One of Yeung's most iconic series, it speaks to an ambiguous zone between perception and identification. Yeung's works have this deceptively simple quality of playfulness to them.
Paula Rego, Split (2017). Pastel on paper on aluminium. 102 x 67 cm. © Ostrich Arts Limited. Courtesy Ostrich Arts Limited and Victoria Miro.
Victoria Miro, Founder of Victoria Miro, London
We are featuring a special presentation in tribute to Paula Rego, who died in June at the age of 87.
The works on view are among the last large-scale pastels completed by the artist. They are free and full of life, and blend autobiographical elements, folk tales, and other stories.
Martha Atienza, Tigpanalipod (1) 11°02'06.4"N 123°36'24 (2022) (still). Video. 74 min. Courtesy the artist and Silverlens.
Rachel Rillo, Co-director at Silverlens, Manila
We will be presenting a large video by Martha Atienza entitled Tigpanalipod (1) 11°02'06.4"N 123°36'24 (2022). It follows a fisherman around Mambacayao Daku, an island in the Philippines that has been home to fisherfolk for generations.
As tourism is pushed forth, these fisherfolk are forcibly relocated to public and private housing projects by landed elites and the government, thereby losing access to their coastal homes. Atienza's work challenges the imposition on these island communities.
This video will be projected on the entire back wall of the booth, making the fisherman, the boat, and the island behind him feel much closer to the viewers. With this imposing scale, I hope that viewers are reminded of how real these concerns are, about not just the environment, but also of labour and governance. —[O]