News | Galleries
Hockney Helps Hamptons Sales Start Summer Strong
Pace, Lisson, Hauser & Wirth, and Sotheby's all have spaces located to reach New York collectors where they summer.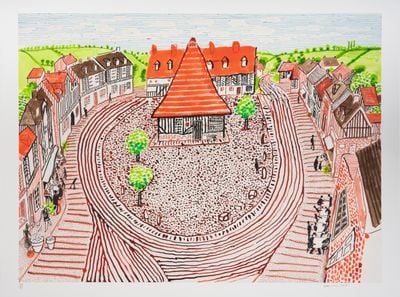 David Hockney, Beuvron-en-Auge Panorama (2019). 86.4 cm × 109.2 cm). Edition of 35 © 2021 David Hockney, courtesy Pace Gallery.
The northern hemisphere summer began with driving rain in the Hamptons over Memorial Day weekend, but that didn't dampen sales at Pace Gallery's David Hockney exhibition.
'We placed almost all the works from our Hockney exhibition during the opening days, and received over 100 visitors every day of the long weekend,' said Amelia Redgrift, Pace Gallery's chief communications and marketing officer.
Contemporary art galleries with pop-ups in holiday destinations such as the Hamptons, Palm Beach, and Aspen seem well positioned to service collectors unable to attend fairs or travel further due to the pandemic. But pop ups in these areas were already gaining traction before anyone had heard of Covid-19.
'By this point, the contemporary art scene in East Hampton feels well established, with several galleries joining us and the other early adopters from NYC in the center of town, as well as the local galleries, institutions, and businesses that created the strong art community in the first place and made our presence here possible,' Redgrift said.
David Hockney, Study of 'The Entrance' (2019). Inkjet print on paper (86.4 cm × 109.2 cm). © 2021 David Hockney, courtesy Pace Gallery.
The Hockney exhibition, entitled Ma Normandie, continues at Pace's East Hampton gallery until 6 June. Other artists showing in the space this summer are Trevor Paglen (10–27 June), Thomas Nozkowski (1–18 July), Lee Ufan (22 July–8 August), and Robert Nava (12–29 August).
Among other galleries in the area, Michael Werner is showing sculptures by Wilhelm Lehmbruck and paintings by Eugène Leroy, and Skarstedt is showing fabulous drawings by Enoc Perez.
Lisson Gallery reopened their East Hampton gallery on 1 April with an introduction to Japanese ceramicist Masaomi Yasunaga, which was followed by shows of Leon Polk Smith and Roy Colmer. A Ceal Floyer exhibition is on now through 13 June, before Laure Prouvost (17–27 June), and Sean Scully (1–11 July).
Ceal Floyer, Ink On Paper (Set of 12) (1999). Felt tip pen on blotting paper. 29.7 x 21 cm (each). Copyright Ceal Floyer, Courtesy Lisson Gallery.
In Southampton, Hauser & Wirth are showing a group exhibition arranged by Rashid Johnson from 29 May to 27 June. Entitled There's There There, the show features works by Jennifer Bartlett, David Hammons, Mary Heilmann, Leslie Hewitt, Wolfgang Laib, Robert Longo, and Joel Shapiro, among others.
Sotheby's East Hampton sells contemporary art as well as jewellery, watches, wine, and cars, from their East Hampton location. This summer, they will present paintings by Helen Frankenthaler, Roy Lichtenstein, Tom Wesselmann, Jean-Michel Basquiat, Yayoi Kusama, Cecily Brown, Agnes Martin, George Condo, and Andy Warhol.
'This weekend, despite the weather, we welcomed nearly 200 visitors, a great indication that collectors and art enthusiasts alike are back in the Hamptons and keen to see art and luxury goods in-person,' said Amanda Bass, a press officer at Sotheby's.
'We are anticipating a similar density of collectors over the summer as we saw last year as the growing number of galleries in East Hampton this season furthers the village as a place to come see art, from a range of artists, time periods, and galleries,' she said. —[O]