News | Institutions
Maja Hoffmann's Zeal for the Arts Culminates in LUMA Arles Opening
Frank Gehry, Hans Ulrich Obrist, Tom Eccles, and dozens of leading contemporary artists were enlisted in the execution of Hoffmann's vision.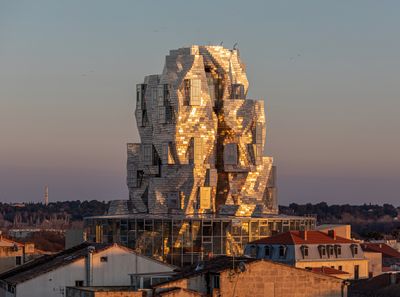 Luma tower. Copyright Adrian-Deweerdt.
Arts campus LUMA Arles opened to the public in the south of France on Saturday.
Headlines typically focused on its silver tower, with a facade composed of 11,000 panels made of a stainless steel that starchitect Frank Gehry had never used before.
According to Gehry, the exterior was inspired by the region's rock formations and Vincent Van Gogh's Starry Night (1889), which was painted from the window of the Saint-Paul Asylum in nearby Saint-Rémy-de-Provence.
The 56-metre-tall tower, which houses galleries and spaces for projects, research, archives, workshops and seminars, is striking but it's just one component in a 27-acre creative campus brimming with new commissions and ambitious programming.
Maja Hoffmann. Copyright Inez & Vinoodh.
LUMA Arles, which took 13 years and an estimated 150-225 million euros to complete, was driven by Swiss art collector Maja Hoffmann, a descendent of pharmaceutical magnate Fritz Hoffmann-La Roche. She established the LUMA Foundation in 2004, deriving its name from those of her children, Lucas and Marina.
'LUMA is the fruit of a number of years of experimentation and of a lifelong commitment to artists and a healthy environment,' Hoffmann said. 'It's a total immersion in a world, both inside the premises and outside, in which the visitors can engage, as their fancy takes them.'
In addition to the tower, LUMA Arles is home to seven former railway factories, four of which have been renovated as exhibition and performance spaces. It also has expansive gardens that feature outdoor sculptures including a glow-in-the-dark skatepark by Koo Jeong A and Carsten Höller's Seven Sliding Doors Corridor (Outdoor Version) (2021), a seemingly endless passage installed across the site's pond.
Installation view of The Impermanent Display featuring a candle sculpture by Urs Fischer.
LUMA's co-artistic directors are Hans Ulrich Obrist and Tom Eccles.
It's current exhibitions feature a combined 45 artists and designers. Included are new commissions by Etel Adnan, Kapwani Kiwanga, Helen Marten, Pierre Huyghe, Philippe Parreno, and Rirkrit Tiravanija, who incorporated concrete and sunflower pulp panels in his design for the ground floor bar.
Standout pieces include a new permanent installation of Ólafur Elíasson's rotating ceiling mirror Take your time (2021), and a melting wax figure sculpture by Urs Fischer, which is showing in an exhibition fittingly called The Impermanent Display. —[O]