News | Market
Phillips and Poly Auction Put Rising Artists Under the Hammer in Asia

Phillips Hong Kong | Sponsored Content
Their fall sales will see the Asia auction debuts of red-hot artists such as Billie Zangewa, Ewa Juszkiewicz, and Mickalene Thomas.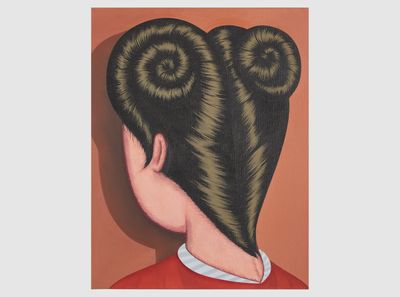 Julie Curtiss, Escargot (2018). Vinyl paint and oil on canvas. 45.7 x 35.6 cm. Courtesy Phillips.
Phillips and Poly Auction have announced the artworks that will go under the hammer at their 20th Century & Contemporary Art & Design Auctions in Hong Kong from 29 to 30 November.
Gerhard Richter's Kerzenschein (Candle‐light) (1984) will lead the evening auction with an estimate of HK $55 million to $75 million (US $7 million to 9.6 million).
Gerhard Richter, Kerzenschein (Candle-light) (1984). Oil on canvas. 200.3 x 179.7 cm. Courtesy Phillips.
'We have been seeing a proliferated desire for International Modern and Contemporary art in Asia in recent years,' said Isaure de Viel Castel, Head of 20th Century & Contemporary Art, Phillips Hong Kong. 'Therefore, we are thrilled to present such a diverse, strong and vibrant selection of works this November across the Evening and Day Sales in Hong Kong.'
Other major works by Western artists include Claude Monet's Pavots dans un vase de Chine (1883) for HK $9.5 million to $15 million ($1.2 million to $1.9 million), Auguste Rodin's erotic encounter Le Baiser (1886–1914) for an estimated HK $10 million to $15 million (US$ 1.3 to $1.9 million), Alexander Calder's Two Red Petals in the Air for HK $16 million to $20 million (US $2 million to $2.6 million) and David Hockney's Bridlington Violets for HK $10 million to $15 million (US $1.3 to $1.9 million), and George Condo's Entangled Figures (2009) for HK$ 6.2 million to 9.2 million (US $795,000 to 1,180,000).
Salman Toor, East Village Iqbal Bano (2018). Oil on panel. 61 x 61 cm. Courtesy Phillips.
The sale features red-hot artists Salman Toor, Nicolas Party, Jadé Fadojutimi, Shara Hughes, Julie Curtiss, and Robert Nava, all of whom were born after 1980. It will also be the Asia auction debut for Ewa Juszkiewicz, Scott Kahn, Raymond Pettibon, Mickalene Thomas, and Billie Zangewa, among others.
'Presenting a tremendous group of artists who are new to the Asian secondary market alongside Impressionist, Modern and Contemporary masters, this season's sales offer collectors and art lovers in the region a rare opportunity to acquire and appreciate artworks spanning over 130 years of art history,' de Viel Castel said.
Huang Yuxing, Champion (2017). Acrylic on canvas. 80.2 x 60.2 cm. Courtesy Phillips.
Additionally, the auction will introduce a themed series called 'ULTRA/NEO' that spotlights Asian artists born after 1970. Works include Susumu Kamijo's poodle painting Marching To The Sun (2020), a symbolic portrait by Izumi Kato, Yukimasa Ida's abstract impasto A Head (2019), Atsushi Kaga's We Are Still Here Even Though the Moon is Clouded (During the Lockdown) (After Sargent) (2020), Chris Huen Sin Kan's Dog Allowed (2014) , and Roby Dwi Antono's Muram Temaram (2013), and Huang Yuxing's Champion (2017).
Other works by Asian artists featured in the sale include Sanyu's Paysage Aux Hirondelles (1930s) for HK $26 million to $46million (US $3.3 to $5.9 million) and Wu Guanzhong's Guilin (1991) for HK $15 million to $ 25million (US $1.9 to $3.2 million)
The day sale begins at 11am HKT on 29 November, and the evening sale at 7pm HKT on 30 November. A preview of highlights from the exhibition will be displayed in The Pantone Room from 23 to 24 November before the full preview from 25 November to 30 November in the J.W. Marriott Hotel in Hong Kong.
Phillips and Poly Auction have collaborated on several auctions since 2020. All of the works in their 20th Century & Contemporary Art & Design sales last June were sold in a 'double white glove sale' for a combined total of HK $702 million (US $90.4 million). —[O]