News | Exhibitions
Tracey Emin and Frank Bowling Join Cure3 Fundraiser for Parkinson's
Cube and square-shaped artworks by 96 leading artists are up for grabs at Bonhams London this week.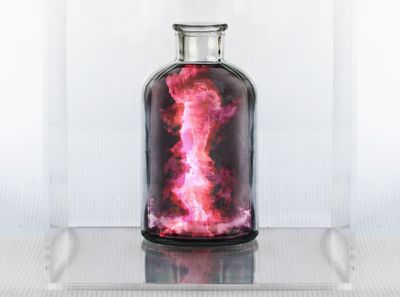 Michelangelo Bastiani, Tempest in a bottle (2022). Perspex cube, video, LED screen, glass, and glass jar. 20 x 20 x 20 cm. Courtesy the artist.
Works by British art icons Tracey Emin and Frank Bowling are among the offerings at this year's Cure3 fundraiser, which returns to Bonhams London for its fourth edition from 13 to 17 January.
Established by Artwise curators Susie Allen and Laura Culpan in 2017, Cure3 has so far raised £1.2 million (US $1.4 million) for Parkinson's research by selling works by a wide range of well-known international artists.
Those taking part in 2023 include: Yinka Shonibare, Mona Hatoum, Rana Begum, Idris Khan, Chantal Joffe, and Subodh Gupta.
Creative responses to Cure3's 20 centimetre-cubed perspex box format include the stormy illusion Tempest in a Bottle (2022) by Michelangelo Bastiani, and a re-invention of classical sculpture entitled Compression Loss (Inverted Venus) (2022) by digital collective TROIKA.
Troika, Inverted Venus (2022). Marble dust and acrylic resin. 20 x 20 x 20 cm. Courtesy the artist.
'The creativity of our "cubists" never ceases to amaze us and each response has been unique, original and different from the next one,' said Allen and Culpan.
To create more opportunities for painters, this year's Cure3 also includes two-dimensional works in a 20 x 20 centimetre format.
'We felt it was a good time to push the concept and literally think outside of the box,' Allen and Culpan stated.
Emin, who is taking part in the initiative for the first time, contributed a painting in the new format entitled And You Kissed Me (2022) in her loose, expressive style.
Frank Bowling with his work, Lying Down One (2022).
Bowling's Lying Down One (2022), meanwhile, is a fiery red-orange acrylic painting that incorporates loose-leaf tea—a recent addition to the pioneering abstract artist's more than 60-year practice.
Bowling also has a three-dimensional work in the show, My Cup Runneth Over (2020), which features a blended and brewed tea enshrined in a paint-encrusted vitrine.
Expanding to the metaverse, Cure3 will also feature specially minted NFTs by generative artists including Anna Carreras, Marcelo Soria Rodriquez, Nat Sarkissian, Yazid, and Zancan, among others.
Prices for works in Cure3 this year range from £1,000 to £80,000 (US $1,200–97,000). They can be previewed at Bonhams' New Bond Street location from 12 January for VIPs, and from 13 January for everyone else.
Works can be purchased online at cure3.co.uk. —[O]