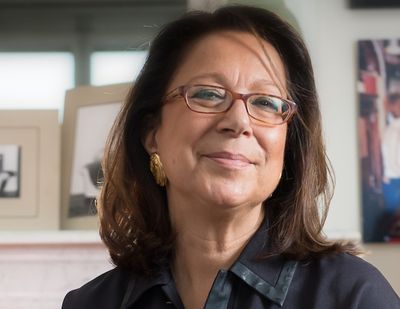 Adelina von Fürstenberg. Courtesy Swiss Grand Award for Art / Prix Meret Oppenheim.
Adelina von Fürstenberg is an independent curator and film producer. This year, the non-profit organisation she founded in 1996, ART for The World celebrates its 20th anniversary.
ART for The World was founded by von Fürstenberg following an invitation to curate the exhibition Dialogues of Peace, which was presented at the United Nations Headquarters as part of its 50th celebration in 1995.
The organisation continues today to be affiliated with the United Nations, working on projects and exhibitions which ultimately are inspired by Article 27 of the Universal Declaration of Human Rights, 'Everyone has the right freely to participate in the cultural life of the community, to enjoy the arts and to share in scientific advancement and its benefit.'
Prior to founding ART for The World, von Fürstenberg founded another important institution, the Centre d'Art Contemporain de Genève, in 1974.
The Centre d'Art Contemporain de Genève was founded by von Fürstenberg while she was a student of political science in a time characterised by anti-authoritarian revolt. 'In those days, studying political science was a gesture of freedom and an act of participation in society's transformation,' she notes. A trip to the seminal Documenta 5 in 1972, curated by Harald Szeemann, prompted a move into art.
I came to the art world during the sweeping period of the 1970s, and have since spent most of my life with artists.
In Kassel, von Fürstenberg met James Lee Byars, Edward and Nancy Reddin Kienholz, and Joseph Beuys, among others. 'I realised then how important the defense of artistic creation was,' she recalls.
Beuys was a pivotal influence: 'I immediately subscribed to his belief in the creative capacity of every individual to shape society through participation in cultural, political, and economic life, and in the production of art and knowledge through viewer and artist.' She founded the Centre d'Art Contemporain on her university campus two years later, and has continued to explore and challenge the boundaries of art.
In addition to founding ART for The World and the Centre d'Art Contemporain de Genéve, von Fürstenberg is the former director of the Centre d'Art Contemporain de Genéve, and former director of Magasin-CNAC, Grenoble, France.
An Armenian by birth, in 2015 she was the curator of her birth country's National Pavilion at the 56th Venice Biennale, which won the Golden Lion for best national participation. Most recently, she was announced as a winner of the Swiss Grand Award for Art/Prix Meret Oppenheim 2016.
In this interview, we gain insight into the life of this most radical of curators, and learn more about the work that went into setting up ART for The World.
SB

You showed some of the late twentieth century's most significant artists at Centre d'Art Contemporain Genève, from John Cage to Andy Warhol, Laurie Anderson to Joan Jonas. How did this experience influence your work in the beginning?

AFI came to the art world during the sweeping period of the 1970s, and have since spent most of my life with artists. Many of them became my mentors. Early on, Christian Boltanski introduced me to the work of Daniel Buren, who immediately introduced me to the New York avant-garde. I then worked with Lawrence Weiner and Dan Graham, through whom I met Bob Wilson, Philip Glass, Lucinda Childs, and so on.

After these encounters, I was able to invite everyone to show and perform in Geneva—all this in the first few years of my curatorial work! Of course, the art world in those days was a way of thinking and doing. It was not about doing business.
Adelina von Fürstenberg with Robert Rauschenberg at San Lazzaro Island, Venice, 1996. Courtesy Adelina von Fürstenberg.
SB

In Geneva, you explored ways of presenting art outside of institutional spaces, curating an exhibition of Arte Povera artists by Lake Leman in 1985, for instance. What inspired you to think beyond the confines of the art world in this way?

AFIt had to do with necessity, given the working conditions at the time. As a non-profit alternative space, the Centre was dependent on local sponsors, and we had to look for new exhibition spaces almost every two years in accordance with the support we received. To move around became a state of mind for me—a way to go beyond the limits of walls.
SB

In 1989 you left the Centre to direct Le Magasin, Centre National d'Art Contemporain of Grenoble, France, where you also led the School of Curators (for which you won an award at the 45th Venice Biennale). Why did you leave Geneva?

AFI left because the city authorities of Geneva finally gave the Centre a permanent space and support. My role was accomplished. The ship had found a home. I couldn't learn much more.
For me, art is an instrument of awareness.
I came to Grenoble during the most amazing moment for contemporary art in France, under the Minister of Culture Jack Lang. This was a Renaissance period: everything was possible. In working there, I learned a lot, curating one-person shows in a three-thousand-square-meter space, and organising symposia and seminars.
SB

You left Le Magasin in 1994 after you were invited to curate the UN's 50th anniversary exhibition,Dialogues of Peace, at its headquarters in Geneva. This happened shortly after you staged Alighiero Boetti's Alternando da 1 a 100 e viceversa at Le Magasin in 1993, right?

AFBoetti's was one of the most meaningful projects for me, since he was incredibly influential on my work. He was a citizen of the world: a man of the West and the East.

The Grenoble project consisted of 50 large kilims fabricated, by Afghan carpet makers in Peshwar, Pakistan, based on designs by students selected from 50 French art schools, some of whom were Boetti's friends. Such a project would be impossible in today's world.

Soon after, Boutros Boutros-Ghali, the sixth Secretary General of the UN, invited me to curate Dialogues of Peace, a large contemporary art show for the 50th anniversary of the UN, staged for the first time on the premises of the UN. I was lucky because the Director General of the office of the UN in Geneva at the time, Vladimir Petrovsky, had an immense respect for art, artists, and curators. He welcomed us and was most helpful in organising the show.
With artists of_Meditations,_ Marrakech, 1997. (L-R): M-C Perlingeiro, Julien Jâlal Eddine Weiss, Michael Galasso, Chen Zhen, Joe Ben Jr., Marco Bagnoli, Rajae Benchemsi, Silvie Defraoui, El Sy, Anish Kapoor, Bobo Marescalchi, Farid Belkahia, Shirazeh Houshiary, Sarkis. Marrakech, 1997. Courtesy Adelina von Fürstenberg.
SB

Dialogues of Peace is exemplary of another defining aspect of your career: working with artists from outside Western centres.

AFOne of the big influences on Dialogues of Peace was Jean-Hubert Martin's Magiciens de la terre (1989), the first large exhibition that included artists from different continents. Most of the African artists in Dialogues of Peace were discovered during that show.
SB

How was Dialogues of Peace received?

AFThe New York Times dedicated its cover to the exhibition, and few pages inside the paper. Yasser Arafat, Jacques Chirac, and other heads of state came to the opening. You could see them in conversation with Robert Rauschenberg, Chen Zhen, and Alfredo Jaar, among others.

Looking back, these were other times, and other worlds. I'm not sure if such a diverse and interactional opening would be possible today.

At the end of the twentieth century, there was a certain hope for an open dialogue among the arts, civil society, and politics. The most evident example was Francois Mitterrand's France and its cultural scene, or the World Economic Forum, which organised the first and only World Art Forum to engage with figures of the cultural vanguard at the time. Strangely enough, though today's art is popular, very few actually take the time to listen to the voices of the artists. Art for the most part is seen as a commodity.
With Yasser Arafat and Boutros Boutros-Ghali (Secretary-General of the UN 1992-1996) at the UN 50th Anniversary, Geneva, 1995. Courtesy Adelina von Fürstenberg.
SB

You founded ART for The World in 1996, right after Dialogues of Peace ended. How did this happen?

AFIt was the direct result of that unique experience. The name of the organisation, ART for The World, came from Italian philosopher Fulvio Salvadori, a mentor to me and other artists for many years. His knowledge was universal: it was thanks to him my approach to the arts, aside from being political, became philosophical.

The permanent process of learning is very important to me. It is crucial to constantly explore other territories, and look for new perspectives.
SB

A permanent learning process is a fitting way to describe ART for The World, which is a conceptual project through which ideas surrounding art, politics, culture, and social engagement are explored.

AFART for The World isn't about artists taking sides, or being activists. Artists must remain, first and foremost, creative and free. The NGO is more about putting art at the service of the international community so as to foster justice, equality, and freedom.

For me, art is an instrument of awareness. It reflects the human condition and stimulates actions to transmit knowledge and fight injustice. It opens doors to peace and tolerance by using a poetic language that is understandable to any audience.

Our mission is to make art inclusive and accessible to a broad audience while exploring a new kind of universal through the open space art offers us. I am not interested in producing shows populated by celebrities that illustrate or promote a brand. I would prefer to be remembered for the quality of my projects. This is what makes the difference.
SB

How would you define quality?

AFFor me, making an art project of a certain quality is about doing something unusual and unexpected, and possibly for the first time, in a way that makes sense for the surroundings.

When a project's meaning is sustainable, the artist is satisfied, the media react positively, and a large public is drawn to see what was created. If this happens, we can say that the project was of a certain quality.

Of course, though quality is related to certain truths, its definition may not be given to, or accepted by, everyone. In this sense you could say that quality is not considered a common value.
Barthélémy Toguo and Romuald Hazoumé, Geneva, 2014. Courtesy Adelina von Fürstenberg.
SB

There is an interesting contradiction in this notion of quality: art becomes at once for everybody, but not for everybody.

AFArt produces offerings to the public but doesn't need to answer to public demand. We cannot expect that each and every person accepts or understands the meaning of an artwork, nor will he or she perceive it in the same way. This is a good thing. If art were to become a duty rather than a right, this would be very dangerous for culture in general.

Diversity, and consequently tolerance, is an essential concept in the field of art, since it contains the notion of understanding and respect. This relates to Article 27 of the Universal Declaration of Human Rights, which ART for The World was founded on: that everyone has the right to freely take part in creativity.

Article 27 underlines why the notion that art is not for everyone is actually untrue. Art is totally accessible to everybody; however, not everybody feels the necessity to be creative, and others simply choose not to engage. That is fine. Just because you have a right to art doesn't mean you have to necessarily be interested in enjoying it. The point is to have the choice.
Being equal is one of the most important human aspirations, and the question of how we can be both equal and different is still a challenge for all of us.
How are the intentions of ART for The World reflected in the way the organisation operates?
We are a museum without walls made up of a limited permanent staff and a global ensemble of people who do their own work outside of what we do. Most of our exhibitions are global productions, which relates not only to how the organisation works, but also to various experiences.
Thanks to my previous role as director of the School of Curators of the Magasin in Grenoble, for instance, I developed a very large network early on, and my students went on to become directors of institutions, editors, publishers, or journalists in different countries. This network has grown over the last 20 years, and when we do a project, we usually have around 20 to 30 people from everywhere working on it. This is what gives our projects energy: everyone participates.
ART for The World is also an elastic organisation, which relates to how we manage ourselves economically. When we work on a project, we first need to find the space, and then we need to develop the budget, since we do not have an established sponsor or a single patron. Consequently we not only have to create a concept and clear proposal before we start work, but we also have to look for the right support, whether this comes from the state, an institution, or an organisation.
Of course, lacking a permanent benefactor means that every project requires a huge effort, but the model also grants us incredible freedom. We don't need to follow any rules but our own, and this allows us to go beyond the limits of common knowledge or understanding.
SB

The development of relationships, not only with artists and collaborators, but also with spaces and sites, is a crucial aspect of ART for The World's work. San Lazzaro in Venice, for example, has hosted a number of your projects, including Armenity at the 56th Venice Biennale.

AFThis is important in terms of how we operate. As ART for The World doesn't have a permanent space, we are dependent on others. In this respect, working on an exhibition in a given location is like living in somebody else's home without trying to change all the furniture around. In many ways, this makes us a permanent guest—but aren't we all guests on this Earth?
With some of the artists of the National Pavilion of the Republic of Armenia, Venice, 2015. (L-R): Rosana Palazyan, Aram Jibilian, Ayreen Anastas, Nigol Bezjian, Sylvina Der-Meguerditchian, Rene Gabri. Venice, 2015. Courtesy Adelina von Fürstenberg.
SB

Do you think this fluid way of working reflects your belief that the purpose of forward-looking art is not to eliminate the differences that make up our world, but to respect these differences?

AFYes. ART for The World has always engaged in the fight to recognise and respect differences, which is something we established from our very first show. Being equal is one of the most important human aspirations, and the question of how we can be both equal and different is still a challenge for all of us.

There is something very irrational to how ART for The World operates, since there is an aspect to the organisation that relies on chance. I suppose this is where the influence of Fluxus—an art movement I was also involved in—comes in.

The idea is to bring everything together—intuition, knowledge, professionalism, events in the world, and so on—so that you can create something that makes sense. Taking risks and not being afraid to engage with different situations and contexts is crucial. You have to do something with what you have, and with the opportunities available to you.
SB

This relates very much to what you said about art's ability to raise awareness, which itself is a form of knowledge that leads to collective action. This philosophy defines ART for The World as an active, movable feast of an organisation that doesn't produce passive exhibitions.

AFIt is a very difficult position to take, since this is a dematerialised way of working in art.
SB

It is also a very precarious position to take.

AFYes, that's right. ART for The World is based on precarity, since practicing art is itself a very precarious life choice to make.

In the arts, however, we also have the ability to explore this condition through creative means. Precarity goes together with resilience—they are often two sides of the same coin, and resilience is a strong motivational force, an engine that keeps us going.
SB

If ART for The World had a political agenda, how would you describe it?

AFThere is no agenda: an agenda means some sort of strategy. There is only a mission, which is very different notion. For us, every artwork is related to human values, while most artists, without even being conscious of it, work for human rights. Respecting human values is our only agenda. —[O]