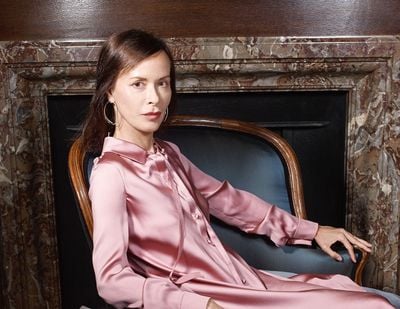 Almine Rech-Picasso. Courtesy Almine Rech. Photo: Jouk Oosterhof.
French gallerist Almine Rech-Picasso opened her first space in Asia on Shanghai's historic Bund in July this year, bringing her eponymous gallery's total locations to five. The Shanghai gallery occupies roughly 4,000 square feet on the second floor of the three-storey Amber Building, a beautiful warehouse space, originally occupied by the Central Bank of China, where Perrotin and Lisson Gallery have also set up shop. The gallery's first China show featured works by Günther Förg, John M Armleder, Jean-Baptiste Bernadet, and Sylvie Fleury.
In 1989, Rech-Picasso opened her first gallery, Galerie Froment-Putman, alongside Cyrille Putman in the Parisian district Le Marais, with a single light installation by James Turrell. The initial exhibition was in keeping with her quest for radical artists; Turrell was not represented by any dealers in Europe at the time, and her decision to put on such a costly presentation was met with astonishment. Her uncompromising attitude followed through to the opening of her own space in 1997, where a roster of artists from Ugo Rondinone to Nobuyoshi Araki set the tone for ensuing presentations across Brussels, New York, London, and now Shanghai.
Rech-Picasso's Shanghai space is currently showing a light installation from the 'Wide Glass' series (2004–) by James Turrell, who has been with the gallery since his 1989 show with Rech-Picasso. The exhibition opened on 5 November, the same week as Shanghai's two major contemporary art fairs, West Bund Art & Design and ART021, with Almine Rech participating in both. Bright canvases will grace the walls of both booths, with paintings by Peter Halley, Marcus Jahmal, and Brian Calvin on view at ART021, and Ha Chong-Hyun, Vivian Springford, and John M Armleder on view at West Bund Art & Design.
In this conversation, Rech-Picasso discusses the challenges and opportunities of going global, opening in Mainland China, and why James Turrell is so representative of the gallery's identity and ambition.
James Turrell, City of Light (2019). 121 x 213 cm. Exhibition view: James Turrell, Almine Rech, Shanghai (5 November–21 December 2019). © James Turrell. Courtesy the artist and Almine Rech. Photo: Alessandro Wang.
Ocula's Anna Dickie spoke to you in 2014, when you had just opened the London gallery, your third after Paris (1997) and Brussels (2008). Five years later, you've added galleries on New York's Upper East Side (2016) and now Shanghai. What challenges and opportunities stem from joining the ranks of the world's most global galleries?
Even before we first opened the doors to our Paris space, I always aimed to cultivate a highly international and trans-generational programme for the gallery, and as we have grown, it has opened up new opportunities to further broaden our focus. Each step in expanding our platform has increased our ability to support and invest in a new generation of artists, which is a consideration at the very core of our gallery's DNA. I've always seen value in taking risks, and while there is certainly a challenge involved in adapting to the particularities of different regional markets, I am grateful to have received such incredible support from the cultural communities in each city in which we've established a presence.
Exhibition view: Genieve Figgis, Floating World, Almine Rech, Shanghai (20 September 2019–19 October 2019). Courtesy of Almine Rech.
Given it's the gallery's first location in Asia, the question inevitably arises: why Shanghai? Why not Beijing, Hong Kong, Singapore, or Tokyo?
In making the decision to establish a physical presence in the region, I was excited by the energy and dynamism of the art ecosystem in Shanghai, and how it is developing in an engaging and well-rounded way. This is clear through the impressive growth of new museums and galleries throughout the city, as well as the general public's rapidly increasing interest in art from around the world. Perhaps most importantly, as an artist-driven gallery, we strive to respond to the evolving needs and wishes of our artists and provide them with new opportunities to exhibit their work. Through conversations with various artists, I found that many had an interest in showcasing their work in Mainland China. I'm delighted to be able to offer this platform to our artists, and to contribute more deeply to the cultural landscape in Shanghai and the surrounding region.
Exhibition view: Approaches to Abstraction, Almine Rech, Shanghai (12 July 2019–24 August 2019). Courtesy Almine Rech.
There are challenges to any kind of cultural production in mainland China, where censorship is commonplace, and visas and licenses can easily be denied or revoked. How can you mitigate the risks of operating in this environment while still putting on bold, challenging shows?
While some aspects of organising shows will be more complex, we are fully prepared to navigate standard protocols, procedures, and cultural sensitivities in China, and will continue to work collaboratively with regional consultants, the city's Cultural Bureau, and other relevant authorities to support our artists and programming. Having participated in the region for years, we recognise that the market in China requires open dialogue and mutual understanding. Our team has entered into this complex yet challenging system with great respect and a willingness to adapt.
Likewise, with sites like Instagram, Twitter, Youtube, Facebook, and Google blocked, China presents an entirely distinct media ecosystem. What has the gallery done differently to reach Chinese art fans from its usual practices in the West?
While it is true that the media ecosystems differ, we live an increasingly globalised world and have adapted as such. Understanding that it is important to reach people where they are, we've maintained an active WeChat profile since 2017 that aims to engage and inform users of the gallery's activities and exhibitions worldwide.
Exhibition view: Approaches to Abstraction, Almine Rech, Shanghai (12 July 2019–24 August 2019). Courtesy Almine Rech.
The Shanghai gallery is located on Huqiu Road, near the Bund, which has been nicknamed 'Museum Road' for its proximity to Rockbund Art Museum and Christie's, but the West Bund fair, major museums, and a growing number of commercial galleries have shifted the centre of Shanghai's art energies somewhat towards the West Bund, further south. What are the advantages of the Huqiu Road location?
I am delighted to have secured such a beautiful space in the historic Amber Building, which provides the perfect platform for our artists to present their work and connect with collectors and curators from the region. It is energising to watch as Shanghai's cultural landscape continues to evolve and expand, spreading throughout the city in such a dynamic and mutually supportive way. The Bund continues to occupy an important place within this growing tapestry, and Huqiu Road was the ideal place for our gallery to establish a year-round presence within the city's arts community.
This year you're participating in ART021 for the first time in addition to West Bund, which you've joined since 2017. Why did you decide to join both fairs?
There is great strength in both fairs, and each offers its own unique selling points, opportunities, and audiences. I look forward to deeply engaging with the two fairs this year, and to further cultivating a strong network of collectors, friends, and partners in the region by having a presence at both.
Exhibition view: James Turrell, Almine Rech, Shanghai (5 November–21 December 2019). © James Turrell. Courtesy the artist and Almine Rech. Photo: Alessandro Wang.
The first show you produced as co-owner of Galerie Froment-Putman, back in 1989, featured a single work by James Turrell, which was the first time the American artist's work was shown in Europe. During Shanghai Art Week, when the city's entire art engine revs up for the West Bund Art & Design and ART021 fairs, you're again showing Turrell. How important has Turrell been to building the gallery's brand?
The gallery 'brand' cannot be distinguished by any one artist in a vacuum, but must be looked at as a cumulative and balanced whole that creates an intentional cross-generational dialogue. What ties Turrell to the greater programme is that he is a pioneer of his practice and one of the most important artists of his generation. By using light as medium, Turrell fundamentally changed the way we look at and consider art, which still resonates profoundly today. There is something fundamentally human and universally engaging about the ways in which he manipulates light, space, and perception that can, and should be, enjoyed by all.
Exhibition view: Genieve Figgis, Floating World, Almine Rech, Shanghai (20 September 2019–19 October 2019). Courtesy of Almine Rech.
Of the 66 artists listed on Almine Rech Gallery's website, only five are from Asia: Koreans Ha Chong-Hyun and Kim Tschang-Yeul, Japanese electronic composer Ryoji Ikeda, and Chinese abstract artist Xu Qu, who was born in Suzhou in 1978. Is the gallery's goal in Asia primarily to stay focused on selling European and American artists, or are you also looking to develop a roster of Asian artists?
We choose our artists based on the quality of their work and their overall fit within our larger programme, rather than any specific regional target. What is most important is that I find a strong authenticity and commitment to originality in an artist's work. As we continue to strengthen our ties in Asia, we are excited to also deepen our engagement with artists from the region and find new opportunities to connect with the many talents based here, but we will continue to use our spaces across the globe to showcase our diverse, high-calibre programming in diverse and exciting contexts.
You're married to Bernard Ruiz-Picasso, the grandson of painter Pablo Picasso. For people in China, where foreign art was essentially inaccessible from World War II right through until the 1980s, that name surely seems an impossible, iconic part of European art history—as preposterous as saying you lived in the Louvre. How do people react to your surname in Asia?
Collectors based in Asia aren't always familiar with my spouse's name, but as we often show modern art and works by Picasso as part of our programme, some questions do arise, and it's always very interesting to discuss with collectors Picasso's connection to and influence on contemporary art and other subjects. —[O]