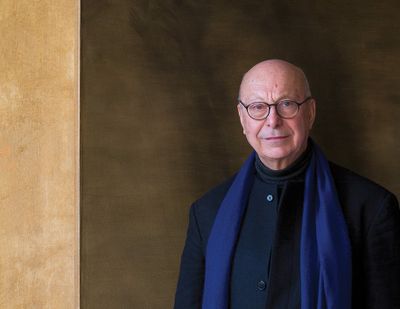 Axel Vervoordt. Photo: Frederik Vercruysse.
The booth of Axel Vervoordt Company at Frieze Masters in 2018 was hard to miss. Ancient Egyptian, Roman, and Near Eastern sculptures were placed in subtle yet mind-tickling dialogue with works by Niki De Saint Phalle, Takis, and Kazuo Shiraga, among others. Such groupings are not unusual for the Company, which comprises an art and antiques business and contemporary art gallery helmed by Boris Vervoordt, son of Axel Vervoordt, who has amassed an astonishing range of ancient, antique, fine, and contemporary art objects throughout his life.
Born in Antwerp in 1947, Axel Vervoordt is a rare man: post-disciplinary but self-disciplined; intuitive but methodological; contemplative but focused. The first item he ever collected was a Flemish iron chest 'with an incredibly complicated lock system comparable to the work of Jean Tinguely'. He founded his art and antiques business in 1969, the year he purchased a private street adorned with 16th-century houses next to the Cathedral of Our Lady in Antwerp, where he developed his antiques business. The Belgian aesthete has been involved in a number of architectural projects in Antwerp, namely Kanaal: a 19th-century industrial complex of buildings purchased in 1998, which his sons Boris and Dick Vervoordt developed—with architecture practices Bogdan & Van Broeck, Coussée & Goris, and Stéphane Beel—into a collection of 98 apartments, 30 offices, an artisanal bakery, organic food market, and multi-use auditorium, as well as the Axel Vervoordt Company offices, workshops, showrooms, and exhibition spaces. In 2000, Anish Kapoor's monumental installation, At the Edge of the World (1998), was permanently installed in the space: a monumental fibreglass dome with a dense, red-pigmented interior, whose 8-metre diameter looms from above.
Over the years, this family business has evolved into an international company. Vervoordt's close contact with contemporary artists resulted in the foundation of Axel Vervoordt Gallery in Antwerp in 2011, followed by the establishment of a Hong Kong space in 2014. The gallery's focus is contemporary, and cites its philosophy as being 'rooted in the Gutai and ZERO movements and their exploration of the void.' Vervoordt's approach to collecting and art dealing links fluidly to his curatorial practice. In 2007, he organised Artempo. Where Time Becomes Art at Palazzo Fortuny in Venice, which led to a decade-long series of exhibitions that addressed fundamental questions of human experience of art, science, and life in general. The sixth and final exhibition, Intuition (13 May–26 November 2017), which coincided with the 57th Venice Biennale and featured artists like André Breton, Joseph Beuys, Lucia Bru, Giorgio de Chirico, and Karel Appel, investigated how intuition has shaped art across different geographies, cultures, and generations.
Throughout the years, Vervoordt has nurtured a devout international clientele for antiques and art, both modern and contemporary. Referring to the falsity of celebrity culture that reigns in the commercial contemporary art market, he explains that his interests in art are motivated by a 'pursuit of universality', a quality that pushes him to seek 'things that can ignite a new Renaissance and give body to the emptiness'.
In this conversation, Vervoordt discusses his many initiatives in the art world.
Exhibition view: Marco Tirelli, Axel Vervoordt Gallery, Antwerp (9 June–25 August 2018). Courtesy Axel Vervoordt Gallery.
DM

You combine the roles of art dealer, curator, collector, architect, educator, philanthropist, and urbanist, among others, in your work. How do you define yourself?

AVPeople are more one-sided these days. To me, all these activities come together as one pursuit: the search for universality. I love to discover the expression of universality in ancient art, it is like tracing the beginning of everything; but I am equally interested in contemporary art. I couldn't live without abstract art, for example. My speciality is to make people happy within liveable and lovable environments, where—with the help of art and architecture—they want to live their whole lives. I make artists and the people around them happy—it all comes together eventually. That's why most of my clients become friends for life; I make them discover things and make them discover themselves through art.
DM

Do you still see abstract art as something new?

AVIt is new in some sense, but it is also something that has existed already for thousands of years. Pieces of ancient Central Asian art, Egyptian art, and early Near Eastern art all look contemporary to me. They are timeless.

Exhibition view: Axel Vervoordt Gallery, Frieze Masters 2018, London (4–7 October 2018). Courtesy Axel Vervoordt Gallery. Photo: © Michael Paul.
DM

How did you become interested in the Zero artists?

AVI developed a passion for Zero a very long time ago. We became friends and this friendship remained very strong. I bought my first [Lucio] Fontana at the age of 21. Fontana often exhibited together with the German ZERO artists and can be considered as one of them. Conceptually, they are very close.
DM

How did you discover the Gutai group?

AVIt happened very recently in 2005 during a trip to Japan, where I met Gutai members from the first generation, like Kazuo Shiraga and Sadamasa Motonaga, but also younger members like Sadaharu Horio and Yuko Nasaka. It was a sudden, heavy, unbelievable connection. It was impossible to me that they were not known, so I did everything possible to promote their work and make them visible. In Artempo, the first exhibition we did in Venice, I showed several Gutai members to the international public.
DM

What is it that draws you to movements initiated by artist groups such as Gutai and Zero? Do you decouple the aesthetics from their politics?

AVI am constantly searching. Art is a real force of philosophy, without politics and rules. It comes from genuine intuition. An artist acts as a portal of cosmic energy. It is not about the ego, nor is it about grand problems. In music, for instance, you have geniuses such as Mozart. He wrote music beyond himself, and it became divine even when he was addressing very normal, everyday aspects of life. He was activating the divine in the mundane.

Exhibition view: Axel Vervoordt Gallery, Frieze Masters 2018, London (4–7 October 2018). Courtesy Axel Vervoordt Gallery. Photo: © Michael Paul.
DM

Do you follow contemporary artists?

AVI love to discover new things—totally new things from which I can learn. But to me it is very important to know when the artist created the work in question. A lot of young artists reproduce works that have already been done in the sixties and seventies—there is too much copying around.
DM

What does living with art mean to you?

AVFor me it means living with teachers or friends—you wish to resemble them, and you like to be with them. Some of the works one collects might be rare objects, but if people only own rare things it becomes very boring. One needs to be surrounded by everyday, simple things to be inspired.
DM

Do you see an explicit difference between 'the object' and 'the thing' in art?

AVI always like to look at art as if I were a child; I follow my intuition and think afterwards. I find and discover art as I would do with a living thing. I love Egyptian art, for example; for me it represents a frozen moment that is still living. Timelessness is very important for me in art and architecture. This universality brings everything together; it creates the feeling of oneness, which is crucial in everything I approach. Existentially, it is a universal formula.

Exhibition view: Norio Imai, Material Ecstasy, Axel Vervoordt Gallery, Antwerp (24 November 2018–23 February 2019). Courtesy Axel Vervoordt Gallery.
DM

One of the most interesting pieces of video art I've seen in years was featured in the exhibition Proportio (9 May–22 November 2015), which you curated at Palazzo Fortuny in Venice as part of the long-term collaboration with this institution. Atlante (2015) by Francesco Jodice features those elements of universality you've been talking about: the 2nd-century Roman sculpture Farnese Atlas from the Naples National Archeological Museum is the centre of a montage that bombards all the senses, but at the same time provides a feeling of harmony.

AVYes, Atlante is very beautiful, moving, and heavy. In any an art piece for me, it is about a harmony in values; togetherness makes it much stronger.
DM

What about its somewhat dystopian message? At one point, the video's text reads, 'It's not the end of the world but you can see it from here'.

AVI think things come as they come. 'The search' is more about how to create the time that we need. For instance, sometimes I get astonished when I see the amount of plastic everywhere and the lack of respect for nature, and it really disturbs me. We have to teach people to love nature again.

Exhibition view:

Ryuji Tanaka

, Axel Vervoordt Gallery, Antwerp (1 September–17 November 2018). Courtesy Axel Vervoordt Gallery.
DM

In the series of exhibitions you worked on at Palazzo Fortuny—Intuition in 2017; Proportio in 2015; TAPIES. The eye of the artist in 2013; TRA. Edge of Becoming in 2011; In-finitum in 2009; and Artempo—Where Time Becomes Art in 2007—you seem to approach the search of universality and harmony from multiple corners. How do you go about it?

AVGetting closer to understanding universality involves asking the right questions along the way. Having that approach is more important than finding answers, which is impossible anyway—one can never know. It is like going through a labyrinth. The philosophical side of these exhibitions was prepared during a full year. We involved more than eight people who worked in think tank salons with scientists, artists, and musicians. For example, in relation to the first exhibition in the series, Artempo, we posed questions like, 'What is time?' 'What is zero?' and 'What is the void?' We needed to answer them to understand the art better. Preparing an exhibition of that scale takes me between two and four years; it's a lot of work.
DM

How did this series come about?

AVBefore 2007, I had never curated an exhibition. I was 60 when I was first approached with the proposal to curate. I decided I would do an exhibition about our collections and the concept of time. I wanted to do it without neglecting the architecture of Palazzo Fortuny, by not touching the old walls and placing the exhibition in the building alongside its history. Once a building is restored, the presence of its memory is gone. I wanted to prove it was the right approach. I hung very expensive paintings by Rauschenberg and Warhol next to a mirror that I found and bought for nothing. And it all looked great.
DM

What is the concept of value for you?

AVIt's like an authentic reaction that a child has. Sometimes I don't know exactly what makes me look at an object—is it the art itself, the material it is made of, or the context of its presentation? I think intuition works in all ways. In relation to Artempo, for example, most of the classical curators wanted white gallery walls, but that wasn't the case for me. Art for me is not about a revolution; I am interested in evolution. I have respect for everything, including the things that I don't like. It is a learning process.

Exhibition view: Kwon Dae-Sup, Moonjars, Axel Vervoordt Gallery, Wijnegem (14 April–2 June 2018). Courtesy Axel Vervoordt Gallery.
DM

Is there a challenging project that you would like to do in future?

AVI would like to build on the land around our castle in Antwerp. My dream is to build an ideal village, with a river and underground parking, so you don't see any cars. It would be really quiet, like a Japanese village: very pure and monastic with beautiful gardens full of trees and a lot of respect for the surrounding nature. But now it is too expensive to make it possible to sell or rent there, so we have to find a solution to make it financially viable.
DM

How long does it take for you to complete a project in architecture?

AVIt very much depends on the client. People should fit the environments that they want to live in; their house should be their favourite place in the whole world. I make my clients question whether it is something they really like, or only like because it fits in with current trends. Yesterday I was on site with two clients who are brothers and are building on the same piece of land; one of them wants a very fashionable and minimally designed house and the other wants a full, loaded, very cosy environment. I learned a lot from matching such contradictory views and finding solutions that make them happy.
DM

What art institutions do you follow yourself?

AVI work so hard that I don't have much time unfortunately. I do go to exhibitions, but I prefer going to artists' studios. I learn a lot from artists. While showing at Frieze Masters in London in 2018, I went to see Lucian Freud's studio before going to the fair; it was outstanding.

Exhibition view: Axel Vervoordt Gallery, Frieze Masters 2018, London (4–7 October 2018). Courtesy Axel Vervoordt Gallery. Photo: © Michael Paul.
DM

What do you think are the most pressing problems of the art world now?

AVI think a lot of people buy names. Celebrity culture and a lack of quality are defining features of the art world. In the 17th century, Rubens had never signed a painting because the quality was speaking for itself. Now it's a little bit scary. That's why I try to collect things that can ignite a new Renaissance and give body to the emptiness.
DM

How do you see your legacy in the city of Antwerp?

AVI care a lot about the city. I am helping Antwerp in many ways. Lately, I gifted the redesign of the halls in the M HKA Museum of Contemporary Art, which I hear have been a great success. We created an open space, where people can work on their computers, research, or spend time. It is crucial, especially nowadays, for people to spend more time with art collections and to learn from them.—[O]