Insight | Exhibition
Sydney Contemporary 2023: Art Highlights
This year's Sydney Contemporary (7–10 September 2023), showing at Carriageworks, on Gadigal land, Redfern, offers fairgoers a sustained encounter with 93 galleries across three sectors—'Galleries', 'Future', and 'Paper'—as well as installation, performance, conversation programmes, and educational workshops.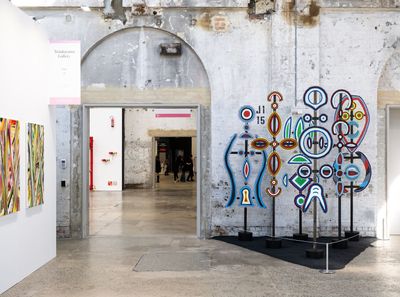 Roy Wiggan, Father's Arrival in the Afterworld (2002). Sydney Contemporary, Carriageworks (7–10 September 2023). Courtesy Sydney Contemporary. Photos: Wes Nel.
Reflecting changes in both the art world and at a societal level, this edition presents more opportunities for more artists. Since pre-Covid iterations, Indigenous art has moved from the periphery to the centre, and its incorporation into mainstream gallery offerings is cementing its integral importance in the Australian and international scenes.
Despite billing itself as 'the largest international art fair in Australasia', the event is an overwhelmingly Australian affair. New Zealand galleries continue to make an outsized contribution and alongside Japanese gallery, Tezukayama Gallery, from Osaka, and pan-international Galleria Continua, showing a series of Antony Gormley works, represent the main international participants.
Several galleries with locations in Asia, including Yavuz Gallery and Redbase Art Space, help flesh out regional connections, while others show selections that include international artists. Below, we share selected highlights from this year's fair.
Teelah George, Cool air moving through cracked brickwork (2023). Thread, linen, bronze. 48 x 44 x 5 cm. Courtesy Neon Parc.
Neon Parc, Melbourne
Neon Parc shows how it's done with a curated booth of work by Perth artist Teelah George, Melbournian Josey Kidd-Crowe, Singapore-born Nabilah Nordin, and Montreal artist Jon Rafman.
George's thread, linen, and bronze pieces, including Cool air moving through cracked brickwork (2023) and In an attempt to read quiet waves (2023), walk the line between painting, embroidery, and sculpture with their textured finishes yet monochrome, modernist results.
Paintings by Kidd-Crowe such as Quart of Plasma (2023) and Nordin's bronze and multimedia sculptures such as Trapdoor (2023) engage in a vibrant dialogue through colour and form. Another work by Nordin, Molten Slayer (2022), can be seen in the installation sector of the fair.
Rafman's long-running series Nine Eyes of Google Street View (slideshow) (2008–2020) does what it says with quirky and strangely moving images caught on Google's street-view cameras.
Abdul-Rahman Abdullah, The Wish (2023). Stained wood, horn, glass, crystal, ball chain. 105 x 23 x 71 cm. Courtesy Yavuz Gallery.
Yavuz Gallery, Sydney/Singapore
Yavuz Gallery continues its programme centring art from Australasia and beyond with a large group show, including work by Abdul Abdullah, as well as works by Abdul-Rahman Abdullah, Isabel and Alfredo Aquilizan, Cybele Cox, and Caroline Rothwell, among others.
In Abdul-Rahman Abdullah's The Wish (2023), a unicorn head is mounted on the wall in a trophy-like fashion. Carved from wood and painted black, its otherworldliness is contradicted by its solid, realistic appearance. Abdullah's impressive Dead Horse (2022), a life-size wood sculpture of a horse, lies on the ground outside the VIP lounge (somewhat off the beaten track) as part of the fair's installation sector.
Caroline Rothwell continues her exploration of material in sculptural pieces such as Ripple Effect, with Flame robin (2023), where she uses carbon black pigment sourced from the burnt remains of the 2019 to 2020 Currowan megafire on New South Wales' south coast, which caused death, destruction of property, and lasting psychological trauma.
Cybele Cox's unusual ceramics take the female body as their subject, subverting traditional representations, liberating the body, and encouraging new ways of viewing while derailing the male gaze and art-historical canon. Her Three Legged Column (2015) features a column showing only the bottom half of the female body, with strategically placed eyes creating a cheeky face, standing on a classical, open-mouthed male ceramic head.
Exhibition view: Michael Reid booth, Sydney Contemporary, Carriageworks (7–10 September 2023). Courtesy Michael Reid.
Michael Reid, Sydney/Berlin
Michael Reid's largest art fair presence ever brings work by Christian Thompson, Tamara Dean, Joseph McGlennon, Regina Pilawuk Wilson, Gaypalani Wanambi, Betty Chimney, Carly Le Cerf, and Owen Yalandja, among others, with a substantive Indigenous showing this year.
Yolngu artist Gaypalani Wanambi's engravings on metal see the artist working with found materials such as road signs and discarded metal. Her works are distinguished by their depictions of figurative, organic forms such as trees, unlike many artists working in the same medium who take up the abstract lines of desert painting.
Christian Thompson is known for his multidisciplinary practice and evocative yet political work around sexuality, identity, and history. His lush photographic series 'Flower Walls' (2022–2023) continues the artist's exploration of these themes in works that question attraction and surface appearance and ask what lies behind the rich beauty of the imagery.
Recipient of the 2023 Telstra Bark Painting Award, Owen Yalandja's 'Ngalkodjek Yawkyawk' (2022) series represents the mermaid spirit women Ngalkodjek, who are known for their loud calls as they collect food. Each Ngalkodjek is made from a carved Kurrajong tree branch, finely painted in black and white with charming little faces, and sporting mermaid-shaped tails.
Hanns Kunitzberger, 2. HÄLFTE 2022 SPÄT (2022). Oil on Mollino. 225 x 150 x 4 cm. Courtesy Fox Jensen and Fox Jensen McCrory.
Fox Jensen and Fox Jensen McCrory, Sydney/Auckland
With a focus on painting, Fox Jensen is exhibiting an international and Australian selection of minimalist, colour-field, and painterly abstract pieces by artists Hanns Kunitzberger, Matthew Allen, Shila Khatami, Gideon Rubin, Jenny Topfer, Todd Hunter, Mark Francis, Aida Tomescu, and Koen Delaere, among others.
A new triptych by Tomescu and Mark Francis' mesmerising paintings of vertical bands of colour, which have been likened to seismic waves vibrating with energy, are highlights.
Exhibition view: Two Rooms booth, Sydney Contemporary, Carriageworks (7–10 September 2023). Courtesy Two Rooms.
Other highlights include Two Rooms, Auckland, premiering a new suite of works by Gretchen Albrecht, who manifests her concern for the environment in works that invoke the landscape through nature's dramatic colour spectrum, while in a corner of the booth Elizabeth Thomson's Pūrēhua, Koromiko Rd (2022–2023), a flutter of beautifully painted bronze moths, show us up-close the beauty we stand to lose.
Jordan Gogos, Mountain high (2023). Synthetic and natural fibres, wool, cotton, crepe, linen, satin, nylon bonded thread, natural and synthetic threads. 110 x 80 cm. Courtesy Gallery Sally Dan-Cuthbert, Sydney.
Gallery Sally Dan-Cuthbert, Sydney, is showing, among other works, textile-based work by Jordan Gogos alongside the spare and precise sculptural work of Marion Borgelt; one a warm hug and the other a more cerebral encounter. Gogos' work, however, is far from purely decorative and is by turns aged and subtle, contemporary and vibrant.
Louise Weaver, Flame (2023). Exhibition view: Darren Knight Gallery booth, Sydney Contemporary, Carriageworks (7–10 September 2023). Courtesy Darren Knight Gallery.
Darren Knight Gallery, Melbourne, presents a curated exhibition of engaging and nuanced works by Michelle Nikou, Louise Weaver, Noel McKenna, Alan Constable, Jon Campbell, James Morrison, and Rob McHaffie.
Weaver's Good morning darling (2022–2023) and Flame (2023) seem pretty innocuous at first, but the suffocating hand-crocheted wool and cotton full-body suits mask taxidermised birds. Eyes, a beak, talons, and a tail peak beneath the brightly coloured knits, commenting on humanity's contribution to the extinction of native species.
Satoru Tamura, PEACE Machine #4 (2020). Iron, chain, bearing shaft, motor...etc. 50.5 x 84.5 x 20.5 cm. Courtesy Tezukayama Gallery.
Tezukayama Gallery is showing works by Satoru Tamura, including the low-tech PEACE machine #4 (2020), with a motorised chain spelling out 'Peace'; Naosuke Wada's dreamy, translucent abstract series, including Abstract #2 (2023), which is made by layering urethan paint; and Mitsumasa Kadota's lively, impasto abstracts such as Blue Moon (2023).
Nathan Beard, Tropical Flesh (vii) (2023). Painted silicone, steel. 26 x 22 x 27 cm. Courtesy sweet pea.
A small 'Future' sector, featuring galleries and artist-run spaces less than five years old, has some real gems including sweet pea, Perth, showing West Australian artist Nathan Beard's cast silicone sculptures 'Tropical Flesh' (2023), which consist of silicone casts of tropical fruits interspersed with casts of Beard's aunt's hands and feet, and Jack Ball's photograph installation of intense, highly patterned, up-close-and-personal inkjet prints.
Casey Jeffery, Yesterday (2023). Oil and acrylic on board, framed. 61 x 76 cm. Courtesy LON Gallery.
At LON Gallery, Melbourne, Casey Jeffery's clever creased paintings in retro patterns and colours confound the eye, while Ryan Hancock's oversharing, larger-than-life ceramics vessels are an instant pick-me-up.
As Sydney Contemporary comes of age with a more inclusive and layered showing of artists, and the enthusiastic support of Sydneysiders and interstate audiences, an encouraging number of galleries are looking to the region and beyond. Nevertheless, more than a smattering of international galleries and the audiences that would follow would see the fair really hit its stride. —[O]