News | Institutions
Cai Guo-Qiang Invokes Mayans and Space Aliens at Museum of Art Pudong
Cai's exhibition is one of three inaugurating the new 40,000-square-metre museum in Shanghai.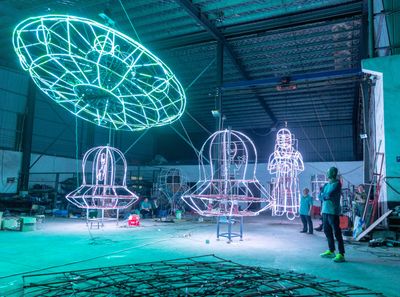 Production of Encounter with the Unknown in Liuyang, 2021. Photo by Gu Kenryou, courtesy Cai Studio.
One of China's most celebrated contemporary artists will show light sculptures of extraterrestrials and UFOs when the state-owned Museum of Art Pudong (MAP) opens for the first time on 8 July.
Cai Guo-Qiang's Encounter with the Unknown is made of frames like those used in Mexican castillo fireworks that are illuminated using computer-operated 'light drawings'. The works depict flying saucers, aliens, and astronauts in the museum's X Hall, which is over 30 metres tall.
'This exhibition addresses the wonder of my encounters with the West, the struggle over my unrequited love for my predecessor painters, and the deep breaths that I have taken in their hometowns and in the gardens of their art,' Cai said in his artist statement for the exhibition.
Growing up in Quanzhou when China was largely closed to the West, Cai said comparatively cosmopolitan Shanghai 'was the actual and tangible embodiment of Western culture for the young me.'
Museum of Art Pudong, Shanghai, 2021. Photo by Gu Kenryou, courtesy Cai Studio.
The work was inspired by the nature-based cosmology of the Mayan civilisation.
'Steering the spacecraft of human childhood across romantic horizons', Cai said he is seeking to discover 'a cosmic and eternal hometown'.
Encounter is a new addition to the exhibition Cai Guo-Qiang: Odyssey and Homecoming, which opened at the Palace Museum in Beijing last year. It also features 119 gunpowder paintings and other works, including the VR fireworks extravaganza Sleepwalking in the Forbidden City.
The Cai Guo-Qiang exhibition, which continues at MAP until 7 March 2022, is one of three shows in the 40,000-square-metre museum's inaugural programme. The others are Joan Miro. Women, Birds, Stars, which will run until 7 November, and Light: Works from Tate's Collection, which will run until 14 November.
The Tate exhibition will feature more than 100 works including John Martin's The Destruction of Pompeii and Herculaneum (1822) and Sir John Everett Millais' Ophelia (1852). Contemporary artists in the show include Dan Flavin, James Turrell, Tacita Dean, Olafur Eliasson, and Bridget Riley. —[O]