News | Artists
Dub Legend Lee 'Scratch' Perry Joins Bienal de São Paulo
Perry is one of 91 artists participating in Latin America's longest-running biennial this year.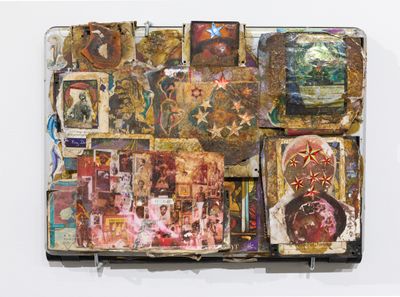 Lee 'Scratch' Perry, Laptop from Black Ark (2012). Collection: John Corbett and Terri Kapsalis Courtesy of the Swiss Institute New York.
The 34th Bienal de São Paulo released the full list of artists participating in the exhibition today.
One surprise inclusion is Jamaican dub legend Lee 'Scratch' Perry, who produced albums for musicians including Bob Marley and Max Romeo. Perry has also released over 70 albums under his own name since 1969, winning a Grammy for Best Reggae Album in 2003.
Perry's first solo art exhibition took place at Dem Passwords, Los Angeles, in 2010. Entitled Secret Education, the exhibition included works on canvas, paper, and a video installation.
One of his works in the biennial is a laptop taken from Black Art Studios, the record label he established in Jamaica in 1973. It's decorated with dolphins, stars, playing cards, and references to Rastafarianism.
Perry now lives in Einsiedeln, Switzerland, a place he told ARTnews he liked very much.
'There's too much bad people in Jamaica—too much evil, too much violence,' he said.
Perry's experience resonates with the title of the 34th Bienal de São Paulo, Though It's Dark, Still I Sing. The title comes from a line Amazonian poet Thiago de Mello wrote in the early 1960s, before Brazil fell into a military dictatorship that lasted 21 years.
The biennial, which turns 70 this year, will explore the use of 'relation' as a curatorial tool and as a means to unite São Paulo's cultural institutions. Starting in September, a group show will fill the Ciccillo Matarazzo Pavilion, while dozens of solo shows take place at partner cultural venues.
Curated by Jacopo Crivelli Visconti, the biennial will include nine first nations artists from around the globe, the largest representation of indigenous peoples in the event's history.
It will also include an entirely digital catalogue for the first time, whose title, tenteio, is another reference to Thiago de Mello.
'Tenteio' is the rapid pull and release of a kite string used to halt its movement, change direction, or dodge other kites while fighting. It's an allusion to de Mello's 1983 essay The Art and Science of Kite Flying.
'The launching of the digital catalog tenteio is, without a doubt, one of the initiatives that were not foreseen in the initial plans, but which is in total consonance with them, while also expanding their reach,' said José Olympio da Veiga Pereira, president of the Fundação Bienal de São Paulo.
The full list of participating artists follows below. —[O]
Artists Participating in 34th Bienal de Sao Paulo
Abel Rodríguez (Colombia, 1944);
Adrián Balseca (Ecuador, 1989);
Alfredo Jaar (Chile, 1956);
Alice Shintani (Brazil, 1971);
Amie Siegel (USA, 1974);
Ana Adamović (Serbia, 1974);
Andrea Fraser (USA, 1965);
Anna-Bella Papp (Romania, 1988);
Antonio Dias (Brazil, 1944 – 2018);
Arjan Martins (Brazil, 1960);
Beatriz Santiago Muñoz (Puerto Rico, 1972);
Belkis Ayon (Cuba, 1967-1999);
Carmela Gross (Brasil, 1946);
Carolina Maria de Jesus (Brasil, 1914 – 1977);
Christoforos Savva (Cyprus 1924 – UK 1968);
Clara Ianni (Brazil, 1987);
Claude Cahun (France 1894 – USA 1954);
Daiara Tukano (Brazil, 1982);
Daniel de Paula (USA, 1987);
Darcy Lange (New Zealand 1946 – 2005);
Deana Lawson (USA, 1979);
Dirk Braeckman (Belgium, 1958);
E.B. Itso (Denmark, 1977);
Edurne Rubio (Spain, 1974);
Eleonora Fabião (Brazil, 1968);
Eleonore Koch (Germany, 1926 – 2018);
Emerson Uýra (Brazil, 1991);
Eric Baudelaire (USA, 1973);
Frida Orupabo (Norway, 1986);
Gala Porras-Kim (Colombia, 1984);
Giorgio Griffa (Italy, 1936);
Giorgio Morandi (Italy, 1890 – 1964);
Grace Passô (Brazil, 1980);
Guan-Xiao (China, 1983);
Gustavo Caboco (Brazil, 1989);
Hanni Kamaly (Norway, 1988);
Haris Epaminonda (Cyprus, 1980);
Hélio Oiticica (Brazil, 1937 – 1980);
Hsu Che-Yu (Taiwan, 1985);
Jacqueline Nova (Belgium, 1935 – 1975);
Jaider Esbell (Brazil, 1979);
Jaune Quick-to-see (USA, 1940);
Joan Jonas (USA, 1936);
José Antonio Vega Macotela (Mexico, 1980);
Jota Mombaça (Brazil, 1991);
Jungjin Lee (South Korea, 1961);
Juraci Dórea (Brazil, 1944);
Kelly Sinnapah Mary (Guadeloupe, 1981);
Koki Tanaka (Japan, 1975);
Lasar Segall (Lithuania, 1889 – Brazil, 1957);
Lawrence-Abu-Hamdan (Jordan, 1985);
Lee 'Scratch' Perry (Jamaica, 1936);
León Ferrari (Argentina, 1920 – 2013);
Lothar Baumgarten (Germany, 1944 – 2018);
Luisa Cunha (Portugal, 1949);
Lydia Ourahmane (Algeria, 1992);
Lygia Pape (Brazil, 1927 – 2004);
Mariana Caló and Francisco Queimadela (Portugal, 1984 and Portugal, 1985);
Marissa Lee Benedict and David Rueter (USA, 1985, and USA 1978);
Manthia Diawara (Mali, 1953);
Marinella Senatore (Italy, 1977);
Mauro Restiffe (Brazil, 1970);
Melvin Moti (Netherlands, 1977);
Mette Edvardsen (Norway, 1970);
Musa Michelle Mattiuzzi (Brasil, 1983);
Nalini Malani (Pakistan, 1946);
Naomi Rincón Gallardo (Mexico, 1979);
Neo Muyanga (South Africa, 1974);
Nina Beier (Denmark, 1975);
Noa Eshkol (Palestine 1924 – Israel 2007);
Olivia Plender (UK, 1977);
Oscar Tuazón (USA, 1975);
Paulo Kapela (Angola, 1947);
Paulo Nazareth (Brazil, 1977);
Philipp Fleischmann (Austria, 1985);
Pia Arke (Greenland, 1958 – Denmark, 2007);
Pierre Verger (France, 1902 – Brazil, 1996);
Regina Silveira (Brazil, 1939);
Roger Bernart (Spain, 1968);
Sebastián Calfuqueo Aliste (Chile, 1991);
Silke Otto-Knapp (Germany, 1970);
Sueli Maxacali (Brazil, 1976);
Sung Tieu (Vietnam, 1987);
Tamara Henderson (Canada, 1982);
Tony Cokes (USA, 1956);
Trajal Harrell (USA, 1973);
Victor Anicet (Saint Martin Island, 1938);
Vincent Meessen (USA, 1971);
Ximena Garrido-Lecca (Peru, 1980);
Yuko Mohri (Japan, 1980);
Yuyachkani (theatre group founded in 1971);
Zina Saro-Wiwa (Nigeria, 1976);
Zózimo Bulbul (Brazil, 1937 – 2013).