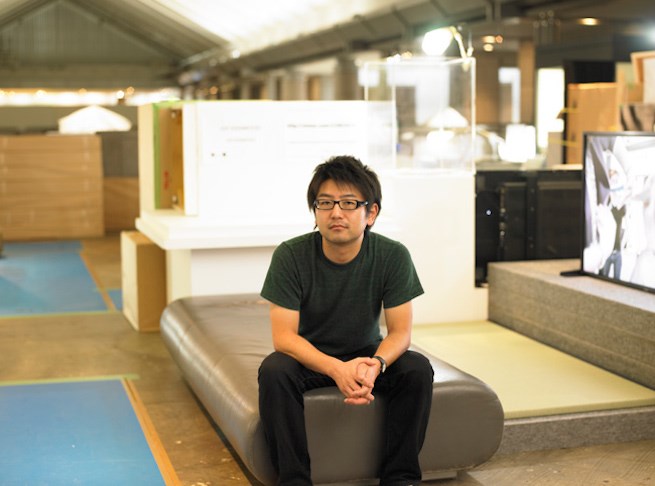 Koki Tanaka. Photo: Makiko Nawa.
My first experience of Koki Tanaka's work was Everything is Everything
(2006), an eight-channel video installation in which Tanaka films himself making abrupt gestures with everyday objects: from throwing a broom to the floor so that it lands with a crack, to the dropping of an object into a bucket of water. There is something incredibly familiar in Tanaka's portrait of the gesture: a kind of simultaneous act of play and aggression in how the artist treats quotidian objects. This approach is extended in work that explores the potential of collaborative interaction. In A Haircut by 9 Hairdressers at Once (Second Attempt) (2010), nine hairdressers cut one person's hair, while in A Piano played by Five Pianists at once (First Attempt) (2012), five pianists play on one instrument. Born in 1975, Tanaka lives and works in Tokyo and Los Angeles (he moved there, as he told me once, because he is allergic to fish, of all things). Mainly working in performance, video and installation, Tanaka shares an interest with many artists working today in the everyday and commodities that populate our surroundings. This interest has expanded into a general curiosity in behaviour and collaboration. In this interview, which takes place on the occasion of the artist's appointment as Deutsche Bank Artist of the Year 2015, Tanaka discusses his practice and his work.
You have said that the reality of life consists of abstract things and moments, and that your aim is to face the reality of life in order to deepen your understanding of the world. Could you talk please about how this desire is reflected in your work as an artist?
I think we always pretend that we know things that we didn't really know. When we talk about something like democracy, for example, we seem to believe that need to strive for it but at the same time understand that it is difficult to realise. However, do we really understand what democracy is? What does democracy mean for our future? I think we all are partially ignorant; we cannot understand everything and most of the conclusions we reach are only hypotheses. I think this accumulation of such temporal conclusions comprises human history; many of these conclusions are not verified, though, and one by one we just take them as fact. I think we should be honest and accept our ignorance. I think this is our basic reality.
For me, artistic practices deal with such things. One of an artist's roles is to document the complicated world as it is, at the same time organising platforms to invite people to consider it together, and not in isolation. This allows us to consider the world's immensity, which could also be related to understanding others.
How do you see your role as an artist?
I think artists have two roles in society now. One is to intervene in society so as to reveal and address social problems through the creation of discursive platforms. The other role relates to a symbolic commitment to reflecting on and representing society through artistic methodology.
What works and projects have been key to the way your practice has evolved? Can you name any pieces that really functioned as turning points for you?
Of course, there are several key projects that pushed me further in my practice. In terms of recent projects, A Piano Played by Five Pianists at Once (First Attempt), is key. This is the first project that I realised after '3/11'—the great east Japan earthquake and tsunami of 2011—even though the project was realised in California. The process of organising the project with Juri Carson, who was the curator, gave me a lot of new ideas which I am still thinking about in my recent practice: issues around collaboration and the formation of consensus, making temporal communities, and the relationships between documentation and events and so on.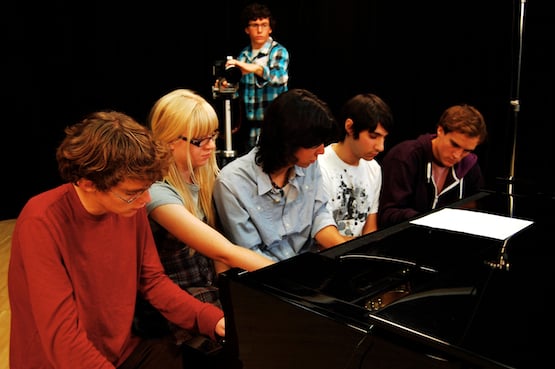 Koki Tanaka, A Piano Played by 5 Pianists at Once (First Attempt) (2012). Collaboration, video documentation. 57 min. The University Art Galleries, University of California, Irvine. Curated by Juli Carson, commissioned by The University Art Galleries, University of California, Irvine. Participants: Adrian Foy, Kelly Moran, Devin Norris, Ben Papendrea, Desmond Sheehan. Courtesy the artist, Vitamin Creative Space, Guangzhou and Aoyama Meguro, Tokyo.
Could you talk about the way your 2006 work, Everything Is Everything, came about and could you also discuss how you presented it in the Taipei Biennial in 2006?
Our life is surrounded by 'merchandise' in the system of capitalism. Even if we don't really need it, we just buy things. What if we could see merchandise as naked materials and then rethink how to use them? By washing 'value' and 'meaning' around 'things' we could restore our relationship with 'things' again—we could restore 'merchandise' to the concept of naked material by using our bodies as instant reactions to the objects of capitalist consumption. I was thinking about that when I was walking through Taipei city.
Regarding the installation of the work in the Taipei Biennial in 2006, eight monitors were placed on the floor, alongside objects scattered around the room. The audience saw both videos and the actual objects used in the videos: the idea was to juxtapose objects with actions and to encourage the audience to feel as if they could perform the same gestures. So the actions became one example or one suggestion of usage, and through the audience's imagination Everything is Everything intended to open up new ways of using—or perceiving—objects. The actions I made in the videos are just one possibility of a whole plurality of possible actions.
The installation was compared to a Robert Morris Scatter Piece, as well as Richard Serra's Verb List. It was also compared in general to the minimalist tenets of the 1960s, as well as Mono-Ha. Did you have these references in mind? What other artists, works, or ideas informed the making of Everything is Everything?
The way I installed Everything is Everything does seem very close to Robert Morris, yes; though Verb List is more related to Walking Through (2009), which was a work I made at Guangzhou with Vitamin Creative Space—more like a continuation and accumulation of actions. Everything is Everything is more influenced by the early video works of Bruce Nauman and early actions of Vito Acconci, because I was a big fan of those artists when I was in art school. Of course, many people mention The Way Things Go by Fischli and Weiss, and this was one of the references behind the work, though in my case I am rethinking the relationship between humans and objects.
Koki Tanaka, Everything Is Everything (2006). Action, video documentation (eight videos, between 1 and 2 min each). Exhibition view: 2006 Taipei Biennial: Dirty Yoga, Taipei Fine Arts Museum, Taiwan. Courtesy the artist, Aoyama Meguro, Tokyo and Vitamin Creative Space, Guangzhou.
The Japanese recession, it has been written, also played into the development of Everything is Everything. Is that right? And looking back, how has the work's meaning evolved since its production and first presentation?
I think Midori Matsui, the Japanese art critic, said our generation of artists enjoyed the Japanese recession in the 1990s. We started making work from our surroundings and everyday cheap objects. Honestly, I didn't really analyse this in that way, since I never experienced the economic bubble in Japan in extraordinary terms. To me, it was just a reality; it was natural to use everyday materials for art making. I think this method is universal because everyone can do it, anytime and anywhere.
As the years have gone by, the work could have additional context. The method of using everyday objects at random could be read as a gesture against art created for and by the neoliberal economy of our time. In the Umbrella Revolution in Hong Kong, for example, protestors took everyday objects and turned them into symbolic objects for their demonstration. It was a symbolic gesture of the protest that linked people who don't have enough to the people who have enough achieved through inventing new usages of quotidian things people had to hand.
When it comes to the new generation of artists in Asia, who are not really involved with the Chinese art bubble, we share similar methods. This tendency is, for me, close to the tendency that happened in Europe in the nineties. At that time, the YBAs were making large-scale artworks while continental artists were working on dematerialised, process-based projects. As you know, the latter tendency was termed 'Relational Aesthetics'. I think alternative artistic activities are happening in Asia now, even if it's still invisible and underground. It is an evolving parallel scene to Asian art bubble.
You left Japan in spring 2009 to live in Los Angeles. How has your work changed since this move? Could you give examples of projects that reflect how your focus has developed?
In 2010, I did a collaborative project titled A Haircut by 9 Hairdressers at Once (Second Attempt) in which 9 hairdressers cut one person's hair in San Francisco, which built on my interest in collaboration. This interest can be traced back to my experience of participating in a workshop by Pawel Althamer in Paris in 2006, when 10 or 11 young artists were invited to a workshop that would eventually become a group show at the Pompidou in Paris. At least, that's what we expected in the beginning, but in reality, we were brought to a deep forest in Poland to spend two weeks together, and Pawel seemed uninterested in our group show or our art making process. Rather, in his organised workshops we did not engage in art-related activities—more like night walking, driving a Russian cultivator and making an Indian sauna, and so on.
Koki Tanaka, A Haircut by 9 Hairdressers at Once (Second Attempt) (2010). Collaboration, video documentation. 28 min. Zindagi Salon, San Francisco. Curated by Julio Cesar Morales. Commissioned by Yerba Buena Center for the Arts, San Francisco. Production photography: Tomo Saito. Participants: Victor A. Camarillo, Kristie Hansen, Nikki Mirsaeid, Olga Mybovalova, Sandra Osorio, Anthony Pullen, Brian Vu, Nicole Korth, Erik Webb, Karen Yee. Photo courtesy of the artist, Vitamin Creative Space, Guangzhou and Aoyama Meguro, Tokyo.
What I learned from those two weeks was not to think about art making but rather to think about artistic life activities. This released me from the pressure of the 'artist career'. Of course, we got to know each other by living together. It was a temporal micro society, and the experience stayed with me for a long time. My first reaction/project to this experience was
A Haircut by 9 Hairdressers at Once (Second Attempt)
, which developed into
A Piano played by Five Pianists at once (First Attempt)
, a piano that was played by five pianists at once, and the project in Venice in 2013,
Abstract speaking - sharing uncertainty and collective acts
which considered the impact of the Japanese disaster of 2011. After 3/11 I continued to work on questions surrounding how people could work together to build a temporal community and share in collective experience. Regarding my project in Venice: since Venice is far from Japan geographically and psychologically for the audience, distance was a crucial issue. That was why my project at the Japan Pavilion indirectly dealt with creative collaboration through poem, pottery, piano, and haircutting as developed from the idea of temporal communities in post-disaster Japan.
I wonder if you could talk about the process of thinking through questions and ideas in your work. In particular, I'm thinking about what you've said about the way we often narrow our perspectives in life down to the pursuit of a single 'goal,' which is a view you contest. Rather, you see an array of alternative possibilities when it comes to the things we strive for and the choices we make.
I think making something is dealing with cutting down something else. It can become chaos with too many elements and details and we cannot achieve coherence in the artwork if we keep everything. It is a promised way to realise an artwork if we focus on one simple thing, though if an artist keeps making one thing again and again the practice loses its complexity. I think about how we can keep such complex states and multiple possibilities in the process of making. I try to find clarity and complexity within my projects.
Could you talk about your current project A Vulnerable Narrator at Deutsche Bank Kunsthalle, Berlin?
One of the issues around the show in Berlin is how we might rethink 'retrospective' perspectives of our past.
I decided not to arrange my works and projects as a single line of development from the past to the present but to rather emphasise layering times and contexts. I try to rearrange 'retrospective' perspectives not in a chronological order but in a configuration of resonance. This could produce alternative meanings through the layering of projects that were all made in very different places and specific contexts.
Exhibition view: Koki Tanaka: A Vulnerable Narrator, Deutsche Bank Kunsthalle, Berlin (March 26–May 25 2015). Curated by Britta Faerber. On the occasion of Deutsche Bank's 'Artist of the Year' 2015. Courtesy the artist, Vitamin Creative Space, Guangzhou and Aoyama Meguro, Tokyo.
Finally, what advice would you give to young artists starting out?
I think the role of the artist is changing. Artists can deal with social and political issues, rethink our history, and consider how we might react to our society through artistic means. We could take a role in our society. I believe artistic practice could affect something.
—[O]