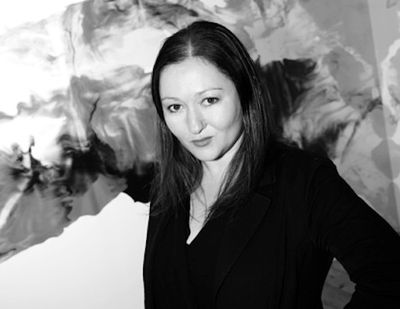 Alexie Glass-Kantor recently took the helm at Artspace, Sydney with her appointment as its Executive Director. One of Australia's most highly regarded independent cultural centres, Artspace is involved in publishing, public programming, and in-house residencies.
Previously Glass-Kantor was the Director and Senior Curator of Gertrude Contemporary in Melbourne, another of Australia's leading independent contemporary art organisations which supports exhibitions, studios, international exchange programs, curatorial research and publications. Glass-Kantor ran Gertrude Contemporary for 6 years and prior to this she was a curator at the Australian Centre for the Moving Image.
As a curator she has contributed to many international projects at institutions around the world, including most recently, Parallel Collisions: the Twelfth Adelaide Biennial of Australian Art with Natasha Bullock at the Art Gallery of South Australia (2012) and City Within the City, Artsonje Centre, South Korea with Gertrude Contemporary, Melbourne (2011—13).
A regular contributor to symposiums, forums, and journals throughout the Asia-Pacific region; Glass-Kantor was also the Asialink curator-in-residence at Ssamzie Space (Seoul) in 2005, and is currently Deputy Chair of the Contemporary Art Organisations of Australia and a board member of Australia's National Association for the Visual Arts.
Anna Dickie spoke to Glass-Kantor about her move to Artspace, the role of independent art organizations, the concept of 'idea over nation'; and her curatorial vision for the exhibition, You promised me, and you said a lie to me at Anna Schwartz Gallery.
AD

Congratulations on the new role with Artspace. The new role has meant a move from Melbourne to Sydney. You were an art student in Sydney so in many ways this has been a return to your roots?

AGKIt is really tremendous to be going back to an organisation that I have had a relationship with for over twenty years. I am originally from Sydney, but I had been living in Melbourne for 11 years. I originally came to Melbourne to work as a curator for the Australian Centre for the Moving Image and I never really intended to work for more than 3 or 4 years in Melbourne, but eleven passed quite quickly — with just a brief break in 2005 when I was living in Seoul as curator in residence at Ssamzie Space.

Artspace is an organisation that was so important to me when I was at art school, and one that I grew up alongside. It was one of the first venues where I saw the work of living artists in an experimental context. In many ways Artspace was the benchmark against which I measured my encounters with different artistic content as I subsequently began to develop as a curator.
There's not a great precedent in Australia for curators to work with commercial galleries.
AD

What will you focus on initially at Artspace?

AGKWhat is exciting about Artspace is that in recent times the program there has substantially geared up in its ambition and scale. I don't imagine I will be immediately curating an exhibition. Artspace's exhibition program is really strong, dynamic and critically engaged. Mark Feary is a fantastic curator and is a part of a great team.

There is an opportunity for Artspace to take more of a role as a generator, facilitator and supporter of contemporary art across several platforms —not just exhibitions—I am thinking about the studio programs and residencies—both locally and internationally. I will be focusing on the issue of how Artspace can strengthen all of its auxiliary platforms that work to support the professional development of artists, curators and writers. In particular, we will be focusing on the issue of artistic mobility — providing new ways for artistic practices to move and travel and meet new audiences.

One of the things that I emphasised at Gertrude Contemporary and which I hope to continue with at Artspace is a passion for working collaboratively in the Asia Pacific region. I want to facilitate a greater in depth engagement with reproduction and presentation regionally by leveraging associate programs and platforms throughout the Asia Pacific.

In this respect, we will be thinking about international curatorial programs, curatorial development opportunities, research and publishing. I am very interested in opportunities for stronger partnerships in the Asia Pacific region to facilitate this.
AD

There is certainly a movement by non-profit art organisations to work collaboratively to catalyse new projects and discourses. Would you agree with that statement?

AGKYes, I agree. There has been a very strong generation of curators and directors who have come through a particular moment in the development of curatorial practice that emphasises collaborative, creative and research orientated methodology. These directors and curators are beginning to take the helm of a number of important organisations.

For example, in Hong Kong Doryun Chong was recently appointed as Chief Curator at M+ and Cosmin Costinas as Executive Director at Para/Site; and you can see it also in the level of engagement Asia Art Archive are facilitating. Likewise consider the level of outreach that organisations in South Korea are beginning to achieve: Kim Hongkee, who was the founder and director of Ssamzie Space in Seoul and is now the Director of Seoul Museum of Art, and a good example of this type of director/ curator. There is also a similar kind of consolidation of skills and expertise in Singapore and in Indonesia.

So there is a really great opportunity to work with a network of peers to strengthen connective tissue that enables independents to have mobility, agility, and the capacity to be responsive and think through what an opportunity looks like and to take it regardless of what it looks like.
I want to engage in partnerships that last three, four, five, six years, and that really develop over time to allow in-depth engagement.
AD

What are some of the challenges of art today that such networks can mitigate or minimise?

AGKThere is a real potential for networks to facilitate the mobility of art. The hard thing for contemporary art and for artists is mobility. Particularly in Australia, the sheer obstruction of the geography, and the costs involved in the movement of objects, people and content into different spaces and contexts can be prohibitive obstacles. Creating strong reciprocal networks can allow spaces to share risk and to facilitate the movement of ideas.

I think that there is a great awareness of the need for partnerships and reciprocity; and by reciprocity I mean a genuine kind of reciprocity — long-term relationships that can really genuinely work to build more opportunities for artists and curators in the region as a whole.
AD

In a media release announcing your appointment as Executive Director for Artspace, you define Australian art as "international art". What did you mean by this?

AGKWhen I started that quote 'Australian art is international art' I was thinking about the strong pull and tension between the notion of the local being sacrificed at the expense of a specific kind of international. I have felt that a conflict can exist between the desire for ideas to be given freedom of movement and encouraged to gain traction against a resistance that is due to the perception that it will be at the expense of something else — namely the local.

For a long time Australia's relationship with the world in terms of content was based on an export/ import model—we would send content out and we would import content in. At an independent level there was very little content that was jointly developed. Australia for a long time worked on the basis that being 'Australian' was enough to exist on an international level.

Many of our funding agencies and strategic protocols for international engagement were mediated through diplomatic objectives; and bilateral exchange was built around the idea of Australian identity. I am advocating a model that recognises that ideas have their own momentum; and ideas exist outside of the vernacular of a constructed nationhood and should be invested in not because of nation, but because of the efficacy that ideas have.
AD

This notion of ideas over nation is very relevant to the projects you helmed while at Gertrude, for example The Independence Projects that took place in Malaysia, Singapore, China and South Korea. Could you explain that project and how it relates to your plans for Artspace?

AGKOne of the first projects I implemented when I started at Gertrude Contemporary was a series of bilateral exchanges called The Independence Project. We formed collaborations with peer institutions in the Asia Pacific region, and over a two-year period we worked with a group of institutional curators to develop an exhibition or project around a shared critical idea. It was about engaging a shared concept, rather than the notion of countries working together.

I very much want to continue this model of working through ideas by providing supportive publications and critical spaces for discourse. I would like to continue to enable a greater engagement with art that is focused on ideas over place.

I think that we have to take a more generative approach, and invest in reciprocity and ideas that provide mobility to the artists and curators who generate them. We also have to allow projects to occur over a period of time and with a cumulative approach, and not just as a one-off approach to partnerships. I want to engage in partnerships that last three, four, five, six years, and that really develop over time to allow in-depth engagement.
I like working with the artists to think through works that can provoke underlying themes or can re-position the show in a different context.
AD

You curated a group exhibition of work that has been presented at Anna Schwartz Gallery in Sydney. The exhibition is entitled You promised me, and you said a lie to me. This is an interesting deviation for you into the commercial context?

AGKMany of international projects I have worked on have been located at Gertrude Contemporary and have also been located in independent spaces. It was nice timing, in between leaving Gertrude and starting at Artspace, to be able to work in the commercial context.

There's not a great precedent in Australia for curators to work with commercial galleries. Elsewhere in the world it is actually very common for independent curators to work in tandem with commercial galleries to produce exhibitions that exist in a different third space. It doesn't happen frequently in Australia, and I think it is a shame.

Anna has been doing great things with the Carriageworks space. As a part of a series of curated exhibitions at Anna Schwartz she has invited many talented curators before me including: Charlotte Day, who is now the Director of Monash University Museum of Art, and who curated a fantastic show last year called Social Sculpture; and Marcia Langton, a highly regarded indigenous activist, theorist, academic and curator, who curated Debil Debil, earlier this year. I am really delighted to have been involved.
AD

Tell me about the title of the exhibition and what it explores?

AGKThe title of the exhibition is taken from an 18th Century ballad called Donal Og, originally an 8th century Irish ballad translated by Lady Augusta Gregory. This ballad comes out of the oral tradition insofar as it has no attributed author. The ballad has, over the past 1400 years, been translated numerous times.

The translations have taken place over different times and therefore the ballad has been situated in various political contexts such that it has become politically loaded. I was interested in this exhibition as an idea of transference of occupation and of how one translation can supersede the voice of another, and the appropriation of persona and the politics of that vulnerability.

I was also interested in the issue of 'how much do you allow yourself to be seen and how much do you allow yourself to be complicit in a situation with which you identify, but one which you also resist at the same time?' It is a consideration of the kind of politics of being embedded with a particular ideology, but not entirely complicit with its methods or approaches, so I wanted to think about this.

The comma is very important in the title. It opens up the question of who owns the promise and who owns the lie? I was interested in the complicity of promises and lies and within that the idea of transference and occupation.
AD

Tell me about the artists you have chosen to include in the exhibition?

AGKWhen Anna asked me to curate a show in her space I put to her that because I have been working so much over the last few years in trying to think how we could advocate for an "Ideas over Nation" status, that I wanted to do a show with her that would include artists that she didn't represent already.

I wanted to work with artists whose works served the idea, rather than artists who came from a particular place. To her credit she said 'yes' and she was excited to work with artists that she hadn't worked with previously.
AD

You however have worked with a number of the artists?

AGKThe artists in the show are artists with whom I have worked with at different times, in different contexts and situations. I have been following their respective practices for many years and they are artists with whom I knew I could have a dialogue. It has been fantastic working with Anna Schwartz because she has allowed me to work in my favoured approach, which is very much focused on a collaborative and dialogue orientated approach about how ideas can be realised in space.

I don't favour an approach of using artworks to illustrate a theme, but instead I like working with the artists to think through works that can provoke underlying themes or can re-position the show in a different context.
I am interested in working with artists whose practices wouldn't usually be seen in dialogue with one another.
AD

Tell me about some of the artists in the show and the works you included?

AGKOne of the first artists I approached for this show was Heman Chong. I worked with Heman Chong in a curator/artist role and curator/ curator role when we worked on one of the Independence Projects in Singapore in, And the difference is, an exhibition we did at the National University of Singapore. I have known Heman for a long time, and he is a good example of someone who invests in the idea of relationships. We caught up again in Singapore earlier this year and talked about the project.

He came to me with a proposal to do 52 new book covers, which will form part of his series of painting, Cover (Versions). In this work he produces small canvases using graphical interface as invented book covers, and he has been showing these in various iterations around the world. For this exhibition, the books reference the transfer and occupation of persona.

When I caught up with Haegue Yang in Hong Kong earlier in the year, she immediately proposed her Strange Fruit work, which refers to a poem by Abel Meeropol that was made famous as a song by Billie Holiday. The song is about American racism and lynching of African Americans, and Billie Holiday was originally only able to perform this song outside of the United States.

Haegue was interested in the idea of holocaust survivor having written a song, and that song having to be performed back in Europe because it couldn't be performed in the States. In particular, she was interested in the way that a particular language or idea gets to be transferred across a place and time, and I think that resonates with all of the other artists in the show.

Ming Wong's work in the exhibition_Persona Performa_ references Ingmar Bergman's 1966 film about a nurse and actress whose persona become increasingly intertwined over the course of a summer until it seems they may be two manifestations of a single character.

Jane and Louise Wilson, YBA artists, are artists whom I have known for a long time since they exhibited at the same art school I attended in the late-1990s. In the first of their two works in the exhibition, they made a series of 16 photographs based on research they encountered that certain geometric formations of camouflage paint (when painted on the face) can mask the wearer's identification when confronted with surveillance technology in public space.

Alongside this work, I've included Toxic Camera, a work that references Vladimir Shevchenko's camera. Three days after the reactor at Chernobyl melted down and exploded, Vladimir Shevchenko gained access to the site and filmed the ongoing disaster from a helicopter.

Upon viewing his footage later, Shevchenko discovered that portions of it had become seriously degraded. At first he thought the film stock was faulty; but it turned out that the deterioration was caused by the extreme radiation at the site. Shevchenko's equipment, including his camera was subsequently buried in a cement block beneath the ground. The Wilson sisters have recreated Shevchenko's camera as a bronze sculptural object and its sits atop a cement plinth, to communicate that one can only merely capture the toxic impression of an invisible poison that exists in the air.

The Irish artist Jesse Jones is fantastic. For this exhibition, she made a film entitled The Predicament of Man, in which she overlaid thousands of catalogued images from the internet across footage of the Australian desert. Jesse's work is presented alongside Heman Chong's work in which a series of novels are reduced to a graphic depiction where nothing but the name of the author or the name of the book exists as a kind of suggestion.

Both Heman and Jesse's works hinst at moments of recognition, whilst the meaning is also obscured. In Jesse's work we see within 4 minutes of imagery, almost 10,000 images wash over the screen, and in these moments of recognition meaning is also obscured. Jesse's work also relates to the Wilson's photographs, where the face is obscured in a feat of deflection.

I am interested in working with artists whose practices wouldn't usually be seen in dialogue with one another; and in finding ways in which artistic practices can create points of convergence or tensions between ideas and approaches.—[O]