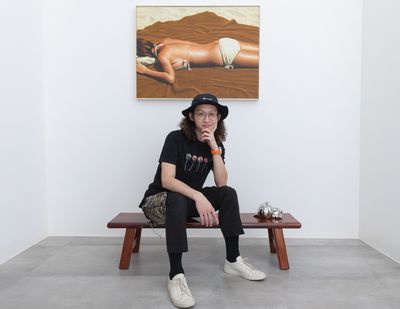 Matthew Shieh. Courtesy Matthew Shieh.
Born and raised in Taipei, Matthew Shieh turned to fashion after majoring in business administration at National Taiwan University. In 2015, Shieh went to Milan to study a diploma in fashion design at the Istituto Marangoni—an experience that led him to realise how indebted history's great designers are to the world of art.
As the year went on, it became apparent that Shieh needed to change track, and he joined the intensive Art and Business programme at the Sotheby's Institute of Art in London. 'This had a truly great impact on me', Shieh explains. 'Right after looking through slideshows, we would go to museums to look at works in the flesh. This experience cemented my mission to to live with art and share its impact.'
By this time, Shieh's parents had been collecting art for around 15 years, with a focus on supporting their artist friends, amassing a collection of around 50 works mostly on display and stored at the family home. Shieh's father was born into a traditional farmer's family, while his mother was raised in a mining family. 'My dad took a bold move and started a trading business with my mom from scratch 40 years ago. Now they are partially retired and enjoying their lives.' When Shieh completed his studies at Sotheby's Institute of Art in 2016, he made a proposal: to become a consultant for his family collection, and work to develop its scope.
Li Yuan-Chia, 1-1=1 (1960). Acrylic. 23.7 x 23.7 cm. Courtesy the artist.
At the heart of the Shieh collection are key artists who defined 20th-century art history in Taiwan. These include Tan Ting-pho, a modernist painter who first trained under prominent artist Ishikawa Kinichiro in Taiwan before studying Western art at the Tokyo School of Fine Arts (Tan was particularly influenced by the work of Van Gogh), later learning traditional Chinese painting while teaching in Shanghai.
Tan was the first Taiwanese artist to exhibit in the annual Japan Imperial Art Exhibition when his oil painting of a street scene in Chiayi, a city in southwestern Taiwan, was included in the 1926 edition. Tan's life came to an untimely end when he was shot in 1947 during an anti-government uprising known as the 28 February incident. As Han Cheung reports for the Taipei Times, his legacy remained largely unknown until martial law was lifted in 1987.
Every single piece in the collection represents the philosophy of my family, so it is pretty intimate; that's why we are keeping it private to family and friends.
Other artists who feature prominently include Liao Chi-chun, who helped establish the Taiyang Fine Arts Association in 1934, and whose 'transition from the representational to the abstract, plac[ed] him in the vanguard among Taiwanese modernist artists.'1 In works like Tainan Park (1935), a sumptuous and verdant rush of greenery framing the edge of a pond appears at once as a dense and wholly lifelike scene, and a rich and rippling monochrome. Shieh also mentions two artists who travelled further afield in their lifetimes.
Li Yuan-chia fled to Taiwan after the Chinese Civil War in 1949 and made a name there as a pioneer of abstraction, before moving to Italy, where he founded the Punto group. Li arrived in London in 1965, showing with Signals Gallery and Lisson Gallery before leaving the city in 1968 for Cumbria in northern England. There, he established the LYC Museum and Art Gallery in his own home, which presented the works of around 320 artists between 1972 and 1983, including Barbara Hepworth, Lygia Clark, and Andy Goldsworthy.
Though the Shieh Collection has not been shown to the public, and no information on it is available online, Shieh notes that he does have plans for a showcase in his studio in Taipei this year. In this conversation, he opens up about the collection, his vision for its development, and his views of the artistic and collecting landscape of Taiwan.
Dong Shawhwei, Red Camellia on white table (2014). Oil on canvas. 91 x 73 cm. Courtesy the artist.
SB

Let's start with the genesis of your family's collection—what prompted your parents to start collecting, and what were the first works they acquired?

MSThey started buying art to support their artist friends. Most of the works were hinoki wood carving sculptures and eastern gouache paintings. Later on, a magnificent piece was offered to them—a huge painting belonging to the 'Botanical Aesthetics' (1989–1997) series by Yang Chi-hung, who is quite a successful Taiwanese abstract artist. They were stunned by that piece, and after very quickly deciding to acquire it, they were determined to focus on art more seriously.
SB

You call the modernist painters in the collection as essential, such as Tan Ting-pho and Liao Chi-chun. These are people who are not only central to 20th-century art history in Taiwan, but whose lives map out the complex intersections of the times, whether in terms of the Japanese colonial period in Taiwan, the World Wars, or Taiwan's connections with the Western world.
Could you elaborate on why these artists form the core of the collection?
MSThose artists are essential to my family collection because we are rooted in Taiwan. With the collection, my aim is to demonstrate my parents' philosophies of life and their characters; to show where they come from, what their childhoods were like, and what features they value most in art.
The core of the family collection comprises works by the group of Taiwanese artists who gained notoriety in the sixties and seventies; they are the foundation of this collection. They represent the roots; the origins of my family. Artists like Li Yuan-chia, Yayoi Kusama, Susumu Koshimizu, and Hilo Chen are the pillars upon which contemporary artists can build and grow.
Lin Yi-Hsuan, Mountain is Mountain (2019). Oil, oil-based paint, spray, crayon on paper. 150 x 140 cm. Courtesy the artist.
SB

Is painting your main focus, or do you also look at three-dimensional work?

MSAs long as the works speak to me or my family, I believe they can all be connected in some way. However, due to the humidity in Taiwan, it is very hard to maintain Chinese paintings—we have learned that lesson the hard way. About 90 percent of the scrolls and commissioned calligraphy works in the collection were heavily damaged by mould, which happened before I was fully in charge of storage.

For that reason, we started collecting works belonging to the new wave of the Chinese painting. Xue Song, for example, recalibrates traditional Chinese painting with mixed media collage on canvas. The saturated but surreal colour of Xue's works brighten up a room, while also providing a sense of poetry and momentum. Poetry and simplicity are features of Dong Shawhwei's works, which have fluid backgrounds; as is the case in Lee Ufan's series of works around wind, where light shining through the window is shown in contrast to the shadow in the remaining part of the image. The way Dong depicts furniture reminds me of Jonas Wood's paintings of interiors; this sort of clumsy flattening a 3D object from multiple perspectives along with a play on contrast truly fascinates me.
I think Taipei Dangdai has created a stir in the art industry, and the artworks shown in the fair have changed the tastes of collectors and have made them reconsider their collecting patterns.
SB

Could you share some of the artists you particularly appreciate?

MSI think it is very important to engage with artists and to grow with them, through every stage of their lives. In terms of young Taiwanese artists, I have been following Lin Yi-Hsuan, who is represented by Each Modern and who participated in last year's Bienal de Curitiba; and Hsieh Mu-chi, from Project Fulfill Art Space. Lin's work is more instinctive, abstract, and also symbolic, but at the same time full of emotion, while Hsieh's builds on the past by decomposing early works and assembling them anew.

Otherwise, Helen Beard—who is represented by Unit London—creates saturated, erotic paintings that are very eye-catching. In addition, I would recommend another good friend of mine, called Yukimasa Ida. His skills are incomparable, and his paintings that resemble scenes from The Godfather or Midnight in Paris bring viewers back to the good old days.

Dong Shawhwei, B/W Frontyard (2013). Oil on canvas. 91 x 73 cm. Courtesy the artist.
SB

You mentioned Jonas Wood, and on your Instagram page I note a lot of Jonas Wood posts! Does this mean you are expanding the collection to incorporate practices from beyond Taiwan and China, and if so, who are you looking at and why?

MSThrough the family collection, I would like to create dialogues between continents. I post a lot of works by Jonas Wood because the still life genre is my go-to; I feel an intimacy when I see plants, no matter whether they're in real life or represented in artworks. I am also fascinated by concepts that explore relationships between objects.

For example, artists of the Mono-ha movement were concerned with how objects are placed to create a visual rhythm; that rhythm can make a huge difference to the atmosphere of a setting. On a greater scale, in Li Yuan-chia's works it is the cosmos and the relationship between beings that is of concern. Axel Vervoordt pays attention to the placement of objects in his exhibitions, which are worth visiting if given the opportunity.

I am not a big fan of collecting works that deal with serious or political issues; I am more a person who seeks intimacy or positive energies through art. The work of Yayoi Kusama, for example, brings a sense of calmness and fulfilment, which are qualities that can also be found in Jennifer Guidi's sand paintings.
I think it is very important to engage with artists and to grow with them, through every stage of their lives.
SB

While your family collection has remained largely private, I understand you are taking some steps to show it to the public. Could you talk about your plans for a studio show in 2020, and perhaps some ideas you are working on to open up further?

MSThe ultimate goal is to build a public sculpture park with a café and maybe a hotel or hostel, similar to Hauser & Wirth's gallery in Somerset. The studio show will be more concerned with the topic of living with art. Since I spend most of my time in the studio, I decorate it and hang up artworks according to the season, and I open it to small groups of friends and guests.

Every single piece in the collection represents the philosophy of my family, so it is pretty intimate; that's why we are keeping it private to family and friends. I can however disclose what is showing at the studio currently—we have Jonas Wood's Double Basketball Orchid (State I) (2017) facing Dong Shawhwei's Orchid on table (2019), and Li Yuan-chia's Punto (1960) watercolour on paper facing Susumu Koshimizu's woodcut works.
SB

You have talked about your parents' interest in supporting art and cultural development. What are some of their hopes and aspirations when it comes to their support of art and culture in Taiwan, and how do you relate to those hopes and aspirations?

MSThey believe that education is the most essential element of a nation. They have been supporting several schools for years, and recently they have been trying to launch some extracurricular art programmes. In the meantime, I have been giving speeches on collecting, and I am hoping my studio can serve as a hub for sharing information or knowledge on art and life.

Last year, I held an exhibition showcasing a Korean pop star's artworks, in order to bridge the art and entertainment industries. For me, art is life, so through this exhibition, I was able to deliver ideas around that to people from different backgrounds and with different interests. Building connections between artworks and individuals is more significant than an artwork's price tag.
Through the family collection, I would like to create dialogues between continents.
SB

How did you feel when you took on the role of advising and directing your family collection, and how has your understanding of the role evolved in practice?

MSGenerally, it is a dream job. To be honest, I am not just consulting; I also manage the storage, monitor the collection and the market, educate my parents about trends in the market, and sometimes stop them from spending. It is all about communicating and selecting. My mum always says, 'We don't have to own every good piece, but every piece we own must be the best.'
SB

What was the first work and most recent work that you acquired in this position?

MSThe very first work I acquired as an art advisor for my family was a piece by Zeng Fanzhi, and the most recent work that I purchased for the collection was Hilo Chen's Beach 167 (2010).
SB

Taiwan is known to have a rich and active tradition of collecting; how do you see your family as fitting into this landscape, and what do you hope could be your contribution to it as it continues to develop?

MSThere are multiple types of collectors in different categories. I am honoured to be a part of an art scene of great strength, and to be a part of the younger generation. Once you start a relationship with art, the bond is unbreakable. I reckon the collection will keep on growing, and I am hoping the collection and our passion for art will reach more people.

Xue Song, The moon is always bright among pine - Poetry by Fengjing Zikai (2018). Mixed media on canvas. 80 x 60 cm. Courtesy the artist.

In terms of this history, how do you view the evolution of the Taiwanese art scene, active as it is with galleries, museums, project spaces, and studios, not to mention one of Asia's oldest art fairs, Art Taipei, and the global newcomer, Taipei Dangdai?

The art scene here is changing, definitely. I think Taipei Dangdai has created a stir in the art industry, and the artworks shown in the fair have changed the tastes of collectors and have made them reconsider their collecting patterns. I believe this active art scene could benefit the education of aesthetics in Taiwan.
SB

With Covid-19 shutting down art fairs across the world in 2020, it seems Taipei Dangdai was one of the last opportunities for the artworld to come together in the region; have you been engaging with the online activity that has arisen as a result?

MSNo one could have really seen this coming. With Covid-19 jeopardising everything, I have taken a slower pace in life and work. Fortunately, online viewing allows me to view artworks whenever I feel like it, but still, I prefer seeing artworks in person. I am really glad I was able to enjoy Taipei Dangdai 2020.
Once you start a relationship with art, the bond is unbreakable.
SB

As a collector, what are your expectations for an online event like Taipei Connections?

MSI do know that the online platform would save visitors a lot of time travelling between galleries. Also, it allows you to view multiple works and exhibitions at the same time, to compare and to identify your favourite work. However, if possible, to feel the artwork or exhibition in person would provide an immersive and personal experience. Some galleries and artists might do live streaming, which provides visitors with a deeper and better understanding of the exhibition in question, and in turn the artist.

Within a certain budget, I would buy art online, and I have bid online multiple times as well. In some cases, I might even buy works having only viewed them in digital images or videos. In these cases, I buy works by well-established artists, or works that I have been after for a long time, by artists whose work I am already familiar with.—[O]

—