Insight | Artworks
Collector Matthew Shieh: Five Selected Artworks

In Partnership with Taipei Connections
With Taipei Connections extended to remain exclusively open on Ocula till 10 May, Taipei-based collector Matthew Shieh selects five artworks reflecting interests that he shared with Ocula Magazine in April, from the intimacy of still lifes to the subtlety of the Japanese Mono-ha movement.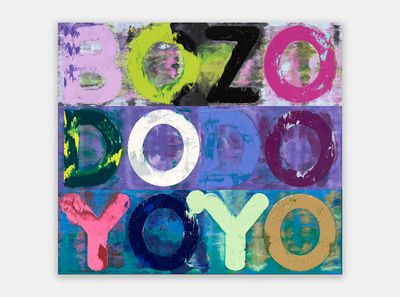 Mel Bochner, Bozo (2019). Oil on velvet, 205.7 x 228.6 cm; 81 x 90 inches. Courtesy the artist and Simon Lee Gallery.
Mel Bochner was one of the early pioneers of conceptual art in 1960s and 70s New York. Bozo derives from Bochner's iconic thesaurus paintings—bright, text-based works that distill the artist's fascination with language and colour.
Kishio Suga, Latent Depths (2018). Wood, acrylic, stone, 255.1 x 95.7 x 82.3 cm. ©Kishio Suga, Courtesy of Tomio Koyama Gallery.
A leading figure of the Japanese Mono-ha movement, Kishio Suga investigates relationships between objects and their surrounding space. Suga's characteristic juxtaposition of natural and industrial materials is apparent in Latent Depths (2018).
Fadjar Sidik, Space Dynamic in Yellow (1978). Oil on canvas, 94.3 x 65.5 cm. Courtesy Asia Art Center.
Fadjar Sidik was a seminal figure in the development of modern abstract art in Indonesia. Space Dynamic in Yellow (1978) captures his engagement with simple, abstract forms, through vibrant geometric shapes set against warm canary yellow.
Zhao Gang, Coronavirus 1 (2020). Oil on canvas, 130 x 170 cm. Courtesy Each Modern.
A member of the famed avantgarde Stars Group of the late 1970s and early 80s in China, Gang examines the country's history and contemporary conditions. His recent 'Coronavirus' paintings were created while under lockdown in Beijing.
Wu Chi-Tsung, Cyano-Collage 77 (2020). Cyanotype Photography, Xuan Paper, Pigment and Acrylic Gel, 180 x 180 cm; 70 7/8 x 70 7/8 inches. Courtesy Galerie du Monde.
Despite its sleek, digitally manipulated appearance, this ethereal landscape by Taiwanese artist Wu Chi-Tsung was created using the cyanotype process. Trained in Chinese calligraphy and ink painting, Wu's multimedia works fuses tradition with the contemporary. —[O]