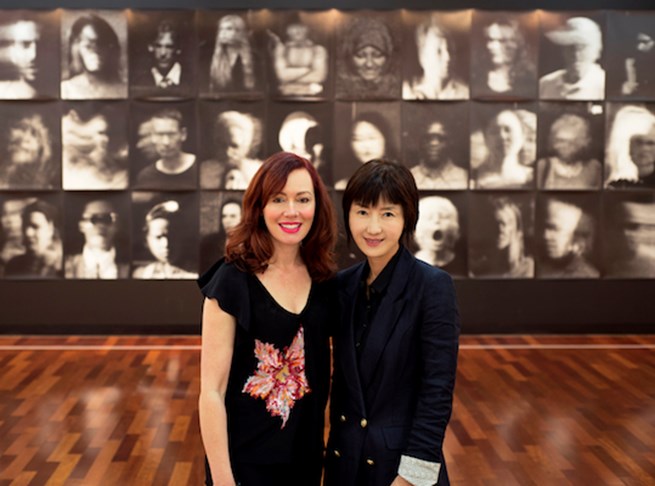 Now in its 13th edition, the Dong Gang International Photo Festival takes place in the city of Yeongwol, about 3 hours drive east of Seoul. Since 2009, guest curators from different countries have been invited to curate an exhibition for the Festival, including France, Germany, USA, Japan and UK. This year the invitation was extended to Australia, and the exhibition, which takes place across two floors of the Dong Gang Museum of Photography, is co-curated by Natalie King, curator, writer and Senior Research Fellow, Victorian College of the Arts, University of Melbourne and Youngmi Park, committee member of the Festival and Senior Curator of Parkgeonhi Foundation (Korea). The exhibition is entitled Episodes: Australian Photography Now
and brings together the work of 12 Australian photographers around the notions of psychological, soap opera and serial episodes. Artists in the exhibition include Christian Thompson, Destiny Deacon & Virginia Fraser, Martin Smith, Michael Cook, Patrick Pound, Paul Knight, Polixeni Papapetrou, Polly Borland, Tracey Moffatt, Trent Parke and William Yang.
The exhibition is focused on Australian art, but is co-curated by an Australian and a Korean. Tell me about the process of co-curating this show?
Natalie King: Youngmi and I worked very closely on the selection of artists for this exhibition. We exchanged over 1,000 emails as part of an ongoing dialogue!
Youngmi came to visit Australia during the Sydney Biennale in March for an intensive week of studio and museum visits in order to develop a collaborative framework for curating the exhibition together. It was very much a shared and open conversation, a relay of thoughts and ideas between us which is vital when working cross culturally.
It seems to me there is a curatorial push for collaboration across institutions and across cultures. Is this an approach that is important to your own curatorial style?
NK: From my point of view, it is essential because otherwise exhibitions can be presented as coordinated 'nation state' marketing. Collaboration offers a polyphonic approach whereby the voices of collaborators can be heard while bringing different understandings of context and culture. For me, it is a preferred and meaningful curatorial modality and hopefully the exhibitions that evolve are more pertinent.
The title for the exhibition is Episodes: Australian Photography Now. To what extent is this exhibition intended to be representative of Australian photography today?
NK: The exhibition is a 'snapshot' of contemporary Australian photographic practice. It includes the work of 12 artists, four of whom are indigenous Australians. Specifically however, the works presented look at the episodic, at unfolding narratives, and the impact on photography and its twin, cinema. Episodes suggests not only photographic sequencing but psychological states.
Is this exhibition more about the ideas that unite these works, rather than their Australian origination?
NK: Probably both. Episodic is a trigger or a framework for the exhibition, but many of the works explore ideas very specific to the Australian context - for example the work by Michael Cook, who is an indigenous artist from the Sunshine Coast of Australia, is very much embedded in Australian history and the history of colonisation and dispossession. Destiny Deacon's work is another example – her work forms a large compendium of colour images of family and friends dressed up in Torres Strait Islanders traditional dress in suburban Melbounre. There is a type of intimate depiction of family but also a direct connection to her identity as a Torres Straight Islander. Her photographs are accompanied by archival footage sourced from the National Film and Sound Archive from 1899 of Erub peoples, some of whom could be Deacon's ancestors.
Youngmi, what was it like for you to explore Australian photography?
Youngmi Park: I had not had a chance before this to explore Australian photography. So for me it was an interesting experience and an opportunity to introduce what I learnt to a Korean audience, who like me, has not been exposed to Australian photography.
Was there anything you discovered about Australian photography that you were not expecting?
YP: Korean people have a view of Australia based very much on the beauty of its landscape, but have very little knowledge about Australian art. I discovered the artworks had very strong social and political implications, particularly work by the Aboriginal photographers.
I also discovered the scope of photographic processes that are being used in Australia. Many of the artists experiment with the medium of photography and deploy a technical dexterity from Martin Smith's text incisions to Trent Parke's scaled up documentary photographs of the passerby on a pedestrian corner in Adelaide.
NK: There is a lot of manipulation of photography as a medium in the exhibition. Paul Knight for example, presents photographs of a couple lying in bed – they are very intimate images – but he folds the photographic print so the faces almost converge. He is presenting an image that is two dimensional, but by introducing the fold, the work becomes almost sculptural. Tracey Moffatt is another example and we have included a selection of her work from the series, Plantation (that you might have seen at the Asia Pacific Triennial in Queensland). She is known for her versatility and her technical virtuosity. In this series, she works with rice paper and hand tinted photographs that have a luminous and archival quality. Many of the artists in this exhibition display a technical proficiency and experimentation.
I noticed fragmentation in a number of the works – sometimes in a physical way (as in Knight's work, where the actual print is folded), but sometimes in a more psychological way (as in Martin Smith's work where the text he presents doesn't appear to relate obviously to the image).
NK: Well hopefully the exhibition is layered and complex. Fragmentation is like the episodic. It is about moments that unfold. With Martin Smith, he actually carves out the text from the photograph and there is a pool of letters at base of the frame; it is like he is constructing narrative or language from the photograph in a diaristic way.
Natalie, you curated the exhibition Up Close: Carol Jerrems with Larry Clark, Nan Goldin and William Yang. Carol Jerrems, Larry Clark and Nan Goldin are to me very representative of a documentary type of photography. In contrast, for the exhibition in Korea, the artworks presented are often manipulated, theatrical, sometimes even fantastical. However, William Yang appears in both exhibitions, and I was just wondering about the extent to which he represents some sort of overlapping or link between these two very different exhibitions?
NK: Well you are right – William was in the Up Close exhibition, and it had a documentary thread, but it was also very much about documenting the personal and intimate experiences. I included William in the Up Close exhibition because I was interested in how he documented his heritage as a Chinese, gay Australian and the way he went into communities in such an empathetic way. Like William Yang, Carol Jerrems was also an empathetic photographer, and she almost always knew her sitters depicting her subjects in sensitive and tender ways.
You are right about the Dong Gang exhibition presenting staged forms of photography – this relates also to ideas of dramatizing the 'episodic'. There are a lot of costumes that are used and the works are often theatrical in nature: Polly Borland puts her sitters – people like Nick Cave - in lycra that bulges and protrudes; and Christian Thomson uses props, like a boat in front of his face. There is a lot of staging in their work. However, there are also personal moments in the exhibition. An artist like Trent Parke for example is more of a documentary photographer and every day for one year, he stood on the same street corner in Adelaide and he had this rapid-fire way of photographing the passer-by. He then blew up the images – so people have this ghostly, shadowy presence as they pass through the street. Martin's Smith's work is very autobiographical and diaristic. Likewise, William Yang presents almost a photographic diary, and we were again very interested in the idea of intimacy that these works evoke.
YP: We also wanted to reflect the multicultural aspect of Australia and William and his exploration of his Chinese heritage was a good example of a photographer reflecting on this multicultural dimension to Australia.
You mention the multicultural aspect of Australia that you wanted to acknowledge. Many of the artists in this exhibition are Aboriginal - was it important to you to represent indigenous photography in this exhibition too?
NK: For me personally, I have always worked with urban Aboriginal artists, and I have also worked closely with a number of the artists in this exhibition. I curated Destiny Deacon's solo survey exhibition at the MCA – which toured Australia and also went to Tokyo, Auckland and New Caledonia. For me the politics, urgency and pertinence of indigenous photography was essential to include in the exhibition. Fortunately Youngmi and I agreed on many occasions, and this was certainly one view we shared.
Is there a programme of lectures, talks or events around the Festival?
NK: One of the exciting things about the Festival is that there is a whole compendium of events – there are workshops, exhibitions, amateur exhibitions, and lectures. It is multi-faceted and I think that is what makes the Festival unique. This is why it appeals to diverse audiences. Dong Gang Museum of Photography is the premier public photography museum in Korea with high visitation. A number of the artists are coming to Dong Gang to represent their work and give lectures. For example, William Yang will be giving one of his performance lectures on Saturday morning and Destiny Deacon and Virginia Fraser will be giving a lecture too. Patrick Pound is coming to install his work of found photographs and Polixeni Papapetrou will be attending.
Patrick Pound is creating a work especially for the show – he arrives tomorrow and we are really thrilled – he has actually conceived of a new work especially for the exhibition centered on the theme of episodes. Patrick has a huge archive of found photographs that are sourced on e-bay or through defunct newspapers. They are often very small and amateur photographs, and he takes them and configures them around particular concepts – like a taxonomy. His works are humorous, but also mysterious, and he arranges them in such a way that he gives them a mysterious pulse.
What other curatorial projects are you both excited about?
NK: Well as soon as I get back from Korea I start installing the TarraWarra Biennial, which I am co-curating with Djon Mundine. It is one of only two biennials featuring Australian contemporary artists – it is held at TarraWarra Museum of Art, which is on the outskirts of Melbourne. Djon Mundine and I have worked together before - when we co-curated an exhibition called Shadowlife that toured to Taiwan, Singapore, Bangkok, and Bendigo. The title of the Biennale exhibition is Whisper in My Mask.
And Youngmi, you recently curated an exhibition at Artsonje Centre in Seoul?
NK: Artsonje is one of the most exciting contemporary art centres in downtown Seoul.
YP: The Foundation selected one photographer to be the recipient of the Daum Prize. Her name is Keum Hye-won. Since winning the prize, the artist has travelled around Korea, Japan and the United States to photograph dead pets that have been memoralised via funerals, taxidermy procedures and graves tombs. In doing so, she contemplates how humans receive and handle the death of their pets. —[O]